When BlackBerry released the DTEK50, its second Android smartphone, in August 2016, it called it "the world's most secure Android smartphone". What, then, does that make this, the higher-specified DTEK60, the firm's most premium smartphone to date? Pretty darn secure, as it happens. This handset is that and a surprising amount more, and proof that the company now outsourcing its hardware design isn't all that bad. This is a flagship smartphone aimed, as ever, at the enterprise and business, but one we can recommend to you as a consumer also.
Design
We should all accept this is a smartphone from BlackBerry Mk 2. While it still sells three smartphones with physical keyboards at the time of writing, the company is now moving to become better positioned in the Android market and away from its roots. This move started with the Priv, moved into full touchscreen with the DTEK50 and now arrives at this, the slick, business-like DTEK60.
While BlackBerry might struggle with product names these days, the DTEK60 is an attractively designed smartphone. Because the firm has handed over design to its partner TCL, the phone bears an incredibly close resemblance to both the Alcatel Idol 4s and the Vodafone Smart Platinum 7. (The Chinese company also produces these phones.) It's futile to be annoyed by this; it's a solid, slim and uniform smartphone design that will appeal to many in its own understated way, with the familiar silver BlackBerry logo sitting beneath the hard see-through plastic back. Plastic it may be, but premium it remains.
Sample title
Specifications 5.5in (2560×1440,534ppi) AMOLED touchscreen; Android Marshmallow 6.0; Qualcomm Snapdragon 820 quad-core processor; Adreno 530 graphics; 4GB RAM; 32GB storage; ZIMp main camera. dual-LED flash, support for 4K videos at 30fps; 8Mp front-facing camera; 80211 a/b/g/n/ac dual band Wi-Fi; Bluetooth 42; 4G LTE; Nano-SIM; GPS; NFC; 3000mAh non-removable battery; 153.9×75.4x7mm; 165g

The phone is an ideal weight for an oft-unwieldy 5.5in screen size of smartphone, at 165g (for comparison, that's 18g heavier than an iPhone 6s). The screen has thin bezels on the left and right sides, but the slightly protruding silver edges of the device mean it isn't hard to hold. The left edge has the power/lock button just above the SIM and microSD card tray, while the right side has the volume rocker and BlackBerry's convenience key, which we will discuss later.
Although not too large a phone to hold at 153.9×75.4x7mm, what makes it slippery is the shiny back.
It feels like glass but is actually a hardened plastic, and we dropped the device once thanks to this, scratching it somewhat. You'll probably want a case.
It represents BlackBerry aspiring to produce a product that is as premium as Its classic phones of old, while embracing a full touch, Android OS
The silver edging on the DTEK60 is attractive, broken only on the top for the headphone jack and the USB-C port and mic on the bottom. Also at the top and bottom are the excellently subtle front-facing speakers that also allow sound out from the back, stopping the chassis rattling at louder volumes. The camera bump on the rear protrudes just above a circular fingerprint sensor.
This means the phone is a pleasing step up in build quality compared to the plastic and rubber of the DTEK50. It represents BlackBerry aspiring to produce a product that is as premium as its classic phones of old, while embracing a full touch, Android operating system. Where the DTEK50 felt like an Android pretending to be a BlackBerry, the DTEK60's high-end materials remind us of the glory days of the Bold and the Curve, while simultaneously being unmistakably Android.
Hardware
Processor, memory and storage
The DTEK60 improves on the DTEK50 in specifications as well as looks. It has Qualcomm's Snapdragon 820 quad-core processor, the same one found in the US version of the Samsung Galaxy S7 edge and the OnePlus 3. It pairs that with 4GB RAM and an Adreno 30 GPU. It runs very smoothly, but is a touch slower than those two phones.
Frustratingly, despite our best efforts, we could not run our usual Geekbench and GFXBench benchmark tests on the handset, presented as we were with error messages after many attempts.
We can, however, confidently say that while this is a flagship phone with excellent performance, it isn't as zippy in every day use when compared to the S7 edge, OnePlus 3 or iPhone 7. Sometimes with many apps open, the transitions slow down slightly between screens and app load times are longer. It's not a major problem, but it is noticeable.
On-board storage is set at 32GB, though the microSD card slot allows up to 256GB. This can be done relatively cheaply with the best microSD cards on the market. With that boost it'll be more than enough to carry around your entire music collection on the integrated Google Play Music or another service such as Spotify.
We welcome an Android BlackBerry with high-end specs; it feels long overdue in this form factor, although the Priv's Snapdragon 808 processor when it was released in November 2015 * was acceptably high end. It's enough to satisfy the BlackBerry users among us who were resistant to the transition to an all-touch handset (we do love a good physical keyboard).
Display
The screen is a 5.5in scratch and smudge resistant quad HD AMOLED display. The smudge resistant part is actually accurate too; although this is a slippy phone, we weren't too put off by inevitable fingerprints when compared to other glass phones – but you'll still notice them from time to time.
The pixel density of the 2560×1440 resolution display is 534ppi.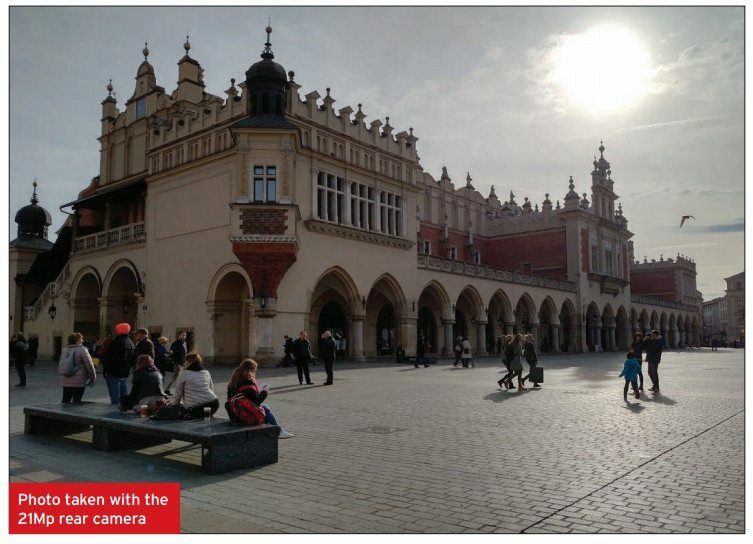 In real-world terms, it looks really good and only the pickiest of techies will have any complaints.
As it is AMOLED, black colors display very nicely and actually use less battery power. Colors don't stand out as vividly as on handsets such as the OnePlus 3 (which also has an AMOLED display), but the DTEK60 reproduces on-screen colors more accurately in this way.
When we first started using the phone we felt like the screen was almost too sensitive. Often we would scroll through the app tray and accidentally select an app. Oddly, this didn't happen much after the first two days and we had no complaints.
Fingerprint scanner
This is the first ever BlackBerry handset to feature a fingerprint scanner, which is welcome given it has been three years since the iPhone 5s popularized the feature. It's on the back of the phone below the camera, where BlackBerry claims (as do other manufacturers) that your finger naturally falls when you pick up the device. This isn't entirely accurate and it's down to personal preference, but we still think having the sensor on the bottom front of the phone is more convenient. You might want to give it a go in store before you buy, but we found it to be accurate, unlocking first time most of the time. It is also important for the secure minded DTEK60 to have added this extra layer of security to the hardware.
Like the recent DTEK50, there's a so-called convenience key on the right edge of the phone that you can assign one specific task to, for example, open a new text message or the camera app. We still think it's a tad odd to have such a feature given all of the options are a tap away, but you might find a use for it.
Battery
BlackBerry claims you'll get 24 hours of mixed use from the 3000mAh non-removable battery. We can confidently say that this is an overestimate. What is welcome here is Quick Charge 3.0 fast charging with the included wall charger, a happy side effect of the USB-C port. It can charge the DTEK60 in just over an hour from very low battery and is very convenient.
We used the phone constantly one day after taking it off charge at 12pm, using the camera, Google Maps, Trip Advisor and other GPS based apps while on holiday in Poland. The battery was dead by 1am, so it gave us a good 13 hours under heavy use. This will be adequate for most during a full working day, but obviously it is well below the claimed 24 hours.
Cameras
The rear camera of the DTEK60 boasts a 21Mp autofocus lens with f.2/0 aperture and a dual-LED flash.
It can also record video at many different levels including 4K at up to 30fps. We used the camera extensively in Poland with some pleasing results (see above). Images are sharp and the lens copes well in low light, though the images produced from the Samsung Galaxy S7 are still best in class.
The front-facing camera is a modest 8Mp, but it's good to see an LED flash for those selfie-inclined, or if you want to shoot a Blair Witch Project-style monologue.
Software
It's not always the case that we have to concentrate so much on the software section of a review, but this is an exception. The DTEK60 ships with Android Marshmallow 6.0, with no clear indication as to if and when the update to Nougat 7.0 will be available. The decision here to provide a basically stock version of Android is welcome to us; unless you prefer the skins of the Samsung Galaxy or Sony Xperia series, we think you'll enjoy it too. Much like the HTC 10 before it, the DTEK60 eschews its own photo gallery for Google Photos, and Google software is front and centre, from Gmail to the prompt to open Google Play Music when you plug in your headphones (you get in-ear 'phones included in the box).
There are small differences to the Android experience but they are changeable. For example, we found the text displayed to be small compared to other devices, but you can make it bigger (up to 'Huge' in fact), and the recent apps by default display in a confusing mosaic, but you can put it to the regular Rolodex mode in Settings.
What we also like is the inclusion of BlackBerry Hub, an app carried over to this Android version from BlackBerry's BB10 OS. It groups all your notifications in one place and is a portal to all those apps. It's great to help you blast through email or different social posts, but we like the little touches like pinching the exhaustive list of notifications to just display the unread ones.
Little tweaks like this help you get stuff done and are echoes of the productivity-minded BlackBerry handsets of the past 15 years.
Indeed, there's even an optional productivity tab, an (if on) ever present thin grey tab on the right of the screen. Swipe it to the left, and it gives you your calendar, messages, tasks and contacts. It's really useful, but we kept forgetting it was there. Another issue is that on certain web pages it covers text that reaches the edge of the page – if this happens though, you can change the transparency of the slim bar.
It's little touches like this that show BlackBerry has thought long and hard about both the consumer and the business user, and the balance it manages to strike is spot on.
The BlackBerry Intelligent Keyboard is also part of the software, with various intelligent gestures to select predictive text, delete words, and more. However, this is a port of the touch-sensitive physical keyboard of the BlackBerry Passport, and it simply works better on that phone. We prefer the also preinstalled Google Keyboard.
Where the DTEK60 tries to differentiate itself is in the security of the device. Pleasingly, there is little for the user to do to implement these features. The Android software here has access to quicker security patching, with BlackBerry promising the latest security updates to your phone before anyone else, and at increased regularity. We received an update while using the phone, so this claim seems legitimate.
It's aimed more at the enterprise user, but BlackBerry also impressively offers securer options for file sharing (WatchDox), email and collaboration (Good Work) and VPN access on top of its encrypted BlackBerry Messenger (BBM) service. BBM is a consumer service and the others are available to download individually, but their full power and use is intended for IT managers who wish to supply their employees with (BlackBerry hopes) a fleet of DTEK60s.
But, whether a consumer or a business user, your DTEK60 establishes a hardware root of trust the first time you boot it up. This automatically adds security keys to the processor of your device that then track and verify its use to better encrypt your data.
BlackBerry doesn't explain exactly how this happens in its marketing materials, but as a consumer this is undoubtedly the most secure Android phone you can get.
The DTEK name is present in its own app as well, and is the most accessible way to take a broad view of your device's security. You get to see a gauge of how secure your phone is, and the app prompts you on how to improve it, from adding a fingerprint unlock to editing the permissions of certain third party apps. It's a bit fiddly at times and the learning curve could be steep, depending on your existing knowledge, but if security is important to you its one of the best apps out there.
Verdict
For the first time in a while, this is a BlackBerry we can recommend to the individual consumer. It is also a business device, but the flexibility of Android means it is versatile enough to be moulded to the needs of both. It marries the Android OS with robust, easy to use security features and slick design. It doesn't have the brand clout of an iPhone or the curved edges of a Samsung Galaxy, but with its admittedly straight-faced take on the modern smartphone BlackBerry has just – just – turned a corner. This is an excellent device.
Henry Burrell
BlackBerry DTEK60 Review
For the first time in a while, this is a BlackBerry we can recommend to the individual consumer. It is also a business device, but the flexibility of Android means it is versatile enough to be moulded to the needs of both. It marries the Android OS with robust, easy to use security features and slick design, all for under £500. It doesn't have the brand clout of an iPhone or the curved edges of a Samsung Galaxy, but with its admittedly straight-faced take on the modern smartphone BlackBerry has just - just - turned a corner. This is an excellent device.
Add your review
|
Read reviews and comments