It's a bust-up between map apps as Rob Leane steps into the ring with Google Maps and Citymapper…
The age of the app has reached something of a critical mass. We're now at a stage where there isn't just one simple option for any of your technological needs. Instead, there are two or more incredibly similar apps competing for your affections in any given area. When we notice an occurrence of this phenomenon, it's time for an App Battle.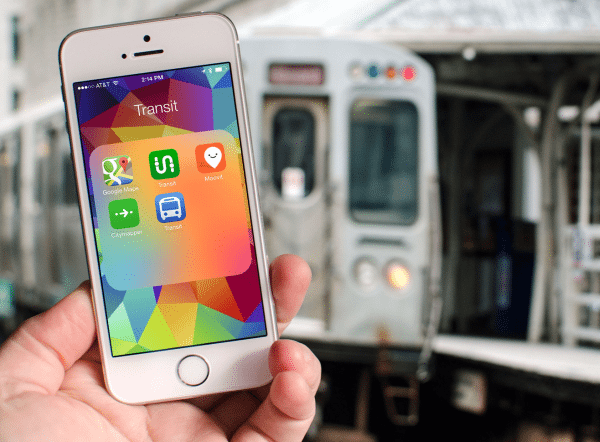 We've previously tell the difference between files storage systems (Google Drive Versus Dropbox), and we've got a doozy for you this time. We'll be asking this big question: which is the best map app?
Although your phone probably comes with its own built-in map/directions app, the chances are that you've considered upgrading to a better one. Both Google Maps and Citymapper are popular free options. Within two days on the iOS App Store, Google Maps had been downloaded a whopping ten million times. Citymapper has rolled out a unique service in 29 international cities. Put simply, these are the big cheeses of apps that help you get around.
We put them to the test…
A To B
Google Maps has a bit of a head start in this App Battle, in all honesty. Even if you don't have the mobile app version, you'll be familiar with the Google Maps desktop website, which has been growing in scope and stature since 2005. The mobile version of Google Maps, as you'd expect, plays into the strengths of the original upscaled version.
The app doesn't take long to download, and it opens up pretty much instantaneously when you call on it. If this freelance writer decided to pop up to London and visit Micro Mart HQ, it tells me within seconds of searching exactly how long this journey would take me by car.

Once I click on the little image of a car, Google Maps will give me a detailed run-down of the best route and a nice big visualization of the map. This route has tolls, I'm reminded, and the approximate delays that traffic will cause are estimated.
If I pick a different option from the bar towards the top of the page, I'm told that travelling by train would be a little quicker. A brisk cycle would add an hour and a bit to my journey, while opting to walk from Working to Central London would apparently take nine hours (I probably won't try that). Yes, as you'd expect from a tech giant like Google, its Maps service makes the task of getting from A to B incredibly easy.
Citymapper, on the other hand, takes a different approach. After another easy download, and a slightly longer boot-up time, you're given a list of options. These are 'Get Me Somewhere,' 'Get Me Home,' 'Get Me To Work,' 'Saved Places' and 'Recent Journeys,' and 'Meet Me Somewhere.' For purposes of comparing Citymapper's capabilities to Google Maps, I choose the simple option – 'Get Me Somewhere.'
As I did with Google, I search for Micro Mart's base at Dennis Publishing's London headquarters. The immediate difference in the result is that Citymapper is geared towards commuters and city frequenters. I'm not immediately told about tolls or traffic. Instead, it's 'suggested' that I hop on a train and then a tube. I can choose driving, cycling or walking (522 minutes) options if I like, but I agree with their suggestion and click into the primary suggested train route.
I'm told immediately that the train from Woking to London leaves in half an hour, and that this leg of the journey will take 25 minutes. Impressively, I'm also told that the best section of this train – where I'm most likely to find a seat – is the front carriage. Genius!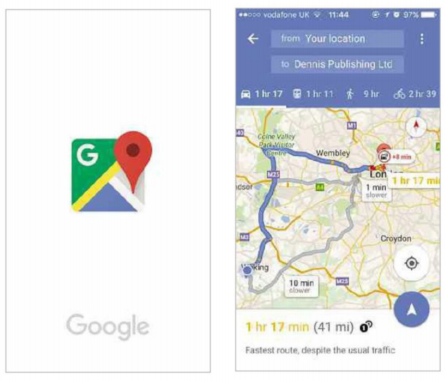 Similarly to Google Maps, once I get as close as the trains can take me, Citymapper will continue to give me walking directions, with a little arrow moving about on the map screen to assist if I get confused (which I probably will, knowing me).
Winner:
This section has to go to Google Maps. Although Citymapper is a London commuter's dream – and probably bests Google for user experience – it's utterly useless unless you're near one of the 29 supported cities. Google's global reach is more universally useful for getting around.
Extra Features
So what else do these apps have? For starters, Google Maps has quite a lot of other ideas beyond basic directions and mapping. Once you start a search, for example, Google Mapps immediately offers you a list of likely things you're after – supermarkets, petrol stations, cash points, chemists and many more sorts of service are allegedly only one thumb-print away.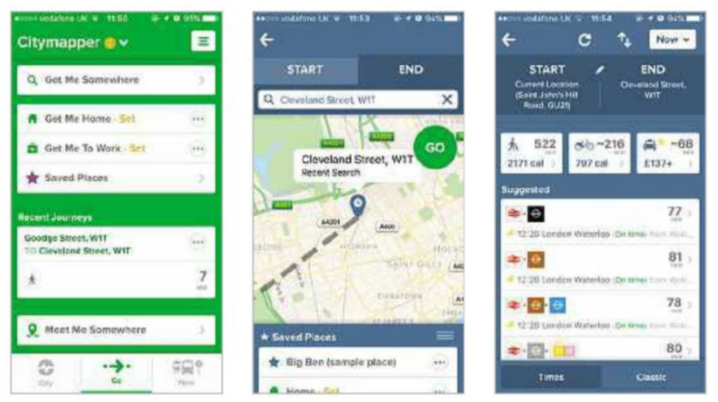 Unfortunately, this quick options feature doesn't work quite as well as you'd like. I click on 'cashpoints' and then 'cashpoints near me,' and its best suggestion is in central London, 22 miles away from my current location. There's one down the road, Google, come on! After going back to the main map page and reminding Google where I am, it finds one 1.4 miles away. It's still not the closest cashpoint to me, though, which highlights how Google isn't quite as omniscient as you might think.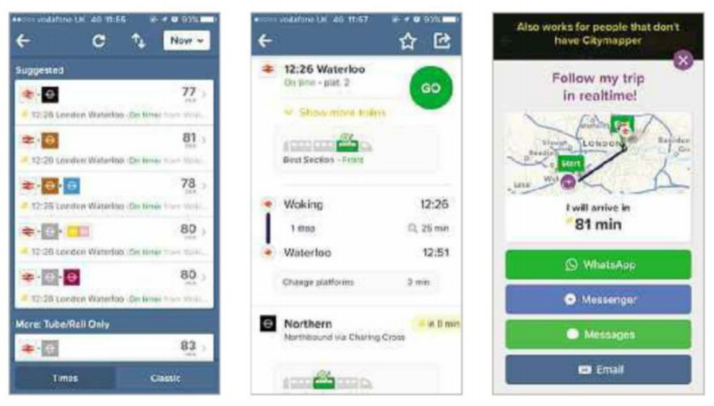 Google Maps also includes 'Google Earth' in its menu bar, but when you click on that it asks you to download a different app. You can click on 'Satellite,' though, and see real-life imagery of the map you're looking at. That can come in handy when you're out and about and not quite sure of your bearings. There's also 'Your Contributions,' which allows you to review restaurants, museums and the like to aid those searching around for something to do.
We listed a few of Citymapper's other spins on its mission statement in the previous section – it's very easy to set your Home or Work location and quickly find out the speediest route there at any given time. You can also save your favorite places (a feature shared by Google), and browse your recent journeys with ease. That's occasionally useful when you can't remember the name of a good place you ate last week and other such memory fails.
Citymapper also has an impressive social aspect to it: when you're on a journey you can click the 'Share ETA' button in the top-right corner, which then allows you to send a 'Follow my trip in real time' link to the hapless friend or loved one who's waiting for you dotingly at the other end. They can then access updates on where you've got to and how much longer you'll be. Very smart, indeed.
There's also an option, on the front page, to choose 'Meet Me Somewhere.' In this mode, you select your destination and send it to someone else, so they can get their own tailored instructions on how to get there. Again, for those who live in the city, this can prove to be a very handy hassle-reducer.
Winner:
Citymapper's social uses win this round, proving a little more useful than satellite imagery in normal everyday life.
Overall winner:
Both have their merits, but Google Maps is probably better for the majority. If you live in a major city, though, Citymapper is a must-have.