Need more control over your gaming display? Look no further
The Benq RL2755HM has been engineered for gamers, to get the best possible resolution and refresh rates while offering one or two other subtle extras to help the gamer enjoy the experience more.The full HD TN panel measures 27 inches and offers a 1ms response time, brightness levels of 300cd/m2 and viewing angles of 170º horizontal and 160º vertical. Connectivity comes in the form of two HDMI ports, DVI and VGA, as well as a headphone and line in ports for the pair of 2W speakers.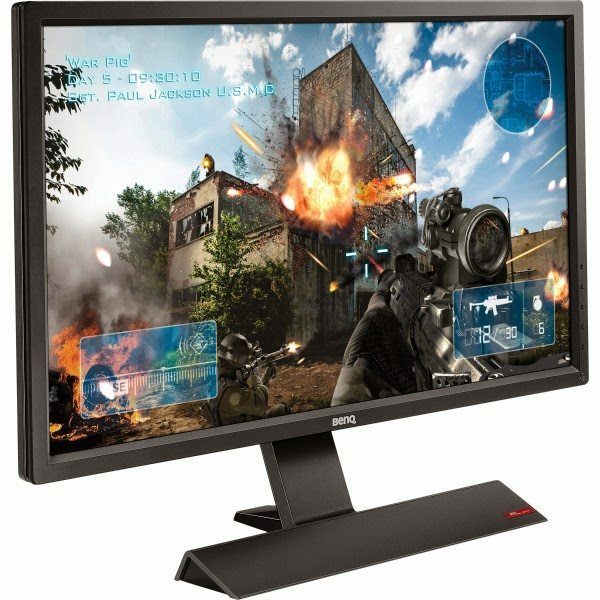 The matt-black finish limits the amount of glare and fingerprints and is coloured with splashes of red here and there for a more pleasing effect. It's fairly basic, but there's nothing to distract you away from the action on the screen. Incidentally, the base is angled slightly, with a rubberised strip at the top to rest one or more controllers on and around the back of the screen there's a flip-down section to store your headset. Little details, yes, but significant.The proof, though, is in the testing. And happily the RL2755HM didn't disappoint. There was no perceivable lag, motion blur or anything usually associated with a monitor lacking in fast action response timings. Any genre of game or fast action movie will look great when played on this monitor, but Benq has also included a couple of dedicated gaming profile picture modes, for first-person shooters and fighting games. These settings will alter the calibration of the colours and improve the sharpness of the screen to help you see more during play.On top of this there's also a Black eQualizer mode to brighten darker scenes without overexposure, and there's a 20-Level Colour Vibrance setting to help optimise the details on screen.
Out of the box, this screen looks perfectly fine. In fact, it's one of the best, most colour rich and sharp we've seen in a long time. However, there are a few elements we would have liked to see added. For one, there's no USB connectivity. It's a minor detail, but since this is a gaming monitor, the addition of a couple of USB ports (just for charging wireless controllers perhaps) would have sweetened the deal. Secondly, there's no DisplayPort connection.
Again, you could argue that it's not necessary, since there's already a pair of HDMI ports, but a lot of graphics cards are now pushing finer details through DisplayPort, and there's always an opening there to accommodate Nvidia G-Sync technology. And finally, it's not the most ergonomic of monitors in that there's only a slight tilt available. If perhaps a height adjustment could be added, for better positioning, then again this would make the monitor stand out.
These are very minor gripes, though, and it's the better than normal level of user control that really sets this monitor apart from other 27″ models. For the price, this is a very good monitor on its own, regardless of its suitability for gaming. Hook it up to a console or your gaming PC, and you're certainly in for a treat.
David Hayward
A fantastic gaming monitor, with lots of user control.