BenQ GL2580HM review – How much should you pay for a monitor? Prices have gone up in the last couple of years. BenQ's GW2270H, it's still a bargain. At 21.5in, though, it's on the small side.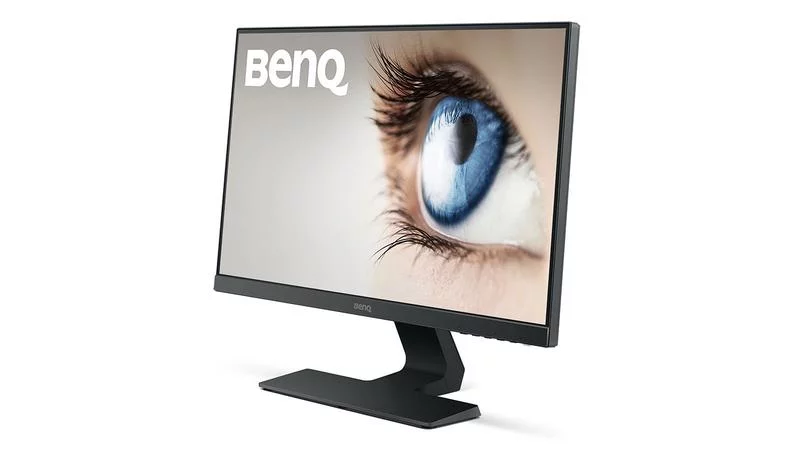 This 24.5in model has the same Full HD resolution but it gives you a more comfortably sized Windows desktop, and although it shares the same basic textured black plastic design, the slim bezels and curved back give it a classy look. It's a far cry from the previous GL2450HM (still available for a tenner less), which looks comically ugly by comparison. The back of the polygon- styled stand (pictured below) pops off so you can route your cables through it, a nice touch if you like a tidy desk.
Gamers should look elsewhere, but this is a decent monitor at a reasonable price
There's no DisplayPort input, so you'll need an adapter in the unlikely event that that's the only option on your PC. HDMI and DVI are catered for, as well as VGA for any older devices you want to connect. Stereo audio, FreeSync, height adjustment and a USB hub are just some of the features this monitor doesn't have, but there is a mono speaker for emergencies.
The LCD panel uses the older TN technology, which is often used now for gaming monitors. This is in no way a gaming monitor and it just uses TN because it's cheap. But unlike some examples, you don't have to look at it precisely straight on to avoid weird colour shifts – and the picture is actually very good. We found it surprisingly well set up for accurate colour (helped by very even backlighting), though not up to serious photo or video-editing standards.
There's also a low blue light mode for those concerned about effects on sleep and eye health. Contrast isn't great, though, and shadow tones could get muddy, while the alternative colour modes offered by the menus just made things worse, because – let's be honest – they usually do.
This is not an exciting monitor, but for 140 quid it's a very decent one, and as long as you don't play games much and don't mind sticking a book or two under it to bring it up to a suitable height, it won't disappoint.
BenQ GL2580HM review: SPECIFICATIONS
24.5in TN LCD • 1920×1080-pixel resolution • HDMI port • DVI port • VGA port • 426x558x175mm (HxWxD) • 4.4kg • Three-year warranty
BenQ GL2580HM review: VERDICT:
It's good value for money, with a great screen, though not height- adjustable
Recommended
BenQ GL2580HM review: ALTERNATIVE:
Iiyama G-Master G2530HSU-B1
Colour is almost as good and this would suit gamers better, but contrast lets it down