Philips 328P6AUBREB review – This is one of the new HDR (high dynamic range) monitors, designed to bring more depth to images rather than just more pixels. In fact, it's decidedly average on the pixel front, providing a conventional 2560×1440.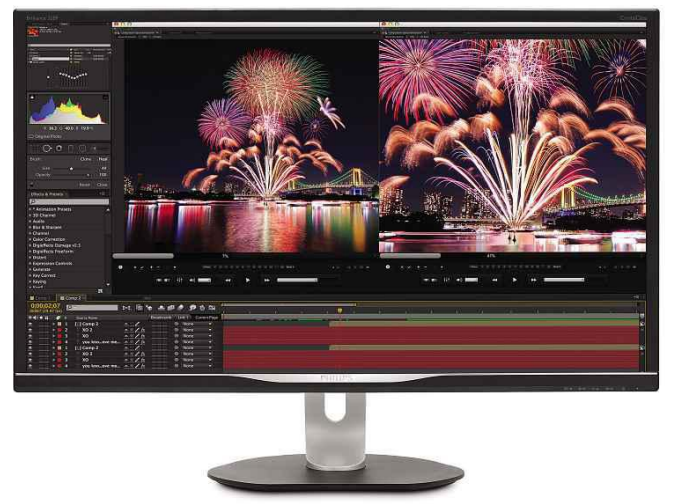 It's good for TV and film viewing, but less so for creative work
Living room TVs have usually worked at lower resolutions than computer screens, because they only had to show moving pictures rather than text and user interfaces. But both are now moving to very sharp 4K. Philips itself sells a bigger 43in 4K HDR TV for a lower price, so why not buy that? Well, apart from the fact that with a 43in screen on your desk it'll get tiring turning your gaze from one side
Philips 328P6AUBREB review: 

SPECIFICATIONS
31.5in IPS LCD • 2550×1440-pixel resolution • 3W stereo speakers • HDMI, DisplayPort, VGA, USB Type C inputs • Hub with 2x USB 3.1 ports, 10/100 Ethernet • 742×6 57x270mm (HxWxD) •Three-year warranty
to the other, TV's generally smear colour more noticeably. You wouldn't see that watching Antiques Roadshow, but you would when trying to read small text.
Philips reckons this monitor covers 100 per cent of the sRGB colour space, and 99 per cent of the larger Adobe RGB. preferred by graphic designers. Our test meter found only 90 per cent of sRGB, but gave an excellent Delta E accuracy score of 1.09. Anything below 2 is decent. A more conservative reading of 91 percent of Adobe RGB still beats most monitors, with a superb Delta E of 0.87. Sadly, uneven backlighting made the comers up to 20 percent dimmer, which is useless for full-screen photo- or video editing, and with the limited resolution you wouldn't want to confine previews to a smaller area.
You'll need a graphics card with IObit output to lake advantage of HDR, which worked fine with the compatible games and programs we tried. Online services are introducing HDR films and TV shows, but as yet this often only works via TV boxes; Netflix supports PCs, but only those with recent processors and graphics cards. And Windows itself still doesn't handle HDR properly, making the desktop and other software look pale.
Philips 328P6AUBREB review: 

VERDICT
The price isn't bad for HDR if you want to get in early, but the uneven illumination is frustrating for photo and video editing
Philips 328P6AUBREB review: 

ALTERNATIVE
Samsung C27HC70
This smaller curved HDR screen has roughly similar colour quality with more even backlighting.