BEATS STUDIO WIRELESS 3.0
The latest version of Wireless ANC headphones to come from Beats, the Studio Wireless 3.0 are quite a bit cheaper than the previous version, as they now retail for down from the before.
They get Apple's W1 chip for "Class 1 Wireless Bluetooth connectivity and battery efficiency", so you'll now get 22 hours of wireless playback with ANC activated. It also gains a Fast Fuel that's supposed to give you three hours of playback from just ten minutes of charging, so it's definitely a headphone that's meant to be used all day.
In terms of looks, The Studio Wireless 3.0 doesn't deviate much from Beats headphones of generations past, but to their credit they've toned down the shiny look with new matte options, so the headphones don't scream out for attention anymore.
What's noticeably improved though; is the ANC. Beats now calls their ANC "Pure ANC", and it leverages on Apple's W1 chip to continuously detect and adjust for the environmental noise around you. The Studio Wireless 3.0 surprised us by how much better ANC capabilities were compared to the previous version, so we do have to give kudos to the engineers at Beats for that.
In terms of audio performance, we thought the headphones had a pretty good sense of rhythm, as they handled faster tracks like Tiesto's Elements of Life well. The headphone has a good sense of stereo imaging and is able to give good energy to the track, but could do with being a little tighter on the bassline.
It's something that shows up on a track like My Friends by the Red Hot Chili Peppers too. The guitar intro starts the track off nicely, and the vocals are rendered fairly well throughout the piece too, but when the bass kicks in towards the middle it feels slightly bloated, throwing you off from the piece. The track also seemed to need a little bit more separation as the guitars got a little muddied through the bridge portion. Still, we do think the headphones are improved acoustically compared to previous versions, so hopefully the trend continues.
+ Much improved ANC performance.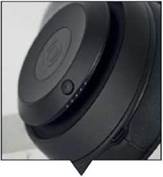 These lights indicate the battery life remaining
– Sound not as refined as the others.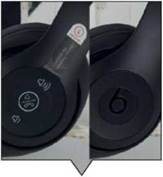 Touch controls on the earcup allow you to adjust volume.
AT A GLANCE
TYPE
Over-ear wireless ANC headphones
FREQUENCY RESPONSE
20Hz-20kHz
WEIGHT
260g