Audio-Technica says its latest headphone is designed with comfort in mind. Ed Selley puts the claim to the test and checks it out. Read our Audio-Technica ATH-MSR7 Review.
On occasions the marketing material for a product can be a statement of the blindingly obvious. Given their interaction with your head you might assume that all headphones make more than a few concessions to user comfort. So Audio-Technica's claim that its ATH-MSR7 has been designed with comfort in mind seems about as notable as announcing it has drivers inside. In reality, not all headphones are created equal and given that Audio-Technica has a good record for making comfortable designs, the ATH-MSR7 might be the ticket to long-term listening bliss.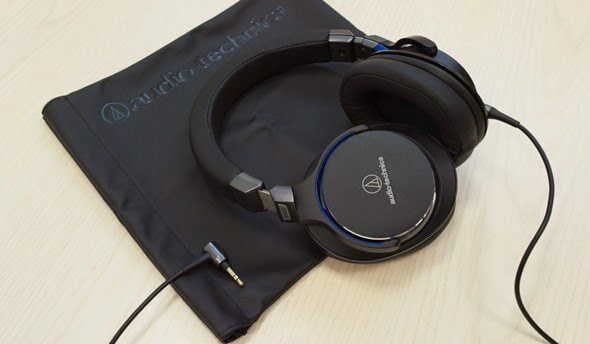 It is a hybrid-size designed to be used both at home and on the move. That said, it is fairly large compared with some of the competition. Part of this is down to the use of drivers that are a little larger than normal in this segment – 45mm versus the more usual 40mm. This is designed using AT's 'True Motion' technology, which is intended to keep the driver as light and easy to move as possible so it should add low-end performance, but not at the expense of sluggishness.
These are then placed in an enclosure that is closed-back save for a small vent, which doesn't appear to leak noise. Audio-Technica has then gone to great lengths to make the enclosure comfortable. The memory foam padding is deep but not too soft, and ensures a good fit to the ear. The headband then manages to apply enough pressure to ensure that it stays in place, but doesn't squeeze your head too much. The partial exception to this is that my glasses can be forced against the side of my face, which gets uncomfortable after a while.
As a design that will be used in a variety of locations, the MSR7 is supplied with a short cord complete with microphone and a longer one that allows you to be a fair distance from your system. A soft carry bag is supplied too. Compared with rivals like the Sennheiser Momentum (HFC 372), it feels more orientated to home use and folds flat rather than inwards, but is no trouble to use out and about. The looks are a little on the sober side in the black of the review sample, but they are extremely well finished and feel very solid.
With a long history in pro audio, the Audio-Technica house sound is accurate, but there is generally a forgiving rather than forensic edge to it. The MSR7 has these traits, which means in comparison to something fearsomely detailed like Grado's SR225e (HFC 393), it is more relaxed and less instantly attention grabbing. The fillip to this more relaxed style is that it is refined and controlled when the material you are asking it to play is less than perfectly recorded. Bass is deep and well integrated and there is a smoothness to the top end that is not provoked even at very high levels.
Compared with the Sennheiser Momentum or Focals Spirit One S (HFC 391), it is more relaxed and less rhythmically engaging, but it never sounds slow or lacking in control. There is plenty of scale, though, and there's a commendable sense of space and soundstage for a closed-back headphone. This gives performers space to be presented in a commendably real and believable way and the Audio-Technica then imbues them with a realistic tonality and scale. With Seasick Steve's Sonic Soul Surfer, Wold's vocals are rich and vivid and the MSR7 manages the neat trick of ensuring they are distinct from the backing instruments, but never removed from them.The power and scale of the performance is undoubtedly assisted by the sensitivity. Quite what goes into a 'True Motion' driver is slightly unclear, but the MSR7 can be driven to usefully high levels on the end of a mobile device and never sounds coarse or strained when you do turn the wick up. But that's not to say that the headphones don't benefit from being driven well and the ATH-MSR7 works beautifully on the end of a Naim Supernait 2 integrated, too.
This price point is keenly contested and there is no shortage of excellent competition, but this is an extremely well sorted headphone. Audio-Technica has come down firmly on the side of home use over out and about, and the result is a headphone that works superbly for domestic listening with just enough portability to make use on the move feasible. It's a worthy option at the price.
● 45mm 'True Motion' dynamic driver