Also known as the ZenPad Z500M, this 9.7in tablet is a direct competitor to the iPad Air for people who prefer Android. It makes an excellent first impression, with Apple-esque chamfered edges, slim sides, and a back panel (in Glacier Silver or Titanium Grey) that's robust enough to support a design that's slimmer than a phone. To underline its premium credentials, the button below the screen incorporates a fingerprint sensor for unlocking the tablet more securely.
Screen quality matters in a tablet, and here the ZenPad lags behind the iPad – but not by much. It has the same ultra-sharp resolution, and while contrast and color reproduction (covering 91 percent of the sRGB range) fail to match Apple's standards, the 3S 10's panel is bright and vibrant.
A wafer-thin, good all-round tablet that can't quite match the very best.
Behind it is a six-core MediaTek processor and a pretty generous 4GB of RAM, which made Android 6.0 feel very smooth in everyday tasks, including web browsing and video streaming.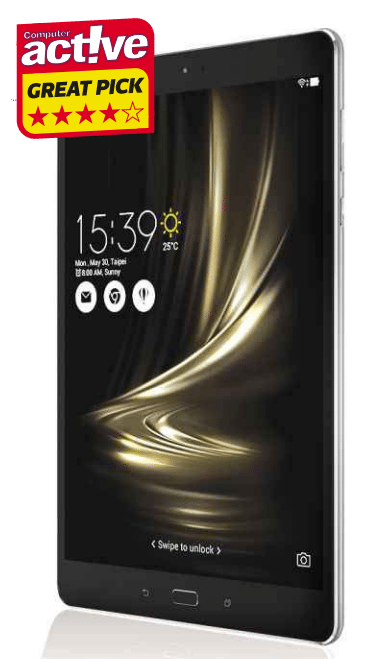 However, Asus' version of Android isn't as easy to use as it should be.
Sadly, when it came to graphics it couldn't compete with Apple's A8X processor for the iPad, or even Android rivals powered by Qualcomm and Nvidia chips. Basic games were fine, but more demanding 3D titles struggled.
We don 't pay too much attention to the rear cameras on tablets, since they're not often used except by that one annoying person at a concert who doesn't realize that holding up a 10-inch slab blocks everyone else's view. The ZenPad 's rear camera is weak enough to discourage those types of people. The front camera is adequate for video chat and selfie photos.
Battery life, at eight hours 21 minutes in our video-playback test, was shorter than the iPad 's and well shy of the 12 hours we got from Samsung's Galaxy Tab S2 9.7, so you'll need to remember the USB Type-C charging cable if you take the ZenPad away from the mains.
Eight hours isn't terrible, but a tablet tends to be something you pick up and put down casually, so the less you have to worry about keeping it charged the better.
Overall, this is a very good tablet, but we'd still pay the extra for the Galaxy Tab S2 or better still the iPad Air 2. The Acer Iconia Tab 10 is a bit more limited, but much cheaper.
SPECIFICATIONS
2.1GHz MediaT ek MT8176 six-core processor • 32GB flash storage • 9.7in 2048×1536-pixel screen • 8-megapixel rear camera • 5-megapixel webcam • MicroSD slot • 802.11ac Wi-Fi • Bluetooth 4.2 • Android 6.0 • 240x164x7.15mm (HxWxD) • 430g • One-year warranty
VERDICT:
There's nothing about this tablet that would stop us recommending it, but nor doe s it stand out as the best option
ALTERNATIVE:
iPad Air 2
A better screen and longer battery life makes this a superior buy, although there's no slot to expand the storage.