Ashampoo Photo Commander 12 Review | Sort out those folders full of images with Ashampoo's Photo Commander 12
If you're an avid snapper like me, then I'm sure you also have folders full of unedited and in the main unorganised images that you're going to sort out 'some day'. The trouble is that day never comes, unless you can find a utility that will take some of the strain out of doing the job for you. After a quick look at Ashampoo's latest release, Ashampoo photo commander 12, it seems I might have found a likely candidate.
Ashampoo Photo Commander 12 Review
A genuinely useful utility
Add your review
MORE DEALS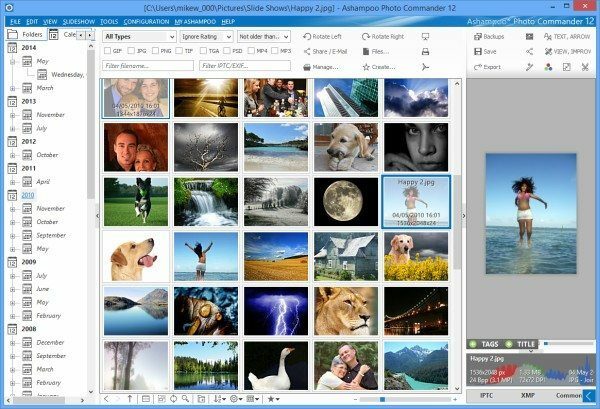 Ashampoo photo commander 12 is a multifaceted program, designed to handle most of the problems involved when trying to sort, catalogue and, to some degree, rectify any compositional errors found in your images. On top of that, it can help to make more creative use of them once they've been sorted, which apparently is another area where we all fail miserably; it seems that most of the images we take end up confined and forgotten in some obscure backup folder.
Although multi-faceted, the program is not overly complicated; in fact, if I can manage to find my way around it without resorting to the help file, most users should be okay too. The interface is laid out quite logically, with a directory tree to the left, an adjustable thumbnail view in the centre and a preview of the current image on the right. This view is primarily where you would sort out your images, add various tags to rate each image, give them a title or create albums. The idea is to make it easier to find specific files or group them into more logical sets. If this is too time consuming for you, the calendar option will sort them into date order at the click of a button. I also liked the idea of bookmarks in the folder tree, which makes it much easier to navigate, without constantly clicking through dozens of folders to get back to the files you're working on.
The developer has obviously thought about how a typical user might work, because it's cross referenced the same options on different pages. For example, when you're using the Create menu, the Frame option takes you to the object menu, where you can select the appropriate frame.
Double-clicking on a thumbnail in the will open the quick fix screen, where you can make all sorts of adjustments or apply special effects. These include things like crop, optimise, change perspective, remove blemishes, correct horizontal alignment or apply one of the preset effects – and believe me, there are plenty to choose from.
I should also mention here that the optimise option is not a one-shot affair either; it's broken down into separate elements, giving you much greater control over the result. For example, there are three levels you can apply to remove noise artefacts from an image. If you prefer to make these adjustments manually, the contrast/colour option opens a new screen with the full array of controls. These include colour strength, temperature, hue, saturation and more. There's even a full histogram and a graduation curve where you can manually adjust the density for each of the colour components. You can save these adjustments, which is particularly useful if you have a number of images with similar faults.
Finally, the create menu has options to make something more of your images than simply printing them. You can create calendars, greetings cards, panoramas and slideshows, both as a conventional video file that you might burn to a CD or as a HTML file that you could upload to a website. If you do simply want to print your images, Photo Commander has that covered too. Yet here again there are options to add multiple images on a single page, create a contact sheet or build a collage. Joe Lavery
Ashampoo Photo Commander 12 Review: Verdict
A genuinely useful utility