A new release from Incomedia of its flagship WebSite X5 website designer
WebSite X5 Evolution 12 Review | This month sees the latest update from Incomedia of its WebSite X5 product line, adding another digit to make it the 12 edition. In fact, the company encourages potential users to try it out first before parting with their money.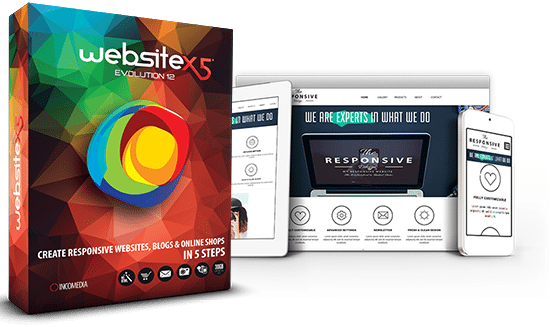 WebSite X5 Evolution is unusual in a number of ways. Firstly, the company allows you to install it on two machines at the same time, and secondly there are no restriction or licensing fees regardless of how may websites you create with it. That applies equally to designers who have clients and charge them for the service, which is quite an important and money saving consideration, compared to other design solutions.
See also: LibreOffice 5 Review
Yet the main difference between X5 and other web designers is its simplicity, making it one of the easiest and productive products to get to grips with.
Like previous versions, the interface is uncluttered, using a five-stage approach to designing, which at first I found a little restrictive. But after using it for the past couple of years, I appreciate the versatility and compact code this method provides. It also makes you think more about the layout of the pages, while creating an underlying structure that is easily changed.
This release includes more than 1,000 templates to chose from, and I see that many of these include the full screen background images that are becoming increasingly popular. And if that's not enough to get your creative juices flowing, you also get access to more than 400,000 royalty free photos, buttons and ready-to-use widgets.
As you might expect, Incomedia has an ongoing programme of development, and with this release it has introduced some new features and updates. But possibly the most significant of these is the introduction of responsive websites.
This option is selected when you define the general setting at the beginning of each project. Once checked, it creates websites that automatically adapt to the format of the device being used to display them. So it doesn't matter whether you're using a desktop, tablet or smartphone; the content will be presented in a clear and accessible manner.
I've seen this feature attempted on other web design programs and, to be honest, it's something of a hit and miss affair, but in the tests I made, X5 Evolution did a good job of it. I think that's mainly due to the way the program optimises the content anyway, so this is just another stage in that process.
Other new features include the introduction of a new Entry Page to your website, which allows you to present the site in different languages. Alternatively, you can use this to detect the visitor's web browser language and point them to the correct website version.
As you probably know, there are laws in place in most countries regarding privacy protection, where in many cases you're required to inform the user of your policies, particularly if you're using cookies. Well, Incomedia has added a new section to the advanced settings, where you can manage these statements. There's also a facility during page creation to add the reCaptcha system to your email forms, in an effort to keep spam emails under control.
The Pro version has more advanced options for order and stock management, which includes a new online control panel where you can check orders and stock levels from your mobile phone.
If you want to try either of these product for yourself, the Incomedia website has a 14-day trial version, which is free to download. There are also a range of video tutorials to get you started, which supplement the comprehensive manual.
Joe Lavery
WebSite X5 Evolution 12 Review: Verdict
A well-rounded product to rival any web design system..