Samsung describes this new tablet as 'business-rugged', which conjures up some exciting images of what business must be like in South Korea. They're not thinking about the office, of course, but jobs like driving a delivery van, inspecting industrial equipment or recording crime scenes. Let's be honest, what they're really thinking about is organisations that might buy 500 tablets off them. Which is fair enough. But we quite like the idea of a rugged tablet just for knocking around the house, and if you only need one, the asking price looks quite reasonable.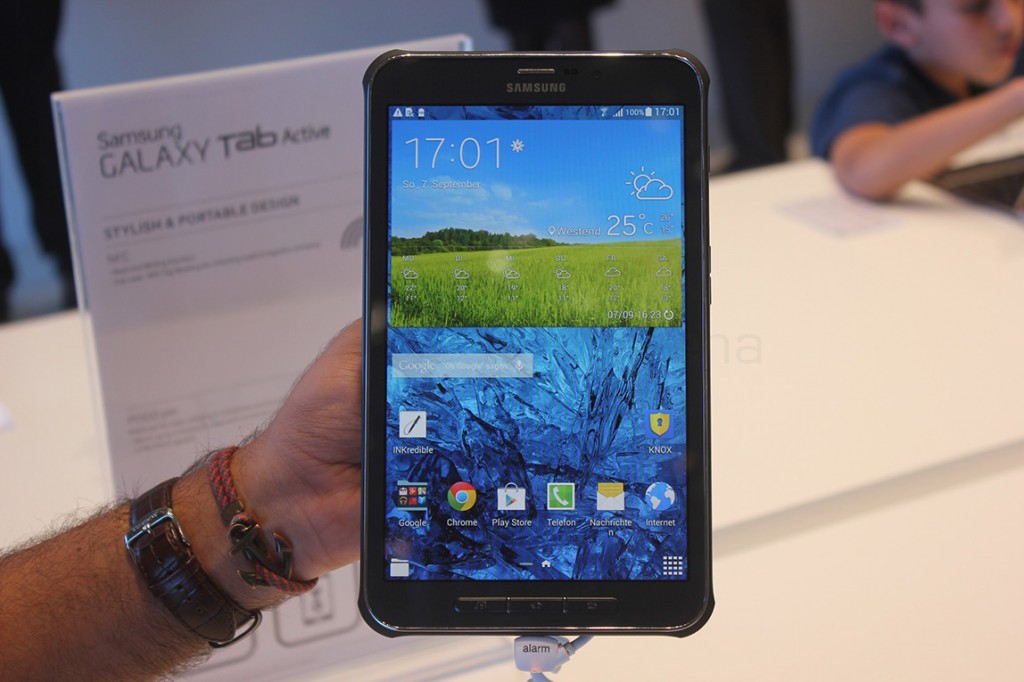 Robust with a long battery life and SIM option, but its basic screen underwhelms
The Tab Active 2 has a chunky textured plastic case with reinforced back and corners, rated IP68 for full dust and water resistance, and also comes with a non-slip rubber case that has slots in one side for the supplied S Pen stylus. The battery is removable, in case your job is so important, or your kids so bored, that you need to carry a spare, and a SIM slot is a standard feature (as with iPads), so if you need to get online everywhere you can add a mobile tariff. There's also a microSD card slot, which is just as well, because you only get 16GB of storage built in.
The screen is also rather basic, not bad in terms of colour reproduction but much less sharp than other tablets in this price bracket, which also limits the pleasure of using the very accurate S Pen. It does have a very effective oleophobic (anti-fingerprint) coating and offers modes that respond better to gloved or wet fingers, which is a nice, um, touch.
The processor inside is fast enough to keep Android 7 feeling generally smooth, but not suitable for jobs like video editing or more demanding games. At just under 12 hours in our video-playback test, battery life was excellent. You also get Bixby, Samsung's equivalent of Siri or Alexa voice assistants, and the best thing we can say about that is there's an option to switch it off.
The Tab Active 2 offers plenty that the similarly sized iPad mini 4 can't, and is cheaper if you need mobile data, but it's much less powerful and Android still doesn't feel as comfortable on tablets as Apple's iOS. As a basic childproof tablet, Amazon's Fire HD 8 Kids Edition might do just as well, A full-size iPad, Pencil stylus and protective case would cost about the same as the Tab Active 2.
VERDICT:
Samsung Galaxy Tab Active 2
There'll certainly be customers for this, but the specs are lower than most current tablets, while the price isn't
Add your review
ALTERNATIVE:
Apple iPad mini 4
With 128GB and better software, you could add a rugged case, but there's no pen.
SPECIFICATIONS:
Exynos 7870 8-core processor • 16GB flash storage • 8in1280x800-pixel screen • 8-megapixel rear camera • 5-megapixel webcam • 802.11ac Wi-Fi – Bluetooth 4.2 • 3G/4G • Android 7 • 215x128x9.9mm (HxWxD) • 419g