AOC G2590PX Review – If you're an avid competitive PC gamer, a fast 144Hz gaming monitor provides a huge leap in responsiveness over a regular 60Hz screen, assuming your graphics card can keep up with the required frame rate. The smoother frame rate will help you to see enemies faster and react a millisecond sooner.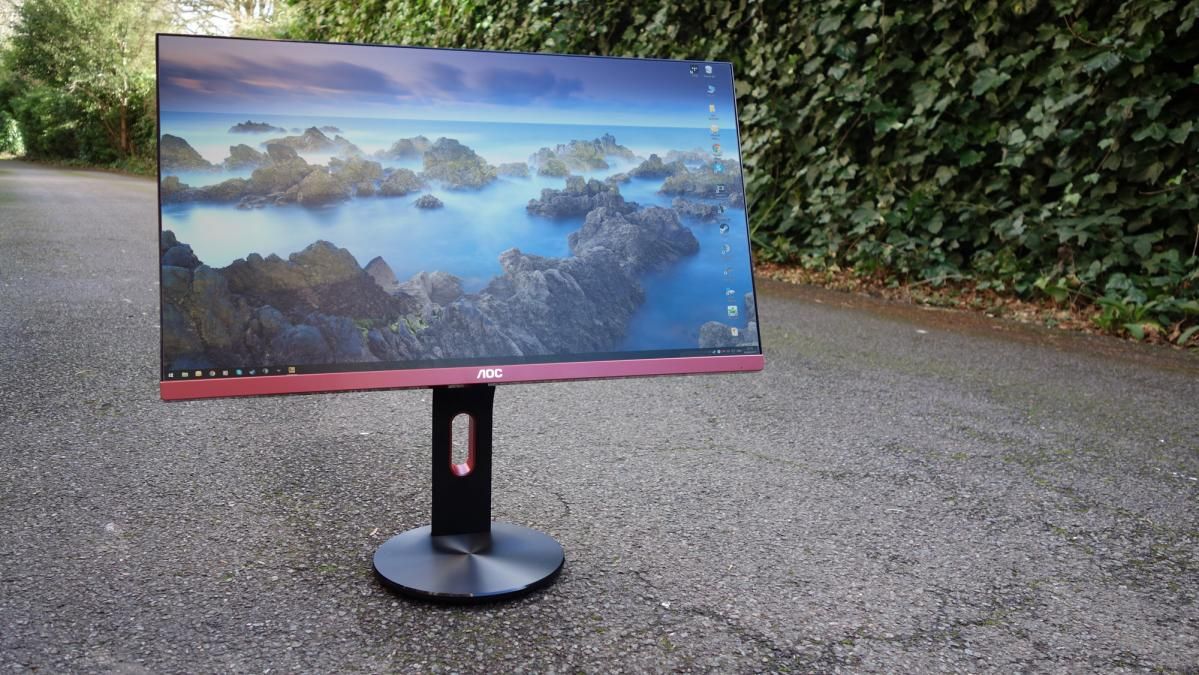 Plus, it just looks better than a regular display. What's more, you don't have to spend a fortune either, as proved by the AOC G2590PX.
This 24.5in 1080p gaming monitor also features AMD FreeSync, to eliminate tearing artefacts if you're using an AMD GPU. It has a stylish design with a minimal bezel on three sides, along with a decent array of connections and a fully adjustable stand.
It isn't short of competitors; there's the Acer XF240H, AOC's own G2460PF and the BenQ ZOWIE XL2411. These monitors admittedly don't have the same attractive, minimalist styling as the G2590PX, but they all have 144Hz 1080p TN panels. The class leader in this price bracket, however, is the Samsung C24FG70. It uses a VA panel and delivers superior colour accuracy and a higher contrast ratio than any other monitor we've tested at this price.
As we mentioned earlier, the G2590PX's best feature is its elegant, minimalist design. The top, left and right edges are effectively borderless, and only the bottom edge has a chunky bezel. The red and black colour scheme looks good too – it makes the monitor stand out from the usual black designs, but without going over the top.
The G2590PX's design is also still practical. The stand can pivot into portrait orientation, tilt back and forth from -3.5 to 19.5 degrees and you can adjust the height by 130mm
The top, left and right edges are effectively borderless
as well. If you want an even more flexible setup, or you prefer to wall-mount your monitor, there's a 100 x 100mm VESA mount at the back as well.
Meanwhile, the connection options are pretty standard. Video inputs are covered by a pair of HDMI 1.4 ports, a single DisplayPort 1.2 socket and one 15-pin VGA port. There are four Type-A USB 3 ports at the back of the monitor as well, one of which offers fast-charging capabilities, and you also get a 2W speaker built into the unit. You won't want to listen to music on the speaker, though, as the sound is far too tinny and lacks bass.
The on-screen controls for the monitor are comprehensive too, and include a full set of picture controls. The options include adjustments for colour temperature, contrast and overdrive, with an input lag mode thrown in for good measure.
Finally, as we mentioned earlier, this monitor also supports AMD's FreeSync technology in the 30Hz to 144Hz range. If you own a compatible graphics card with an AMD GPU, you'll be able to enjoy tear-free gaming.
Of course, there's also standard v-sync support for owners of Nvidia graphics cards, but it adds a fair amount of input lag.
AOC G2590PX Review: SPECIFICATIONS
[table id=10 /]
AOC G2590PX Review: Image quality
It all looks good for the AOC G2590PX on the surface, but the image quality from its 24.5in 1080p TN panel is its undoing. Our in-house X-Rite i1 Display Pro colour calibrator revealed poor colour accuracy, among a number of other weaknesses. The average delta E was 2.91 with a maximum of 6.26, and to be fair, this is on a par with other monitors in its category. However, it was the low 373:1 contrast ratio that disappointed, resulting in grey-looking dark scenes, while colours lack vibrancy.
To make matters worse, we measured the monitor's sRGB gamut coverage (in sRGB mode) at a comparatively low 89 per cent. The Samsung C24FG70 is far more impressive, achieving 99.6 percent sRGB gamut coverage.
At least the AOC G2590PX's peak brightness is pretty good. The monitor reached a brightness level of 405cd/m2 in User mode, and 349 cd/m2 in sRGB mode, promising good readability in bright ambient light. Its brightness uniformity isn't bad for a gaming monitor either, with a maximum variance of 16.5 per cent in the top left-hand corner of the screen.
AOC G2590PX Review: Gaming performance
Colour accuracy and contrast ratio aside, the most important aspect of this monitor is its gaming performance. The G2590PX works well with Overdrive set to Medium. However, with Overdrive set to Strong there's plenty of inverse ghosting, or purple haze. In this mode, we found the panel a tad sluggish compared with its rivals as well. Its input lag could be lower and its response time is a touch high. While its performance will be fine for most people, it won't satisfy more demanding gamers looking for the fastest, most responsive screen.
AOC G2590PX Review: Conclusion
The G2590PX is a stylish 144Hz monitor with some practical features, but it isn't as responsive as some of its rivals and its colour accuracy and contrast ratio are disappointing too. If you're a competitive gamer on a tight budget, the Samsung C24FG70 is a better buy, combining great design with decent gaming performance, along with sterling image quality.
CHRISTOPHER MINASIANS
AOC G2590PX Review: OVERALL SCORE
7.8
AOC G2590PX Review: VERDICT
Elegant looks and a fast refresh rate can't make up for poor colour accuracy and a low contrast ratio.
| | | | |
| --- | --- | --- | --- |
| IMAGE | RESPONSIVENESS | FEATURES | VALUE |
| 17/30 | 27/30 | 18/20 | 16/20 |
Recommended
AOC G2590PX Review
Elegant looks and a fast refresh rate can't make up for poor colour accuracy and a low contrast ratio.
PROS
Three-sided borderless design
AMD FreeSync
CONS
Not as responsive as rivals
Extreme overshoot ghosting with Strong Overdrive
Poor contrast ratio and colour accuracy
Add your review
Last update was on: 2021-10-28 4:00 pm

Freesync - Delivers smooth gameplay eliminating input lag, screen tear and stuttering
144Hz Refresh rate - Translates high frame rates into a level of smoothness and responsiveness you need
1ms Response time - Fast-moving action and dramatic transitions will be smooth without the effects of ghosting
Last update was on: 2021-10-28 4:00 pm
Freesync - Delivers smooth gameplay eliminating input lag, screen tear and stuttering
144Hz Refresh rate - Translates high frame rates into a level of smoothness and responsiveness you need
1ms Response time - Fast-moving action and dramatic transitions will be smooth without the effects of ghosting
Height Adjustable stand - Raise and lower the screen to suit your height and seating preferences
Frameless bezel - Enables seamless multi monitor set ups