BenQ EX3501R Review – BenQ's EX3501R sports an enviable spec for its price tag. This curved 35in panel supports AMD FreeSync and HDR, and has a 3,440 x 1,440 resolution.
[MIKE JENNINGS]
That resolution delivers a 106ppi density level, which is as good as it gets on large widescreen monitors right now – if s shared with last month's Labs-winning AOC AGON AG352UCG6.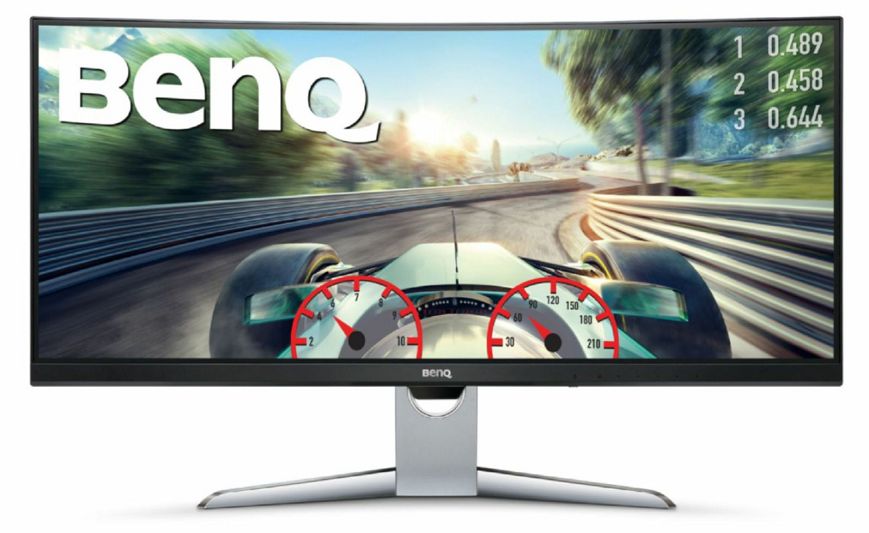 Unlike the AOC, though, the BenQ also supports HDR. This technology is currently more commonly seen on TVs than monitors, and it increases contrast to display a broader range of colours. However, the HDR situation is tricky. The BenQ's HDR mode delivers punchier colours, but it's still an 8-bit screen, so its colour reproduction won't compare to that of 10-bit HDR TVs, and it won't achieve the 540cd/m2 brightness required for HDR TVs either. You may also be hindered by your OS. You need Windows 10's Fall Creators Update to use HDR, and few games are supported.
The final big feature is AMD FreeSync, which works on AMD GPUs from 48Hz to 100Hz. That peak figure is fine, but the AOC offers 120Hz G-Sync support for Nvidia GPUs.
Physically, the sturdy, subtle BenQ has two HDMI 2 ports and a single Display Port 1.4 connection – and, just like the AOC, it has two USB 3 ports. Impressively, it has a USB 3.1 Type-C port as well, but it doesn't have speakers. The bezels are slim, and the stand has a cable-routing hole. There's 120mm of height adjustment and 25 degrees of tilt available, alongside VESA mounting. That versatility is good, but the pricier AOC also includes side-to-side swivelling.
The OSD is good too, and you navigate it with snappy buttons. The customisable quick-select options allow for sensible mode switching, and it has all the usual options.
In terms of performance, the BenQ competed well with the AOC at factory settings. Its brightness level of 355cd/m2 may not match HDR requirements, but if s still very bright.
The screen's black level of 0.18cd/m2 is a tad higher than the AOC's panel, but it still helps to create a contrast ratio of 2,088:1. That's excellent, and almost as good as the AOC's 2,153:1.
Meanwhile, the BenQ's average delta E of 2.38 is decent and not far off the AOC's 1.66 figure, and its colour temperature of 6.349K is close to the 6.500K ideal as well. BenQ's screen also retained these quality levels when we dropped the brightness to 150cd/m2, and it rendered 99.5 per cent of the sRGB colour gamut. It delivered impressive input lag too – its 12.4ms result is great for gaming, and better than the AOC.
FreeSync works on AMD GPUs from 48Hz to 100Hz
The HDR mode was disappointing, though, not having have much impact, with only modest improvements to contrast and colour saturation. The only screen mode we recommend is the sRGB option. The others, including Photo and three gaming modes, all saw the delta E and contrast decline.
The BenQ suffers from a familiar widescreen problem too – uniformity issues. On the left, the screen loses 19 per cent of its backlight strength, and it loses 15 per cent on the right. If s marginally better than the AOC, but still not great.
BenQ EX3501R Review: Conclusion
BenQ's screen isn't far behind the pricier AOC in any benchmark, which means superb contrast, solid colours and excellent input speed, which makes it great for gaming and for movies. If s patchier elsewhere though. The impact of its HDR option is minor, and FreeSync arguably isn't as useful as C-Sync with the current GPU line-up at high refresh rates, even if it does help BenQ to reduce the price. Plus, while the BenQ has good adjustment and connection options, the AOC is better.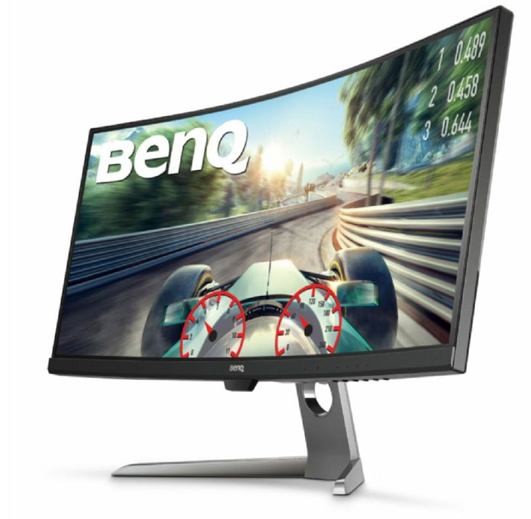 However, the BenQ still has the resolution and quality to make games and movies superb, and it has no major design flaws. If the AOC is too expensive, and you don't need C-Sync, the BenQ is an excellent alternative.
IMAGE QUALITY 49/55
FEATURES 13/15
VALUE 24/30
BenQ EX3501R Review: VERDICT
Consistently good results make the BenQ a tempting alternative to pricier rivals, although the HDR mode is disappointing.
BenQ EX3501R Review: SPECIFICATIONS
Panel type VA Native resolution 3,440 x 1,440
Diagonal 35in
Maximum refresh rate 100Hz
Active sync AMD FreeSync
Display inputs 2 x HDMI 2, 1 x DisplayPort 1.4
Speakers N/A
Ports 2 x USB 3, 1x USB 3.1
Type-C