THE FIRE TV Stick 4K Max is the most powerful streaming HDMI stick yet from the Amazon family, and boasts a feature set that will have gadget fans drooling. If you're hankering after the best all-in-one media player, or simply think your existing Fire TV experience could do with a refresh, then it looks a tempting upgrade for a little more than fifty quid.
But it turns out there's quite a good reason not to buy one…
Of course, there are some equally good reasons why it's worth Maxing out. It all depends on what you want to use one for.
Full-fat
Like its predecessor, the Fire TV Stick 4K Max is actually quite a chunky HDMI device. It's too wide to slot into the HDMI inputs spaced rear-side on an AV receiver, and it might even be a tad too wide for some TV HDMI input boards. The good news is there's a slimming adaptor provided in the box.
There's little of note about the device itself, bar the fact it runs off USB, with the microUSB connection causing the power lead to jut out in a T-junction.
It comes supplied with a remote control with built-in microphone that will be familiar to Fire TV fans, although a gentle refresh means there are now dedicated buttons for Prime Video, Netflix, Disney+, and Amazon Music.
Once you're signed in, you'll see the device runs the latest iteration of the Fire TV user interface, which while substantially better (e.g. tidier) than early versions, is not without its foibles. The midscreen launch bar provides just enough room for the top few streaming apps, which invariably means it requires a few extra clicks to get to what you're looking for.
That said, the choice of apps is top-notch, with no obvious services AWOL. A key attraction of Fire TV is its ability to turn any dumb telly into a smart one, and that remains the case here.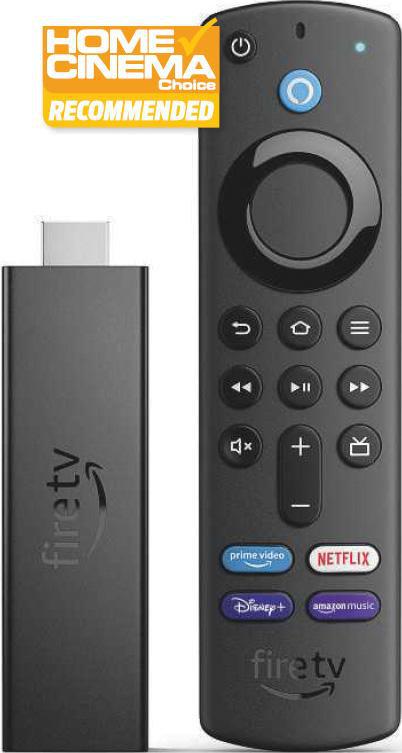 The technical specification is good too. The Fire TV Stick 4K Max supports 4K video (natch), Dolby Vision, HDR10+ and HLG HDR formats, as well as Dolby Atmos audio. It'll make the most of your favourite shows, when partnered with compatible gear.
Six appeal
More significantly, this is the first Fire TV Stick to support Wi-Fi 6, the latest wireless standard able to handle multiple 4K streams simultaneously (potentially useful if you have heavy AV usage from multiple family members). It's also the first Fire TV Stick to support Live View Picture-in-Picture, for use with smart security cameras. So, for example, when a visitor presses your Ring Video Doorbell, a video feed appears on a portion of the screen.
The silicon chippery is a little faster than that of the previous Fire TV Stick 4K, replacing the 1.7GHz CPU with a 1.8GHz version, and bumping up the GPU too. This doesn't mean images look any better, however – stream native 4K from Netflix or Disney+ and pictures are ultra-crisp and stable – but apps might load a sniff faster.
But there is a catch, and it's all about audio playback. While the 4K Max supports Dolby Digital Plus for Dolby Atmos (which sounds predictably great), when playing high-res audio from the Amazon Music app, the capability of the device reports as 16-bit/192kHz. This differs to the 24-bit/192kHz capability of the Fire TV Cube (reviewed HCC #311).
Comparing hi-res music via the Cube to the same tracks through the Max clearly demonstrates the difference. There's a gritty granularity to the presentation of tracks that are available in 24-bit but stream here as 16-bit. If you want to listen to hi-res on Amazon Music, the 4K Max is just not up to the job right now. Fingers crossed this issue can be resolved at some point.
Video king
The Fire TV Stick 4K Max is clearly an improvement over previous Amazon HDMI sticks, if you consider the provision of Wi-Fi 6 and Ring Video Doorbell support, plus its uprated processor. Universal HDR and Dolby Atmos compatibility are also good news. But this isn't the Fire TV device to buy if you want to stream hi-res audio – for that you'll need the Fire TV Cube
AV INFO
PRODUCT: 4K HDR streaming HDMI stick
POSITION: Top of the Fire TV Stick tree, below the Fire TV Cube
PEERS: Roku Streaming Stick 4K; Apple TV 4K
SPECIFICATIONS
CONNECTIONS: Integrated HDMI output; microUSB for power KEY APPS: Prime Video; Netflix; Disney+; BBC iPlayer; Tidal; Now VIDEO FORMAT SUPPORT: H.265; H.264; VP9; AV1 HDR: Yes. HDR10; Dolby Vision; HDR10+; HLG DOLBY ATMOS: Yes DIMENSIONS: 108(h) x 30(w) x 14(d)mm WEIGHT: 48.4g
FEATURES: Bluetooth 5.0 + LE; Wi-Fi 6 compatible; 8GB internal storage; 1.8GHz CPU; 750MHz GPU; Alexa voice remote; Live View Picture-in-Picture
VERDICT
Amazon Fire TV Stick 4K Max Review
A polished media player with Wi-Fi 6 compatibility and universal HDR – but hi-res music fans will look to the Fire TV Cube instead.
Add your review
Best Amazon Fire TV Stick 4K Max prices ?

$

194.98
1 new from $194.98
in stock

MORE DEALS