Alienware Area 51 – Unlike the real Area 51, Alienware's is hard to miss…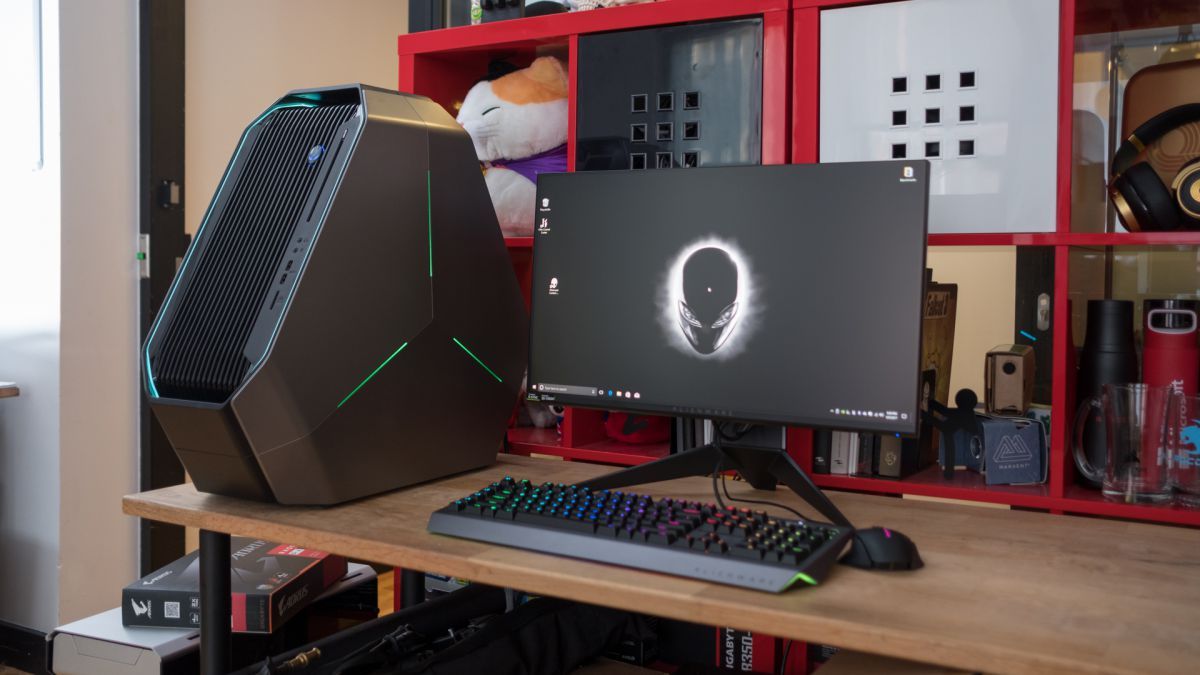 Alienware does its best to make its systems look like they arrived from a distant solar system, but the Area 51 desktop takes this aesthetic to new levels with a patently huge 'alien mothership' chassis that weighs in at 28kg. At first, we found it a little hard to fathom how a conglomerate of computer components could ever amount to something that may need a structurally engineered desk to support it, but this no-compromise config is made by its bandwagon of weighty optional extras.
The hero of this martian monolith is an Intel Core i7-7820X CPU, a rejigged Skylake processor that'd set you back around outright. This chip is one of the first consumer desktop CPUs from Intel to offer more than the usual four cores and while it's not quite as good value as the less- expensive Coffee Lake chips that have started to emerge, the i7-7820X still has an edge when it comes to raw computing power. Up against MSI's latest living room PC, the Vortex G25 (see APC 450, page 22) — the first device we saw with a six-core desktop CPU (the Core i7-8700) — the Area 51 scored 41.7% better in Cinebench's multi threaded CPU benchmark. This raw power was further demonstrated in HWBOT's X265 1080p media encoding benchmark, where it averaged just over 64fps, the highest score of any pre-built desktop we've tested. A lot of the gains on the i7-7820X come from the fact that it simply has more cores than the i7-8700 (the Cinebench single-core scores, for example, are
almost identical for the two), but this CPU has also been opened up to overclocking and comes with custom Alienware software to help make maxing-out your CPU performance easier.
Behind this monster CPU is a hefty 32GB RAM allocation and a Nvidia GeForce GTX 1080 with 8GB of VRAM. These components combine to dominate modern games on 1080p Ultra settings, with fps averages of 98.9, 87, 59 and 123.72 on The Division, Far Cry Primal, Ghost Recon Wildlands and Rise of the Tomb Raider, respectively. Thes scores are between 6% and 58% better than the Aorus X7DT which ran on a Core i7-7820HQ, 16GB RAM and a mobile GTX 1080. So you shouldn't have any concerns about running a 4K or 240Hz monitor with a setup this powerful. That said, when you're paying 4.5 grand for a desktop, you're expecting it to have good performance — and if you really need a PC this powerful, chances are you'd be more than capable of piecing one together yourself for a fair bit less.
Unfortunately, the model we tested only included a small 256GB SSD. Sure, that's a speedy PCIe connected drive, and there's an additional 2TB HDD, with three spare bays for ad-hoc storage additions, but it's a bit rich to charge an additional to upgrade to a 512GB SSD for a PC at this price. There are the additional perks of liquid cooling, a 1.5KW power supply and the Alienware Command Center software that should allow you to push this system to its theoretical limits. And the case pops open easily, the vents have ample space for airflow and the ports are easily accessible and even include their own lighting system. But the price still hurts.
Joel Burgess
Verdict
Features 4.5/5
Performance 5/5
Value 3/5
A monstrous powerhouse offering a suite of high-end components, but you're paying a premium.
4/5