Medion Erazer P4408 d review – Medion is a German electronics maker that is now owned by Lenovo, the Chinese manufacturer that took over IBM's PC hardware business more than a decade ago. You'll have seen Medion computers (alongside its microwaves and coffee machines) in various supermarkets and chain stores. In fact, after we spotted this one on Debenhams Plus it sold out there, and we've been chasing it around the high street ever since. At the time of writing, the best price was in Argos. If you like the look of it, it's certainly worth shopping around.
Not the fastest but a good, solid all-round PC for the price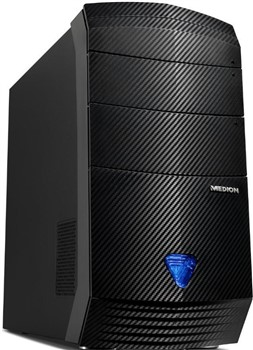 For now; the P4408 is not to be sniffed at. Described as a 'Gaming Desktop', it offers a balance of CPU and graphics performance that makes it suitable for all tasks, from general Windows productivity to serious graphics programs and the latest 3D games. The processor is an i5-7400 from the middle of Intel's previous Core range, and in all honesty we'd have to say it's not the fastest PC we've seen. But with a 3 GHz clock speed and four cores it's a solid desktop PC processor that'll cope fine with more demanding jobs like photo and video editing and won't get itself in a flap when you multitask between programs.
As for the graphics card, the GeForce GTX 1060 is the 3GB version, not the superior 6GB, but it's still a very decent bit of kit for this price range. Pick a 3D game that's not among the most advanced, and you'll have no trouble getting very smooth frame rates at Full HD or a slightly sharper 2560×1440 (depending on your monitor's resolution) with all the graphics settings at maximum, and 4K should be possible. More demanding games will require some quality compromises, but there's nothing you won't be able to play. Similarly, if you want to get into virtual reality, the P4408 will run a headset quite effectively, even if pricier PCs could make things look better.
There's not much budget left for frills, and the Erazer comes with a 1TB hybrid drive, a basic mechanical drive with a small cache to speed it up a tad, so you'll have a more noticeable wait when starting up Windows or launching programs than with an SSD. You could add an SSD yourself either in the fast M.2 slot on the motherboard or in a handy pop-out 3.5in drive tray that's accessible from the front panel, without taking the case off.
Another internal 3.5in bay is also available, but that's about the limit of the provision for expansion, except one free slot for more memory. External ports are also limited, with just two USB 2.0 and two USB 3.0 on the back – we'd have preferred USB 3.1 for quicker drives – although there are plenty of monitor connections. There are two more USB 3.0 sockets on the front plus a very handy SD card reader. Unusually these days, ours came with a CD/DVD writer, all neatly concealed by a snazzy moulded panel (see image left).
Compared with the batch of desktop PCs we tested recently518), the P4408 is at the lower end of the processor range but the higher end for graphics, and – assuming you can find it at the same price as we did – it's cheaper. If games and graphics aren't your thing, look elsewhere for a faster processor and more basic graphics card.
Medion Erazer P4408 d review: SPECIFICATIONS
3GHz i5-7400 quad-core processor • 8GB memory 3GB GTX 1060 graphics • 1TB hard drive • DVD writer • 2x USB 2.0 ports • 4x USB 3.0 ports • Gigabit Ethernet port • 2x HDMI ports • 4x Display Port • DVI port • Windows 10 • 430x185x380xmm (HxWxD) • One-year warranty
Medion Erazer P4408 d review: VERDICT
As long as you don't plan to upgrade, the Erazer Is a decent buy for all-round performance, despite a less impressive processor than recently tested PCs
Medion Erazer P4408 d review: ALTERNATIVE
Palicomp AMD Gravity RYZ1
Has the same graphics card, but a much faster overclocked Ryzen 5 processor and 240GB SSD
Editor choice
Medion Erazer P4408 d review
As long as you don't plan to upgrade, the Erazer Is a decent buy for all-round performance, despite a less impressive processor than recently tested PCs
Add your review