Nicely done muted LED Acer Predator logo
Properly tuned built- in 3D Soundscape Technology
Always ready in-line mic
Looks Intimidating
Gaming headphones play an integral part in every gamer's setup. The Acer Predator Galea 500 is one fine example that brings your games and enriched multimedia content to life. At first glance, this next-gen headset looks downright ferocious. Even the box that came with it is abnormally huge; it does beg the question: is Acer Predator overcompensating for something? As is, unboxing the Galea 500 is a chore on its own; the tall hexagon-shaped container took me almost 10 minutes just to open. A bad start indeed.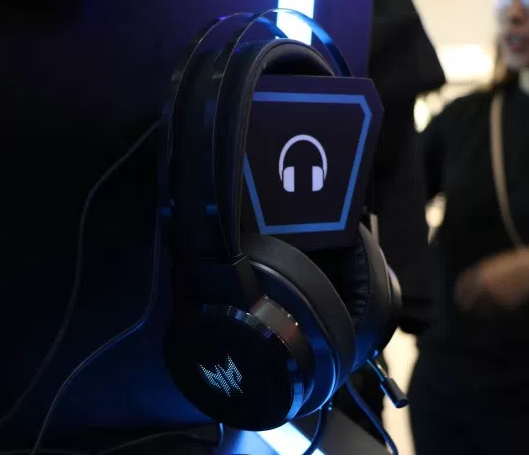 It's Freaking Huge
Aside from the obvious "That's what she said!" joke, the Acer Galea 500 is a truly massive headset. Design-wise, it looks like any other pair of gaming headphones. One odd aspect is the non-retractable headband; instead, it uses a rubberised type that stretches to fit slightly larger heads. Funnily enough, my head is way too small to fit the headphones, even in its current shape. The entire review experience is peppered with irritating instances of adjusting the headset periodically and/or having it slip off my head without warning.
Detailed Sound Delivery
Personally, it's no surprise that it would rock a solid sound-stage. Indeed, this massive sound-cans are fine-tuned to bring your favourite movies and music to life. Personally, the Acer Galea 500 made almost every song on my Spotify sound many times better than it usually does. Movies get that extra boost too thanks the use of 3D Soundscape Technology. As for games, well, it is a no-brainer that it'll improve the gaming experience. Every foot-step and echo can be heard with pinpoint accuracy.
Verdict:
"While comfort and design is a bit of a letdown for me, the Acer Galea 500 is a beast in terms of performance and audio quality. If not for the equally as hefty price-tag, I'd recommend this highly."- Wi-Liam
Specifications
WEIGHT: 550g
DRIVERS: 40mm, 112dB
SPEAKER IMPEDANCE: 2.2 Kilo Ohm
CABLE LENGTH: 200cm
CONNECTOR TYPE: USB
MICROPHONE: Uni-Directional Boom, 100Hz to 10KHz
MIC IMPEDANCE: 2.2 Kilo Ohm
FEATURES: 3D Soundscape Technology, Blue LED Acer Predator Illumination, Acer TrueHarmony Audio
V 7/10
P 9/10
F 9.5/10
D 7.5/10
U 8/10
8.3