Zotac offers a silent alternative to the lightweight office PC
Not everyone wants to build their own PC from the very ground up or buy pre-built hardware. For them a 'barebones' design, like the Zotac ZBOX Cl542 Nano provides an alternative, where you get to decide what memory, storage and OS is used.
What you can't swap are the CPU or GPU, because they're permanently fused to the tiny iTX-nano motherboard. The entire suitability of the CI543 Nano is predicated on the Core ¡5-6200U processor, its 2.3GHz clock boosting to 2.8GHz, and integrated HD Graphics 520 GPU.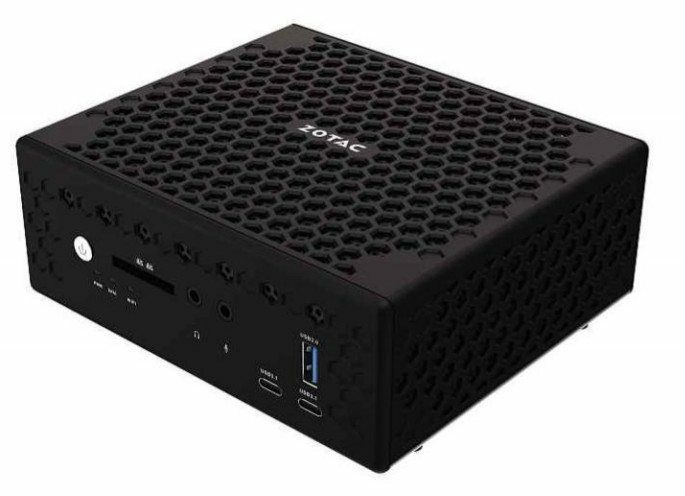 This processor is one of Intel's Skylake-U series that it created for laptops, a dual-core design with Hyper-Threading, capable of handling four threads.
Where this CPU has been criticised is the stingy 3MB of cache Intel provided it with, a level that tends to impair its performance while multi-tasking.
But critically for the small box that Zotac placed it in, this CPU uses a maximum of 15 watts, avoiding the need for extensive and often audible cooling. This system is completely silent – great for those who dislike the constant hum of rotating fans.
Gaining access to the inside of this small 146.4mm x 126.5mm x 60.5mm box is very simple, because just four screw-in feet hold the metal finned underside on. Once that's removed, you can see two SoDIMM memory slots (16GB max) and a single SATA port designed for one 2.5″ SSD or laptop hard drive.
Because these items aren't included, you need to budget for them. You could reasonably get a 128GB SSD and 4GB of DDR3L-1600 for around £75.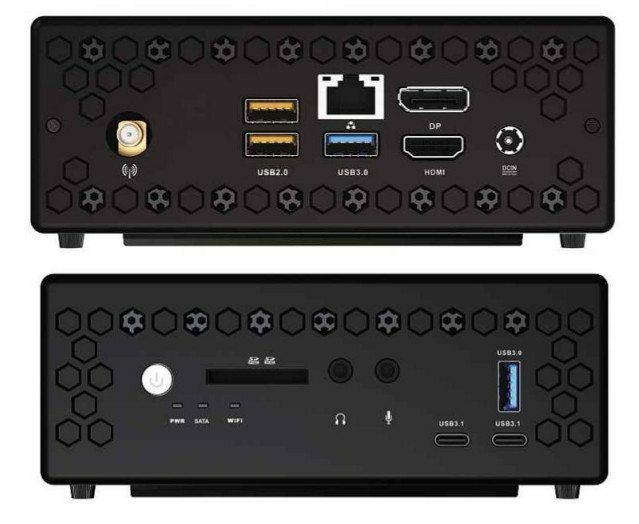 Where Zotac often does well is with external connections, and this design is no exception. The front has two audio jacks, an SD card reader slot, a single USB 3.0 port and two USB 3.1 Type-C ports.
The appearance of USB Type-C on this device is most welcome, and the placement of the ports on the front is logical. With the reversible nature of this port, it would seem silly to make it hard to access easily.
On the rear is a threaded output for the provided wi-fi antenna (802.11ac and Bluetooth 4.0 included), another USB 3 0, two USB 2.0 ports, HDMI, DisplayPort and a gigabit Ethernet port.
The way these ports are organised suggests that this system was designed to occupy the corner of a desk rather than to be mounted onto the rear of a monitor. However, Zotac does provide some small brackets that allow you to VESA mount it, should you want it removed from view.
Specification
Barebones system: no memory, no hdd, no operating system.
Processor: Intel Core ¡5-6200U dual-core.
Video output: DisplayPort: 3840 x 2160 @ 60Hz, HDMI: 4096 x 2160 @24Hz.
Hard drive: Support 2.5″ SATA 6Gbps HDD/SSD..
Memory: Support 2 x 204-pin DDR3L-1600 SO-DIMM (up to 16GB).
Networking: Gigabit Ethernet, 802.11ac wireless,
Bluetooth 4.0.
Ports: 2 x USB 3.1 Type-C (front). 2 x USB 3.0 (1 front, 1 rear). 2 x USB 2.0 (rear) 3-in-1 (SD/SDHC/SDXC) card reader.
This hardware is great for lots of applications that either require modest levels of performance or the PC to be permanently powered. For example, being a firewall or capturing security camera footage might be two ideal applications. That's not to say that the CI543 Nano can't do much more, but the subverted laptop technology does lend itself to these types of jobs.
In terms of more general use, the purchaser needs to curb their expectations, because this isn't a gaming system or a high-end desktop platform. In testing, it performed almost identically to laptops that I've covered with the same Skylake-U CPU/GPU combination. It's about 85% of the power of an ¡5-6500 Skylake desktop GPU, which is great for office applications and general surfing and video playback. Where it struggles is in 3D rendering, and to play any game at a reasonable frame-rate you'll need to compromise on both the resolution and detail levels.
There isn't a card slot or place in the case to mount a discrete GPU, so what this hardware does out of the box is all that it's capable of. One detail that might be important is that those wishing to use this to use this with their 4K TV could be undermined by the HDMI-out, as it only supports version 1.4a. Without HDMI 2.0, it can't do refresh of greater than 24Hz at 4096 x 2160 resolution, though the DisplayPort output can achieve 60Hz at 3840 x 2160.
Otherwise, technically, there is very little to complain about with this system. My only pause for thought is that at this price you can buy a laptop with the same processor power, like the HP 250 G4. That comes with 8GB of memory, a 1GB hard drive, a screen, a keyboard and even a DVD writer for £20 less than the RRP of the Zotac CI543 Nano.
Hopefully, general availability will push the price down, because it's just too much at the current RRP. mm Mark Pickavance