Zentyal 5.1 Review – Point releases that are a year in the making is enough of a reason to pique Shashank Sharma's interest. But is his curiosity misplaced?
IN BRIEF
Unlike most other server distributions. Zentyal features a graphical desktop that can be used to fine-tune the system. Its USP. however, is the easy-to-navigate web interface for installing software and configuring various services. In addition to the community edition, the project also produces a commercial variant based on Ubuntu Server. ClearOS. NethServer and Univention are quite similar and also feature a web interface.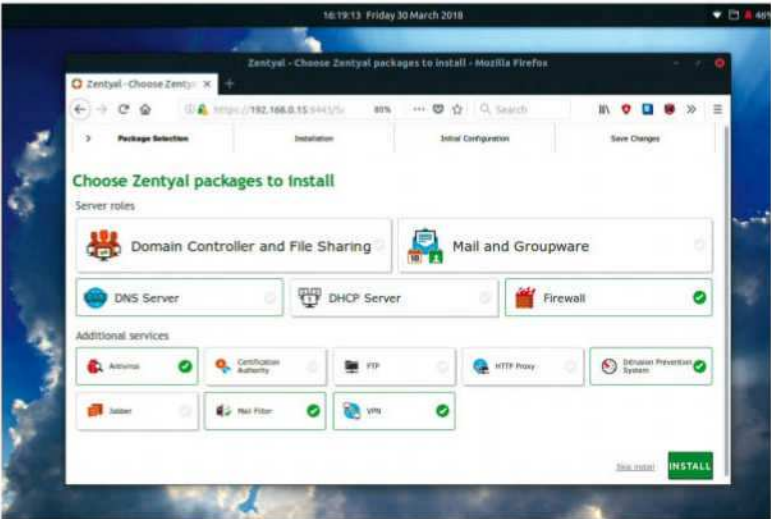 With the current state of most modern desktop Linux distributions, it's hard to imagine a time when one was required to manually provide the horizontal and vertical refresh rates for the monitor when configuring the system. You ran a very real risk of torching your monitor if you got the values wrong.
While desktop distros have come a long way since, enabling users to complete the installation in a matter of minutes, using Linux to run servers is still a more involved process.
Thankfully, projects like Zentyal are determined to provide a mechanism to put together a multi-faceted server with the least amount of hair pulled.
Installation is fairly straightforward and involves little more than selecting the destination for the distribution and providing key details such as keymap and timezone. You can configure the distro either from the desktop or via the web interface.
The web interface will then walk you through installing the modules you wish to run on your Zentyal server, such as FTP, mail server, mail filter, anti-virus, intrusion detection system and more. When done, you'll be dropped to the Dashboard, from where you can control all elements of the server.
The sidebar on the left of the web interface will automatically grow to accommodate the software you install. You can also easily install updates with a single click. But note that the updates for the community edition are not as thoroughly tested as the updates that are pushed to the commercial variant. The project recommends using the commercial variant, which includes technical support and offers updates for a period of 4.5 years, for production servers.
Point made
After an year in the making, the latest release, based on Ubuntu 16.04.4 LTS, is chock full of bug fixes, usability and performance improvements, and new features. Chief among them is the simplified auto-updater cron job and new slides to help you easily select packages you wish to install. The changelog provides a complete list of changes across the different components of the distribution.
WHATS NEW FOR 16.04? Discover whats shipping with your new Long-Term Support release Ubuntus Long-Term Support ...
Existing Zentyal users will be able to upgrade to the latest release with a single click and the project is working on packages for Zentyal 5.0, 4.2, 4.1 and 4.0, which will provide an upgrade button on the Dashboard itself.
Even though the project provides desktop and terminal access, the web interface is designed to function as the perfect conduit for interaction with the server. You can
In addition to the myriad servers, you can even use Zentyal to deploy a Jabber instance.
even pull up logs for the different components such as Samba and Mail, and even filter them to a specific date range from the comfort of a browser. Where possible, the interface even allows for more elements to help narrow the logs even further, limiting them to a specific interface or protocol, when viewing the network logs for instance.
However, this feature also revealed one of the only bugs we encountered when testing Zentyal. No matter what parameters we used, we couldn't get the distro to pull up any logs to display. But for this small bug, the distribution works as intended.
Despite its ease of deployment, the most striking thing about Zentyal is its self-imposed limitation of catering to SMBs, which restricts the distribution to offering only a small number of features. You can't, for instance, use it to deploy a web server, or even a file manager, without a lot of manual configuration. This, in our opinion, negates its point-and-click ease of deployment.
Verdict
DEVELOPER: Zentyal S.L.
WEB: www.zentyal.org
PRICE: Free (development edition)
| | | | |
| --- | --- | --- | --- |
| FEATURES | 8/10 | EASE OF USE | 9/10 |
| PERFORMANCE | 8/10 | DOCUMENTATION | 9/10 |
There's plenty of support to make the most of Zentyal's SMB tools, but casual users may prefer something like NethServer.
» Rating 8/10