Daniel Booth reveals your top 10 programs of 2022 based on those visits. Read our Your favourite software of 2022.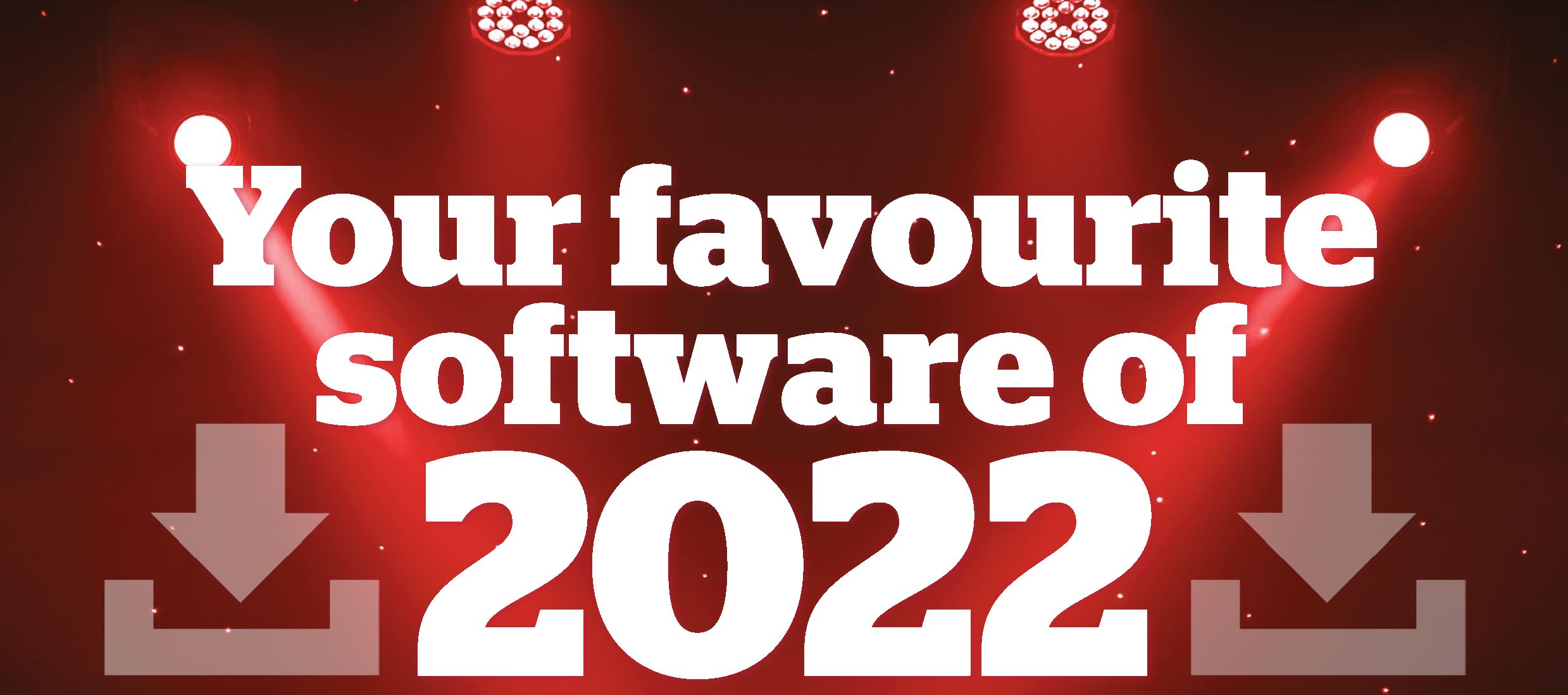 I Don't Care About Cookies
You were already finding cookie pop-ups annoying in 2021 – look at the box opposite and you'll see that browser extension I Don't Care About Cookies (IDCAC) was the ninth most-clicked link that year. But it was during 2022 that your irritation hit new levels, and you sought more advanced ways of blocking them.
Ironically, the link above appeared at the end of a Workshop explaining how to use rival cookie blocker Consent-O-Matic (https://consentomatic.au.dk) as an alternative to IDCAC. We recommended it because we were worried about Avast's recent purchase of IDCAC. The antivirus firm had ruined CCleaner since buying it in 2017, stuffing it with extra tools and features you don't need, and we were concerned that IDCAC would suffer a similar fate.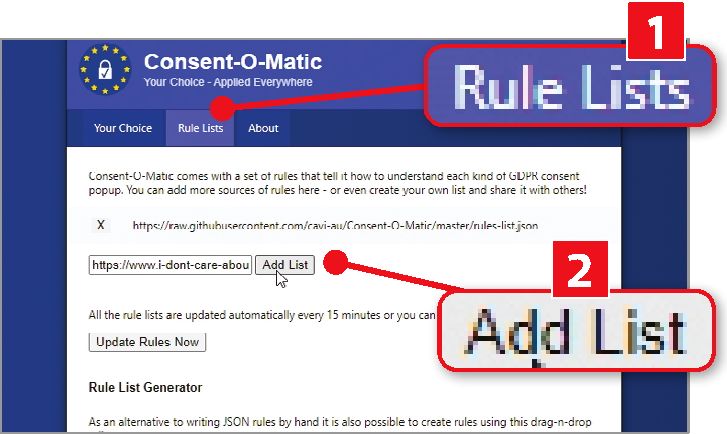 However, for now it remains an effective method for blocking cookie requests. To install it, visit (for Brave, Chrome, Edge and other Chromium-based browsers) or here (for Firefox). But the link above left – your most clicked of 2022 – is actually a list of IDCAC's rules for blocking cookies that you can add to Consent-O-Matic by clicking the latter's Rule Lists tab (1 in our screenshot below left), then Add List 2.
Don't worry if that sounds a little confusing. It simply maximises your cookie blocking by combining Consent-O-Matic with IDCAC. You'll learn how to do this by following the Workshop in Issue 642.
Snappy Driver Installer Origin
Snappy Driver Installer Origin (SDIO) came out of nowhere to become one of your most popular programs of 2022.
This excellent tool impressed us so much that we recommended it as an alternative to the better-known IObit Driver Booster, which we described as "essentially a bunch of adverts masquerading as a driver updater". We followed this with a Workshop explaining how to use it, before giving it the Gold Award.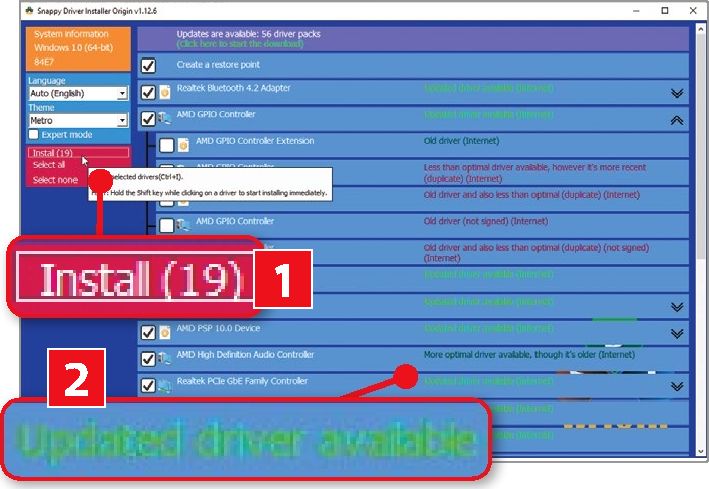 SDIO is free to use and contains no junk. You first need to install its 20MB indexes pack, which scans your PC to detect which drivers need to be updated. You can then review the results and decide which ones to install.
Installing selected updates is as simple as clicking the Install button (1 in our screenshot above) – recommended drivers are highlighted in bright green 2.
Last year's top program slipped two places in 2022, but remains a powerful tool for removing clutter from Windows. And it now works with Windows 11. The latest version, just like the Windows 10 edition, automatically detects which version of the operating system you're using and lists all the apps installed by Microsoft and your PC's manufacturer.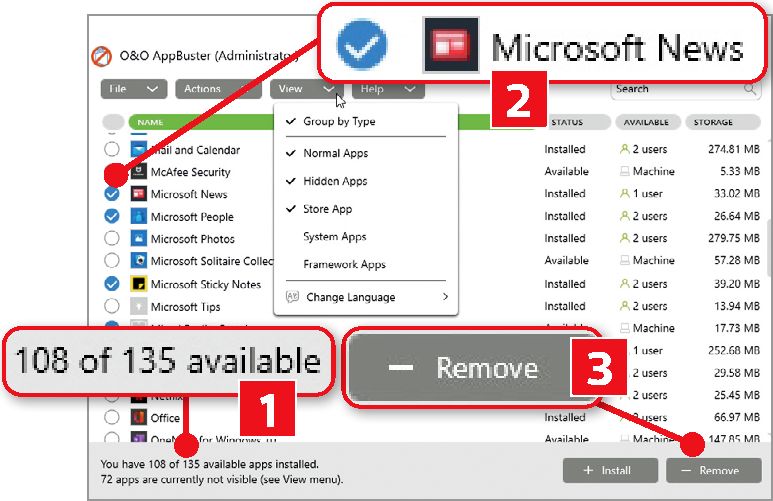 When we last used the program, it found 108 apps on our old Windows 10 laptop (1 in our screenshot above) and 69 on our Windows 11 machine, including tools we never touch such as 3D Viewer, Groove Music and Xbox Console Companion. The Windows 11 version has been improved to help you browse apps more quickly, so you can select items you don't want 2 and click Remove 3 to uninstall them.
4K Video Downloader is the best way to download videos from YouTube. Like Snappy Driver Installer Origin, we recommended it as an alternative to a once-great tool – in this case to replace Freemake Video Downloader, which had been plagued by adware.
By contrast, 4K Video Downloader doesn't contain junk, nor does it nag you into upgrading to the paid-for version (which costs £ and lets you download unlimited videos – the free version limits you to 30 a day). To download a video, simply copy the URL from YouTube and click the Paste Link button on 4K Video Downloader's toolbar. Select the quality, choose the format, specify whether to include subtitles, then click Download.
The third program in our recommended list, OnlyOffice has replaced LibreOffice as our favourite free alternative to Microsoft Office. This open-source suite consists of three editors for working with documents, spreadsheets and presentations, which are combined in a single, tabbed interface that makes it easy to switch between them.
It uses Microsoft Office file formats by default, so you can open and save files in DOCX, XLSX and PPTX format without the compatibility problems you sometimes encounter in LibreOffice. Version 7.2, released last September, added a dark mode and improved the 'Find and replace' tool. We responded to your enthusiasm by adding OnlyOffice to the office tools we include in Make Office Better.
Like IDCAC and O&O AppBuster, PDF24 Creator retained its popularity from 2021 thanks to an excellent new version released last February. The most significant change was how it creates PDFs – no longer 'pre-processing' files before passing them to its rendering tool. This improves the quality of the end product, especially when merging PDFs. PDF24 Creator prompts you to register for a free account when you install it, but you can click Skip to bypass this requirement. It's completely free, and there's no paid-for edition – so you won't ever get nagged to upgrade.
Wireless Network Watcher was your most-clicked program. Made by NirSoft, one of our favourite independent software developers, it lets you check whether someone is stealing your Wi-Fi. It shows you every device connected to your router, so you can look for any you don't recognise.
We know some of you have switched to the browser Brave (www.brave.com) to avoid adverts in YouTube, but many others use this extension to block ads in Chrome and Edge (it's also available for Firefox). It blocks adverts before, during and after YouTube videos, with no need for you to tweak any settings.
We've recommended junk-removal tool Privacy Eraser in previous years, but it was only with the arrival of version 5.23 in May that it really grabbed your interest. Perhaps this was because we suggested it as a less troublesome alternative to CCleaner. New features included improved scanning of cookies you want to keep, so you're not logged out of websites. We expect 2023's top programs to also include a junk remover – perhaps HiBit Uninstaller.
Patch My PC has a strong case for being the most useful software in this top 10. It updates more than 300 leading programs in one click, saving you the headache of doing so manually. Version 4.5, released last October, makes it easier to see programs by organising them into a single alphabetical list labelled Main Software and another for Portable Software.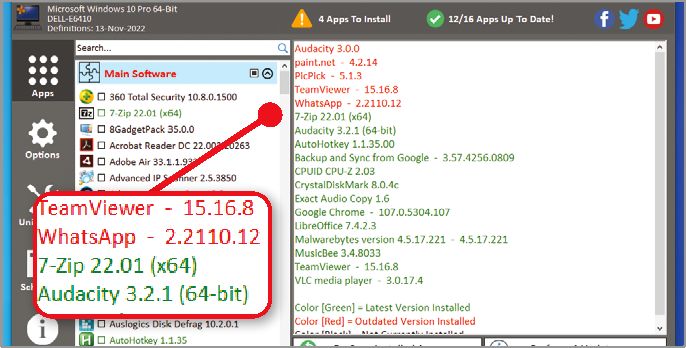 Outdated versions of programs are highlighted in red, while updated ones are marked in green (see screenshot above). To use it to set a schedule to update software.
Your Top 10 in 2021
1

O&O AppBuster

5

Wise Disk Cleaner

9

I Don't Care About

Cookies

2

Winaero Tweaker

6

Colorize

10
Ultimate Windows
Tweaker

3

uBlock Origin

7

PDF24 Creator

4

PC Health Check App

8

AllDup