THERE ARE TWO PRINCIPAL REASONS to update your drivers: performance and stability. If you've made do with the drivers installed by Windows, then stability is already a given—these have undergone rigorous tests in the Windows Hardware Quality Labs to earn WHQL certification, signed by Microsoft itself. However, if you're looking for better performance or new features, WHQL-certified drivers aren't always the best option. But where do you track down these newer drivers, and what can you do if you've just installed some new hardware only to discover the supplied drivers don't work or—worse still—don't exist at all?
NICK PEERS
You will need this
Snappy Driver Installer (free and open source, www.glenn.delahoy.com/snappy-driver-installer-origin/) and IObit Driver Booster Free (adware, www.iobit.com/en/driver-booster.php).
That's where this tutorial comes in. We'll reveal how to update WHQL-certified drivers and where to find newer ones from your manufacturer, then we'll focus on two tools designed to simplify the process. These driver updaters scan your hardware, identify unknown devices, and locate the newest drivers. Even if you source your drivers directly from your manufacturer, you may not have the latest available ones—driver updaters ensure your PC stays at the cutting edge of driver technology and performance. Here's how it works.
The vast majority of your drivers were likely installed with Windows itself, which means they're not only WHQL-certified by Microsoft, but also distributed through Windows Update. If you're looking to check for driver updates for a specific piece of hardware, do so through Device Manager (press Win + R, type devmgmt.msc and hit Enter). Double-click your hardware's entry, switch to the Driver tab, and click 'Update Driver' followed by 'Search automatically for drivers' and finally 'Search for updated drivers on Windows Update'.
>> Alternatively, check all installed WHQL-certified drivers for updates at once: navigate to 'System > Windows Update' and click 'Check for updates' to see if any appear. You can review previous driver updates too—select 'Update history' and scroll down to the 'Driver Updates' section.
SWITCH TO MANUFACTURER DRIVERS
WHQL-certified drivers prioritize stability over performance, which is fine for your webcam when video conferencing, but not if you're looking to push your graphics card or chip to the limit. Even when WHQL-certified drivers are updated, they're often behind the curve compared to those available from your manufacturer. If you've bought a desktop or laptop, visit the PC manufacturer's website to see what drivers are available; if you're a self-builder, the mobo manufacturer's website should contain the core drivers you need.
>> Some manufacturers helpfully provide an all-in-one software tool that can be set to run in the background, alerting you when newer drivers have been released across your key components [Image A]. This automatic update check is also built into the software installed with NVIDIA and AMD graphics cards.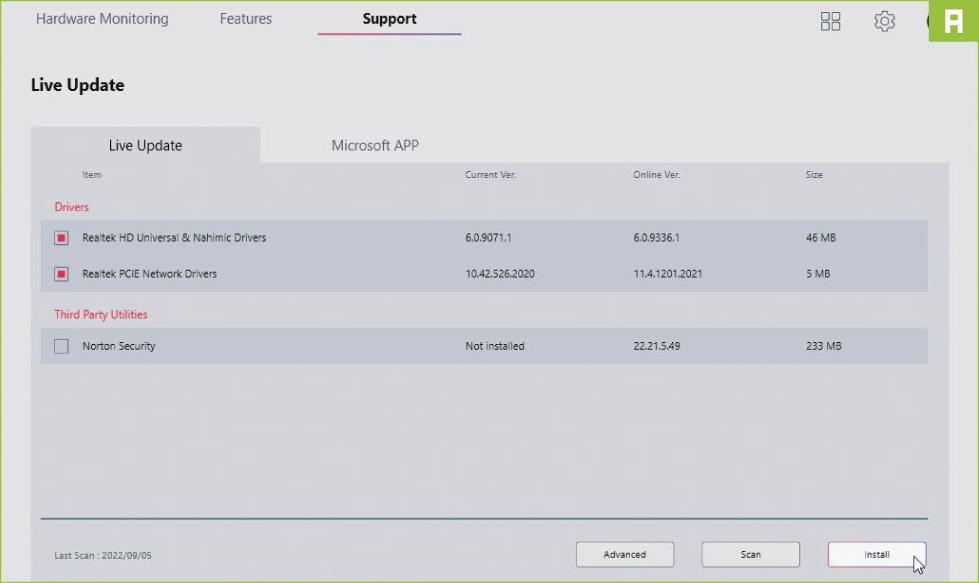 Sometimes you can't track down drivers—maybe the hardware is discontinued, the manufacturer has gone out of business, or it's a cheap unbranded device. The box reveals tools to help you identify specific devices to track down potential drivers or other technical support, but there may be a simpler fix for both this and your desire to keep your drivers updated.
>> The solution is a driver updater tool. There are many available, but only Snappy Driver Installer is opensource, completely free (so no ads), and portable. Go to https://www.glenn.delahoy.com/snappy-driver-installer-origin/ and click the 'Snappy Driver Installer Origin Version' link to download the tool as a zip file. Extract it to your portable apps folder, then double-click SDIO_ x64_R747.exe to run the program.
>> If the SmartScreen filter appears, click 'More info', verify the publisher and click 'Run anyway' [Image B]. Some antivirus tools may mistake the program as a virus—simply add an exclusion for the program file.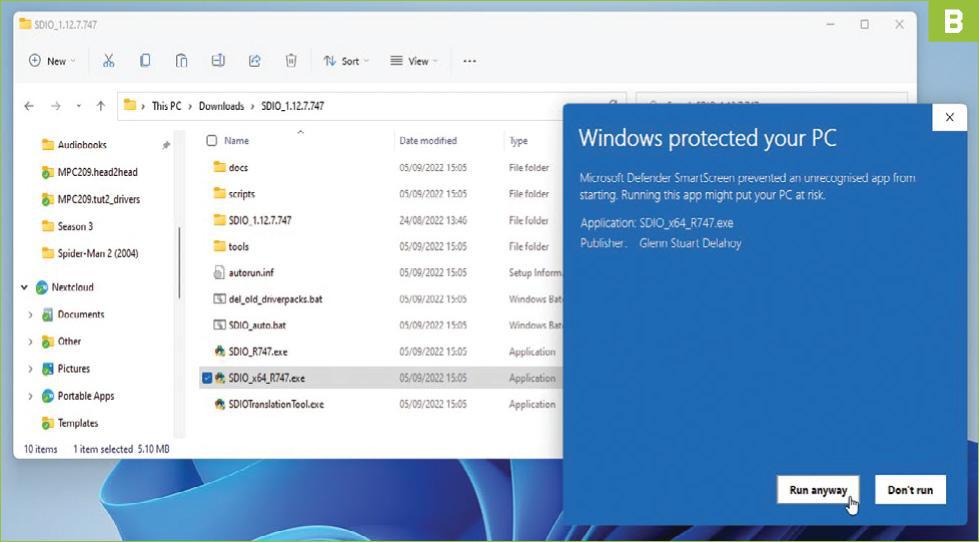 Click Accept followed by 'Allow access' from Windows Defender Firewall if prompted. The welcome screen will ask if you want to download all driver packs, network drivers only, or just the indexes. The latter is the best option, so click 'Download Indexes Only'. On the main screen, a bar at the top will inform you of the index's download progress. Once complete, you'll be told updates are available for the 57 driver packs. Under this, you'll see if any driver updates have been detected.
> You may get lucky and see some recommended updates listed. Check those you wish to install, then click the 'Install' link on the left to download and install the drivers in question.
f no drivers are found, tick the 'Expert mode' box on the left. A host of new options will appear under 'Found in driver packs'. Check both 'Newer' and 'Worse match' to see a list of drivers appear that closely match your hardware, but aren't considered a better match than the one you have installed. The reason will be listed to the right of the driver, but for more details roll your mouse over the driver and let it hover for a few seconds. A pop-up window will appear providing you with more detailed information—compare the information in the 'Installed driver' and 'Available driver' panes [Image C].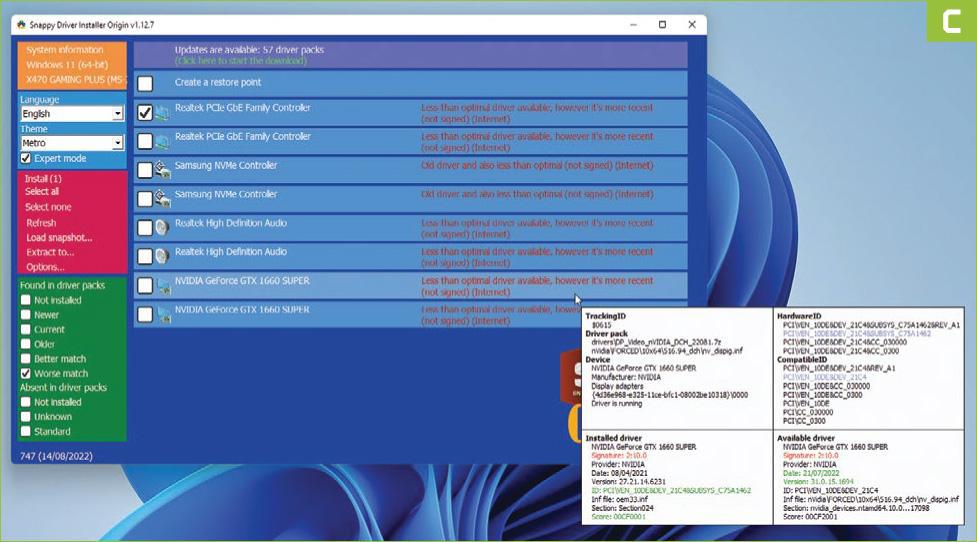 >> If you plan to install the driver, be sure to tick 'Create a restore point' first. We also strongly recommend you install these drivers one at a time, to see how your system reacts. But before going down that route, read on…
Snappy Driver Installer isn't the only free driver updater tool around. If you can live with the ads, IObit Driver Booster Free boasts a catalog of six million drivers. To download the latest free version, go to https://cdn.iobit.com/dl/driver_booster_setup.exe and save the setup file to your hard drive. Untick both boxes under 'IObit Recommendation' before clicking Install. You'll be prompted with other tools during the installation wizard—choose 'No, thanks' before clicking Next.
>> Driver Booster Free is simpler to use than Snappy Driver Installer and offers a wider range of drivers, but you'll have to put up with pop-up ads and nags for its Pro version. After installation completes, untick 'Learn more online' before clicking Scan Now to open the main screen. After the scan completes, a summary screen will list available updates, which you can install one at a time or altogether by clicking 'Update Now' [Image D].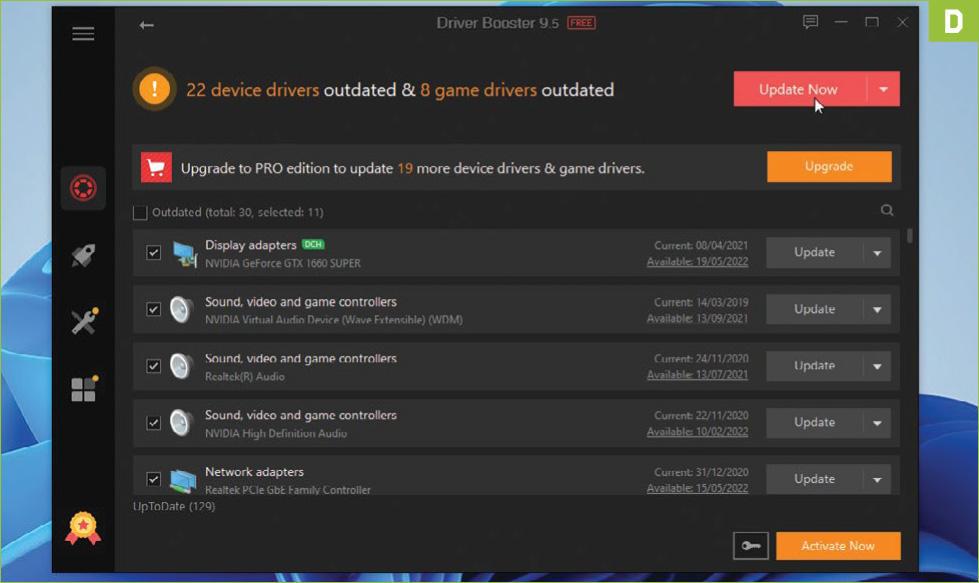 >> To find out more about individual updates, click the down arrow and choose Details… to get its version number, publisher, and whether it's WHQL-certified. From here you can apply the update, uninstall the driver, roll back to an earlier version or set it to 'ignore' for this version only or all subsequent updates.
>> You'll find Driver Booster Free is keen to get you to upgrade to the Pro version, but everything you need is available in the free build.