Winaero Tweaker isn't just our favourite tool for tweaking Windows settings, but one of the best free programs of any kind, so we're delighted that a new version is now available. This adds several useful options for improving Windows 11, as well as tweaks for previous versions of the operating system. Winaero Tweaker automatically detects which edition of Windows you're running, and displays settings accordingly, so you won't be confused by options you can't apply. This now includes Windows 11 22H2, which is due for release in the autumn but is already available to Windows Insiders.
What you need: Windows 7, 8.1, 10 or 11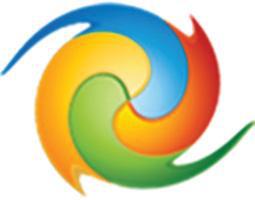 Notable additions in Winaero Tweaker 1.4 include the ability to remove the 'Add to Favourites' option from Windows 11's right-click menu – click Context Menu then Remove Default Entries to access this option. If you use Windows Spotlight to display your desktop wallpaper, you can hide its annoying 'Learn about this picture' icon, by selecting Remove Windows Spotlight Desktop Icon. It's also possible to enable the new Stickers feature in Windows 11 22H2 – see page 74 for more on this. We particularly like the new option to stack icons in the taskbar's system tray in rows, both to save space and avoid hiding them in the taskbar's 'overflow menu'. Click the Taskbar Tray Icon Row Number setting and choose whether to use two or three rows.
Winaero Tweaker has changed how it displays your system's physical RAM. Previously this was in kilobytes (KB), but it now shows a more concise figure in gigabytes (GB). Best of all, you can enable the Windows recycle bin for removable drives, which means that when you delete files from a USB stick, you'll be able to easily restore them from your desktop. You'll find this option in the File Explorer settings.
Winaero Tweaker may trigger a Microsoft Defender SmartScreen warning during installation, but it's safe to use so just click 'More info' then 'Run anyway'.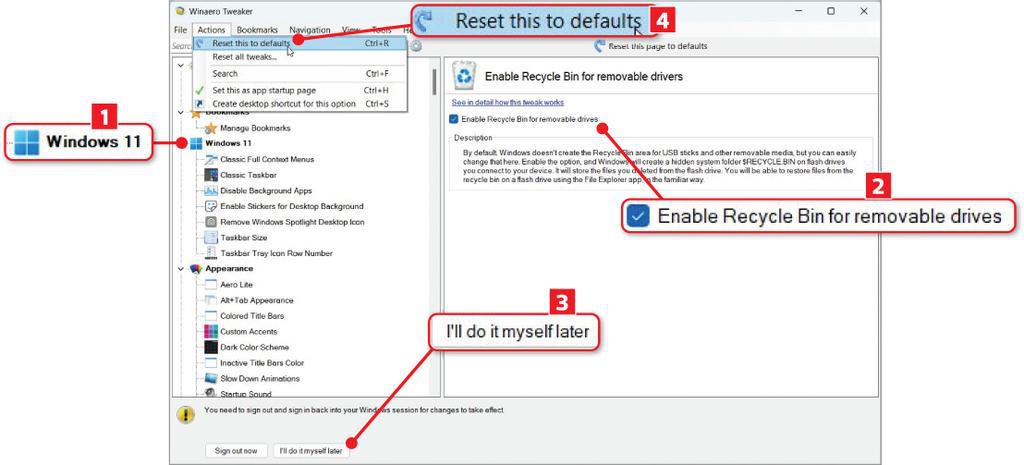 1 All Winaero Tweaker's settings are accessible through the list on the left. You can also search for a specific tweak. It will detect if you're using Windows 11 and display options for that operating system.
2 Our favourite new option lets you send files to the Windows recycle bin when using a removable drive, such as a USB stick. To do this, click File Explorer and select 'Enable Recycle Bin for removable drives'.
3 Some tweaks require you to sign out of and back into your Windows account for them to take effect. You can either choose 'Sign out now' or 'I'll do it myself later'. Other tweaks may prompt you to restart File Explorer.
4 You can easily undo a tweak by pressing Ctrl+R or by clicking the Actions menu and choosing 'Reset this to defaults'. To reverse all the changes you've made with Winaero Tweaker, select 'Reset all tweaks'.