I'm currently sorting out my accounts and want to print hard copies of all my invoices and receipts from the last year. Some of these are in PDF format, while others are Word documents. Is there any software that can print the contents of my accounts folder in one go, so I don't need to open and print each file individually?
Geoff McBride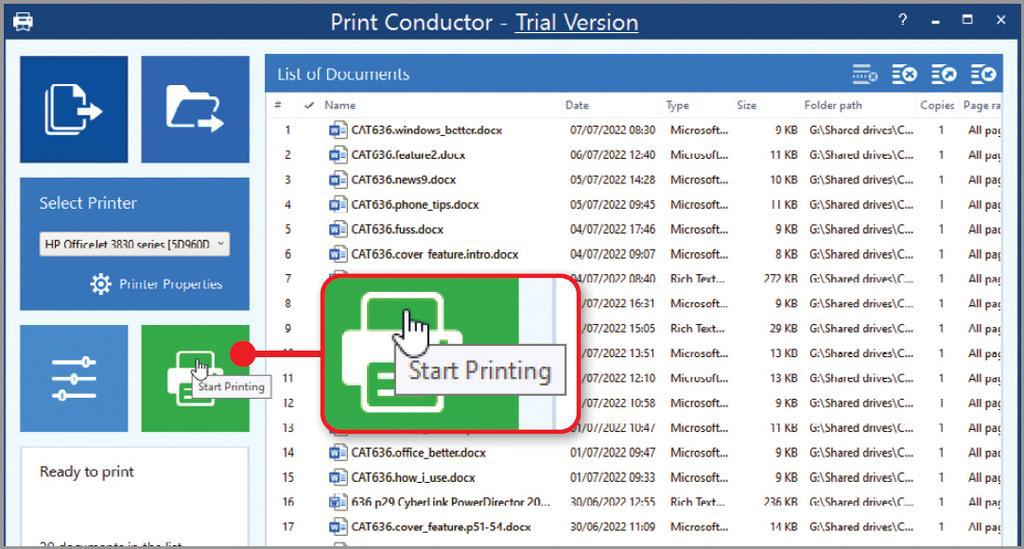 The simplest way to print lots of files at once is to select them by holding down Ctrl as you click them – or by dragging your mouse cursor around them – then right-click and choose Print. This will send all the files to your printer but doesn't let you adjust your print settings first.
A better option for printing multiple files in different formats is to download Print Conductor. This print-management software is free for personal use, with the slight catch that its 'trial' (unlicensed) version prints a special report page at the end of each print session. Otherwise it offers all the same features as the commercial version.
To use Print Conductor, either click Add Documents and select the files you want to print or choose Add Folder to add a whole folder. You can also drag and drop items from File Explorer or your desktop, including ZIP files – their contents will be extracted and added to the list. Arrange the files into the order you want to print them and click the green Start Printing button (see screenshot). You can pause printing at any time and click Export List to save your print queue to resume printing later.