WileyFox's phones aren't made in the UK, but they are designed here, and its first model, the Swift came as a pleasant surprise. Since then it's released a succession of less interesting phones at higher prices, which says something about the state of today's consumer-technology market. Now the Swift 2X, heads dangerously for the border between budget and mid-range.
IT HASN'T BEEN long since Wileyfox launched its Swift 2 and Swift 2 Plus handsets, but there's already a more upmarket version of the former . The Swift 2 X, for a big price jump, adds a larger, 5.2in Full HD display and an upgraded 16-megapixel rear camera. Since our primary issues with the Swift 2 family were their 720p displays and low-quality cameras, this puts the Swift 2 X – theoretically – in good stead.
It's still the same slightly rounded rectangle with a navy blue tinge and chamfered edges. In fact, aside from that screen size bump to 5.2in, it's more or less the same device we're already familiar with.
It's an elegant handset, nonetheless. While the original 2015 Swift was a plastic mess, the 2 X is far fancier, sticking with a clean, all-metal finish. The fingerprint scanner is still on the back, but it isn't as responsive as, say, Huawei's P9 Lite.
SMOOTH THINGS OVER
The move to a 1,920×1,080 IPS panel also means the jagged-looking icons of the previous Swifts are gone, with a far more impressive 423ppi pixel density on display. A contrast ratio of 1,385:1 helps produce some lovely, detail-rich images, and with a peak brightness of 625cd/m 2 , the 2 X's screen is a dazzling improvement over the dull Swift 2 Plus.
The fact that it covers only 86.6% of the sRGB color gamut isn't great, though. Images aren't particularly saturated as a result, with what should be bright colors looking a touch on the dull side.
Overall, though, this display is a big step up.
Despite the new sensor, we weren't impressed by the Swift 2 X's test shots, with the 16-megapixel camera producing some seriously drab pictures.
Even outdoors with plenty of light, images looked dull, although graininess was largely kept at bay.
The camera clearly struggled with exposure, too.
HDR mode is supposed to balance out exposures, reducing the occurrence of overexposure in bright areas and lifting it in shadows; enabling it here, however, saps details from images, casting a washed-out look across entire photos. If you want a budget smartphone with photography chops, stick with the Motorola Moto G4.
At least indoor shots are more presentable. Colors were more natural, with the dual-LED flash cutting through the darkness when necessary. Our colorful test shots showcased a surprising richness picked up by this otherwise disappointing camera. The Swift 2 Plus's sluggish Snapdragon 430 chip clocked at just 1. 4GHz; easily outperformed by its chief rival, the Moto G4. Sadly, this isn't an area on which Wileyfox has sought to improve, and so that same processor can still be found in the 2 X – and it's looking more dated than ever.
The Swift 2 X's Geekbench 4 scores – 629 in the single-core and 2,072 in the multicore test – were near identical to its 2016 cousin. This is reflected in the feel of the phone; even swiping between homescreens is painfully slow. Google Maps was horrendously sluggish, with the Swift 2 X struggling to keep up with rapid multitouch gestures.
Gaming performance isn't brilliant, either, with a 7fps average in the GFXBench offscreen Manhattan test. That's no better than the Swift 2 Plus, and only marginally better than the G4's 6.6fps. Simple games such as Threes! posed little risk, while Sky Force: Reloaded slowed down a little during frantic encounters.
CELL OUT
Wileyfox handsets have never been particularly impressive when it comes to battery life, and the Swift 2 X is no different, squeezing out a mere 9h 18m from its 3,010mAh battery. That's not a patch on the Moto G4's 13h 39m, and it's also down slightly on the Swift 2 Plus's time of 9h 32m.
At least there's USB Type-C charging with Quick Charge support. You can get roughly 75% charge after just under an hour plugged into the wall.
The Swift 2 X isn't a bad phone, but there's little that puts it ahead of the alternatives, especially considering its price. Nowadays, that's verging on the mid-range.
Sure, it's broadly an improvement over the Swift 2 Plus it supersedes, with its proper Full HD screen, but it pales in comparison with the cheaper and far more impressive Moto G4. This still offers best-in-class performance and camera quality, and its 13-hour battery life makes an appearance in our best battery-life leaderboards.
We know we end almost every budget smartphone review this way, but the point still stands: you'd be better off with a Moto G4.
Nathan Spendelow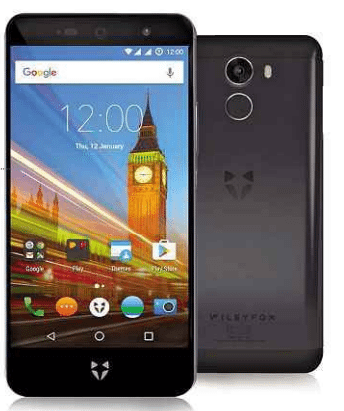 WileyFox's love-it-or-hate-it navy blue color scheme remains, but this is now an all-metal phone with an Android Pay fingerprint reader on the back. We found it wasn't as quick to unlock as rivals, including the Huaw'ei P9 Lite (above), but it has a larger 5.2in screen which is now proper Full HD, making it sharp. Contrast is good and it's unusually bright, lagging only on color reproduction, with just 87 per cent of the sRGB range. The 16-megapixel camera, though, hasn't noticeably improved, giving us drab shots with poorly judged exposure.
SPECIFICATIONS
5.2in 1980×1080-pixel screen • 16-megapixel rear camera • 8-megapixel front camera • 32CB flash storage • MicroSD card slot • 802.11n Wi-Fi • Bluetooth 4.1 • 3C/4C • 143x73x8.2mm (HxWxD) • 153g • One-year warranty
PROCESSOR Octa-core 1.4GHz Snapdragon 430
SCREEN SIZE 5.2in
SCREEN RESOLUTION 1,920×1,080
REAR CAMERA 16 megapixels
STORAGE 32GB
WIRELESSDATA 4G
DIMENSIONS 143x73x8.2mm
WEIGHT 153g
OPERATING SYSTEM Cyanogen OS 13.1
WARRANTY One year RTB
DETAILS www.wileyfox.com
Nor has the 1.4GHz Snapdragon processor been upgraded, and Cyanogen OS 13.1 (the version of Android 6 used by WileyFox) now feels sluggish, although it coped with games reasonably well. Cyanogen's makers have recently stopped support for it, so its future is uncertain.
At nine hours 18 minutes of video playback, battery' life is another feature that hasn't risen to the 2X's price tag.
VERDICT:
At a lower price this might be worth considering, but the impressive screen doesn't outweigh its shortcomings. The larger , higher-resolution Swift 2 X is a decent
Swift 2 Plus successor , but it's still no Moto G4
Battery life
ALTERNATIVE:
Motorola Moto G4
Sorry to sound like a stuck record, but you can't beat this at the moment