Q Please could you explain what the difference is between a browser and a search engine? What is the relationship between them? Who owns them and who controls the data you enter?
John Beattie
A In simple terms, a browser is a window that looks out to the major part of the internet, known as the worldwide web – or web, for short. When you want to view something on the web, a browser is the tool.
Lots of companies make browsers, including Google (Chrome), Microsoft (Edge) and Mozilla (Firefox). As Microsoft products, Windows 11 (and 10 before it) inevitably have Edge pre-installed, but it's easy to download different browsers, and all the popular ones are free. Each has its pros and cons, but they all do the same thing: let you browse the web.
A search engine, on the other hand, is how you find stuff on the web. Again, lots of companies make search engines, including Google (with the eponymous Google Search), Microsoft (Bing) and DuckDuckGo (also eponymously named).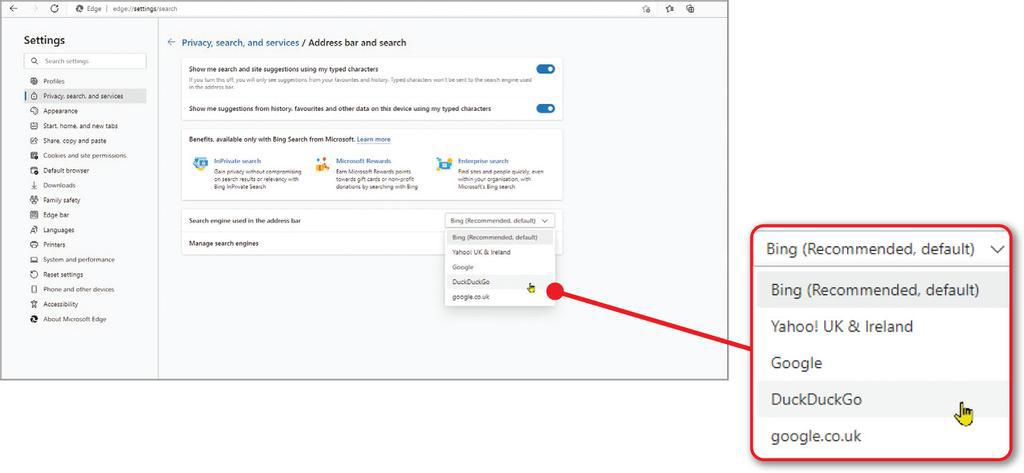 Again, in simple terms, a browser runs 'locally', on your computer, but search engines exist remotely. So, when you enter a search term, that information is sent to the provider of the search engine, and then the results are returned to be displayed locally, by your browser.
Originally, there was no direct relationship between a browser and search engine, but all modern browsers have a bar that doubles as place to enter website addresses or search terms. As you might expect, Chrome uses Google Search and Edge uses Bing, but these are easily changed.
In Chrome or Edge, open the menu (three dots, top right) and choose Settings. Then, in Chrome, click 'Search engine' and use the dropdown menu to make your choice. In Edge, click 'Privacy, search, and services' followed by 'Address bar and search', and then use the dropdown menu next to 'Search engine used in the address bar' to choose (see screenshot).