Thunderbird 102
www.snipca.com/42560
What you need: Windows 7, 8.1, 10 or 11, macOS or Linux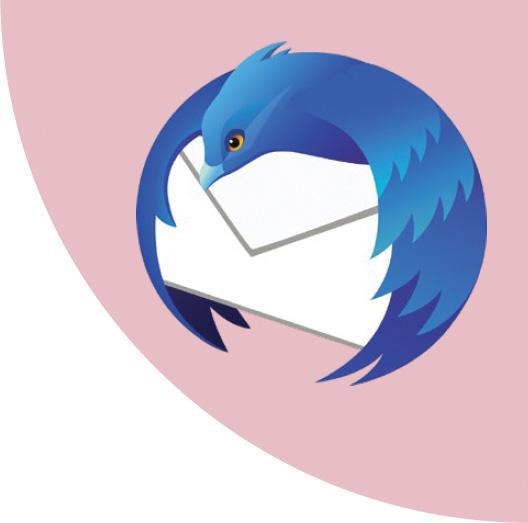 Ten years after it was temporarily 'discontinued' by Mozilla, Thunderbird is still going strong and remains the most popular open-source alternative to Microsoft's Outlook. Version 102 of the email program is a major release that adds several useful features and improves existing ones. Currently, you can't upgrade directly from the previous version (91), but will need to download the updated program from the official website linked to above.
Thunderbird 102 has a refreshed but not revamped interface that retains its simple tabbed layout and choice of Classic, Wide and Vertical views. The most notable new feature is the Spaces Toolbar on the left-hand side of the main window. This gives you instant access to tools including your Address Book, Calendar and Tasks, which open in new tabs when you click their respective buttons. You can hide and reopen the Spaces Toolbar by clicking the arrow icon in the bottom-left corner.
Thunderbird's Address Book has been redesigned to make it easier to manage and browse your contacts. Details including names, email addresses, phone numbers, postal addresses and time zones are clearly displayed in the main pane when you click an entry.
Another new feature, which you already find in some webmail and social-media services, is Link Preview Cards. This automatically converts links you paste in emails into previews of their content, so the recipient can see what they're clicking through to. To turn this on, go to Settings, then Composition and select 'Add link previews when pasting URLs'.
Setting up an email account in Thunderbird has never been easier, with the program automatically detecting the correct settings to use. You can also now import messages and other data from Outlook and existing Thunderbird profiles through the new Import option in the Tools menu.
Thunderbird also has a new Chat option, which uses a service called Matrix (www.snipca.com/42570), to complement existing options for Google Talk, IRC and XMPP.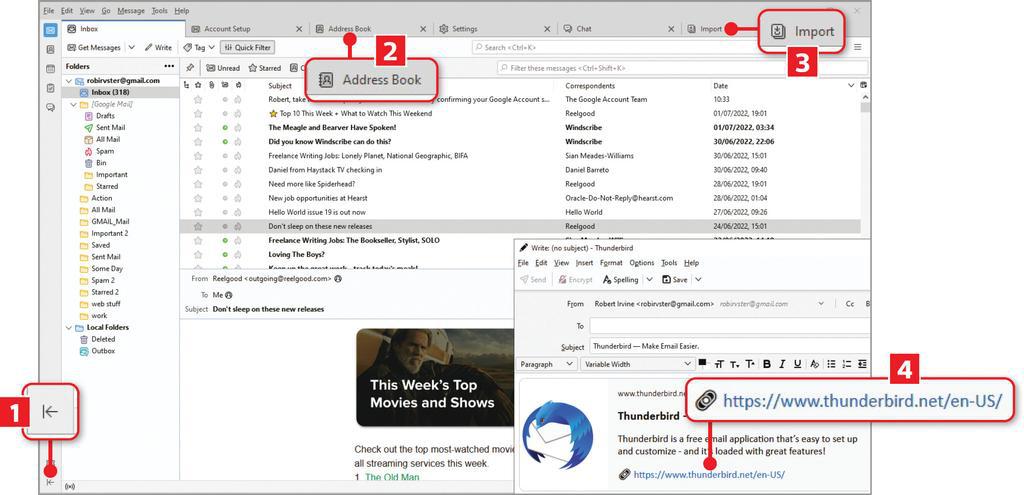 FILE MANAGER
Files 2.3
www.snipca.com/42548
What you need: Windows 10 or 11
This fantastic alternative to File Explorer was the subject of our Workshop in Issue 631 (page 38) and version 2.3 makes it even more useful. New features include a 'compact sizing' option that allows you to see more items without resizing the app's window. To switch this on, click the Settings cog in the top-right corner and choose 'Use compact styles in the details layout' on the Appearance tab. Files has also expanded its tags feature, which lets you assign different colours to files and folders, so you can easily find all items with the same tag. To turn on tags, go to Settings, click Experimental and select 'Enable file tags'. Right-click the sidebar and choose Tags (see screenshot) to display the list of colours. Other improvements include faster drag-and-drop, easier bulk-renaming and the ability to see which process is locking a file.
IMAGING TOOL
Rufus 3.19
www.snipca.com/42552
What you need: Windows 7, 8.1, 10 or 11
In our Workshop in Issue 628 (page 38), we explained how to use Rufus to boot Windows 11 from a USB stick even if your PC doesn't meet the hardware requirements. The program has now been updated to work differently to our original instructions but in a way that makes beating Microsoft's restrictions even easier. Once you select a Windows 11 ISO file, you can now simply click Start in Rufus to open a menu that lets you remove the requirements for Secure Boot and TPM 2.0 (see screenshot), and for your PC to have at least 4GB of RAM and 64GB of storage. Previously, you had to select a specific version of Windows in a dropdown menu. You can also stop Microsoft collecting your data by skipping the privacy questions during the Windows 11 installation process. Good job, Rufus.