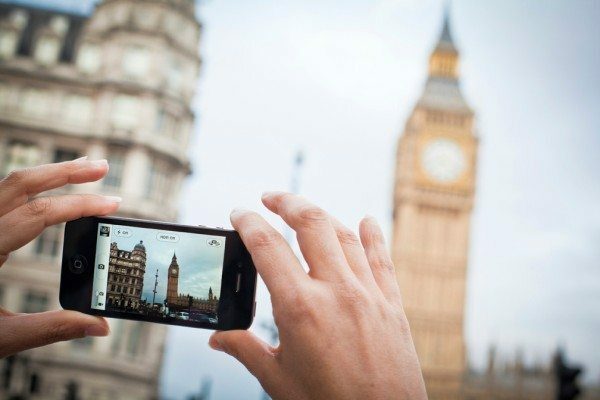 If you take photos on your phone, it's handy to edit them before uploading to the web. Edward Munn tests six of the best free photo-editing apps for enhancing your snaps on the go
Snapseed's powerful tools, simple, ad-free interface and intuitive controls make it perfect for all your mobile photo-editing needs. It couldn't be easier to use: open an image, tap 'Tune Image', swipe your finger up and down to select between brightness, contrast or saturation (among other options), then drag left or right to adjust each setting. If even that sounds like too much work, there's an auto-enhance button that instantly selects the best settings for your image. We like the app's use of simple swipe-based gestures, because they keep confusing menus and buttons to a minimum while letting your image occupy the maximum screen space.
As well as simple tools for cropping, straightening and rotating, Snapseed has a range of more advanced features that let you make precise changes to your photos. We particularly liked Selective, which recognises the contours of your image to help you make subtle tweaks to specific areas. Other features include Brush, which lets you change the exposure, temperature and saturation of highlighted areas, and Spot Repair, which erases imperfections. In all cases you can compare the adjusted image to its previous state before confirming your changes, to check that your adjustments have had the desired effect.
Snapseed also has some of the best filters of all the apps we tested and each offers a number of refinements to help you achieve the look you want. Perhaps our favourite of all Snapseed's features, however, is the icon alongside the Save button that lets you see your full history of changes, and edit or delete each step independently of the others.
There's not much to criticise about Snapseed, but it does lack a red-eye removal tool and it took a while to master its more advanced tools.
Snapseed is the perfect app for quick, everyday photo edits. Its intuitive gesture-based controls ensure impressive functionality and performance in a simple, userfriendly interface.
PhotoDirector is an excellent app for everyday photo-editing tasks. Once you've chosen the image you want to change, you'll find the main editing tools grouped neatly along the bottom of the screen. The Basic Edit button lets you crop, straighten, rotate, or flip your image, while Adjust provides tools for changing the white balance, exposure, contrast, saturation and more. Like Snapseed, there's a tool that lets you auto-enhance many of these settings with a single button press, along with the option to compare your shot to its previous state before confirming changes.
Other impressive features include the Saturation tool, which lets you pick specific colours to enhance, and Curve, which lets you change the levels of red, green and blue by dragging points on a graph. If you want to edit portraits, PhotoDirector provides useful tools for red-eye and blemish removal. We loved the range of filters on offer, and its overlay effects were better than any other app we tested. We also found it very straightforward to use thanks to the instructions that appear whenever you open a new tool.
Although it has undo and redo buttons, there's no way to review your full edit history, as you can in Snapseed. If your device has a small screen, you might also find the app's interface fiddly compared to our Gold Award winner.
PhotoDirector didn't miss out on our Gold Award by much. It's easy to use and packed with features, but Snapseed pipped it to the top spot thanks to its edit history function.
Pixlr is a feature-packed photo-editing app that also has a built-in camera app and a collage creator. After choosing an image you'd like to edit, you can find all the main editing tools in its Adjustment menu. These include the usual tools to crop or rotate your image, and shortcuts for tweaking vibrancy, colour, contrast and brightness. If you're in a hurry, you can use the Auto Fix and Auto Contrast buttons instead to make quick fixes with a single tap. Like our Gold- and Silver-award winners, Pixlr lets you compare your image to its previous state before applying changes, and you can still change your mind after that using the Undo and Redo buttons.
Our favourite feature in Pixlr is Double Exposure, which lets you blend a second photo into your image using a range of effects. We also liked Splash, with which you can highlight and change specific colours without affecting the others. Aside from the Adjustment menu, Pixlr also has options for adding filters, overlays, borders and text to your images.
Most of Pixlr's key features are cluttered into one complex and chaotic menu, and unlike Snapseed and PhotoDirector, you have to put up with pop-up ads.
Pixlr's Double Exposure and Splash tools are great if you're looking to do something creative or unusual, but for normal tweaks and adjustments, you're better off with one of the other award winners.
This Adobe-owned app offers all the tools you need from a mobile photo-editor, whether you want to crop and rotate your image or add a filter, frame or overlay to it. It's very easy to use, but the layout of its menu is somewhat illogical. Also, to fully unlock many of the functions, you'll need to set up an Adobe account and download the necessary add-ons.
VSCO Cam is a social network for photographers, letting you follow other creative types and share your own images with the world. You don't need to set up an account to use its editing tools; simply add an image to your library and tap the Edit button to use its range of brilliant filters. Swipe up and tap the spanner icon and you'll see further tools for adjusting exposure, contrast, saturation, temperature, highlights, shadows and tint.
PicsArt is a powerful image editor that doubles up as a social network for photographers. It has a good range of features, but we found its interface disjointed and confusing, and it has the most obtrusive advertising of all the apps we tested. If you're patient enough to master it, the app's clone tool is its most impressive feature.