If you don't specifically need the massive sequential speeds of PCI-E 4 SSDs to deal with regular humongous file transfers, PCI-E 3 SSDs offer all the speed you need for less cash. Even here, though, there are some notable differences between models, but at the lower end of the spectrum, WD's Blue SSDs such as the Blue SN550 have been our favourites. The new Blue SN570 builds upon its predecessor with much faster speeds, but thankfully costs about the same amount of money.
SUPPLIER scan.co.uk
PCI-E 3 M.2 SSD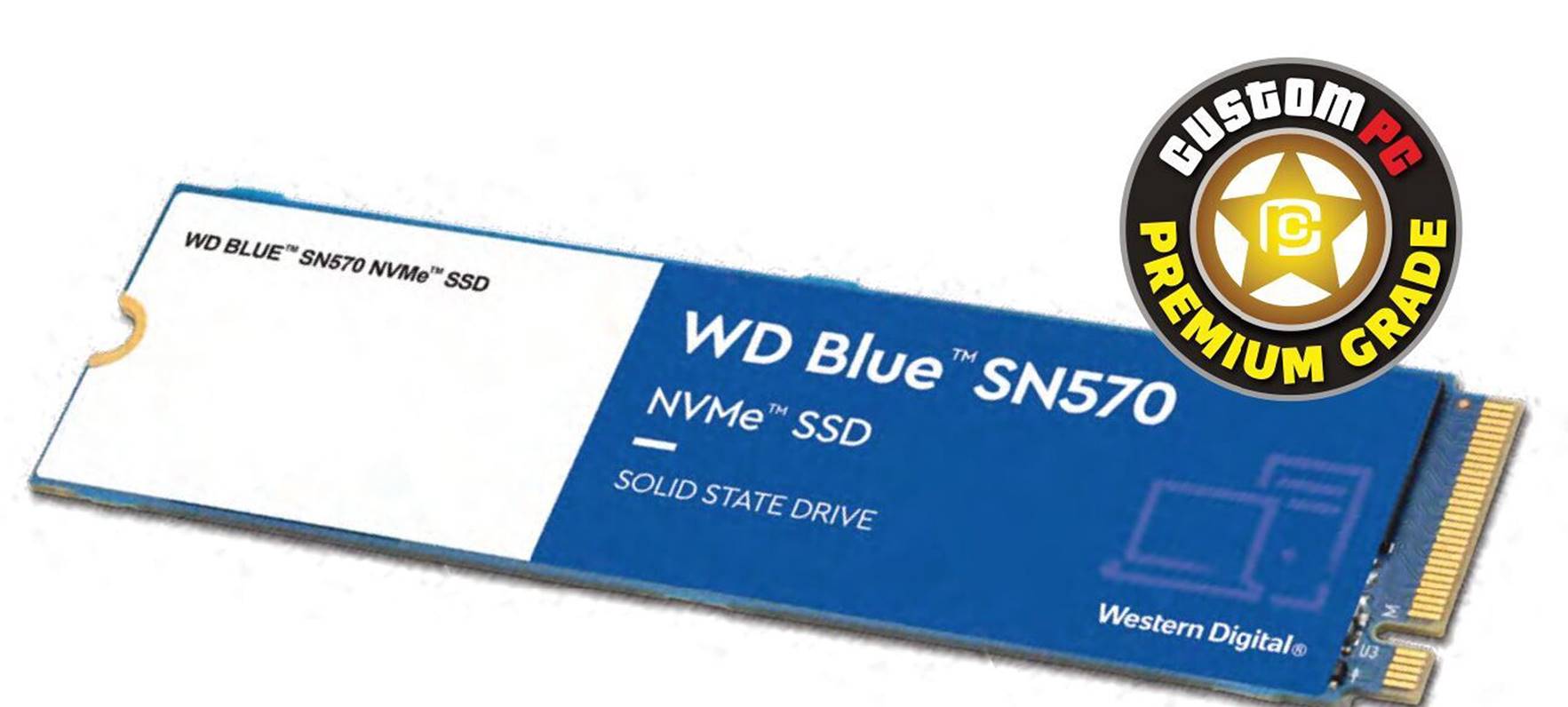 spec
Full capacity 1TB
Formatted capacity 931GB
Heatsink No
NAND TLC
Controller WD in-house
Endurance 600TBW(1TB)
Warranty Five years
At the top of the stack is the 1TB model that costs £, but sadly no larger capacities are available. That's a bit of a shame, as an affordable but speedy 2TB drive could be very useful for users who need a lot of storage space, and such a drive would likely still leave you with change from £ if the price of the SN550 is representative. The latter is a much slower SSD, though, despite costing about the same price.
While the SN57O's basic design is similar to that of the SN550, being a DRAM-less SSD using an in-house WD controller with triple-level cell (TLC) NAND, the faster speeds are likely due to the move from BiCS 4 96-layer 3D TLC to BiCS 5 112-layer 3D TLC NAND. This move results in a peak stated sequential read and write speed of 3,500MB/sec and 3,000MB/sec, respectively while the older SN550 sits at 2,400MB/sec and 1,950MB/sec.
Those are some significant speed boosts given the similar pricing, and these speeds are similar to those found on the faster PCI-E 3 SSDs available. The absence of DRAM to reduce wear on the flash memory doesn't seem to impact endurance either. We're not looking at the huge TBW ratings of WD's Red SSDs, but at 600TBW for the 1TB model, you're not losing out compared with the competition. For example, Samsung's 1TB 980 has the same rating.
Suspecting we'd get slower write speeds with larger files, we threw a 100GB file at the SSD and, sure enough, after 15GB or so, the write speed plummeted to around 500MB/sec. However, even dealing with many tens of gigabytes at once is an extremely rare situation for most of us.
CrystalDiskMark's sequential tests saw the SSD hit numbers closer to the specifications, with a read speed of 3,549MB/sec and write speed of 3,195MB/sec.
The random 4K performance with a queue depth of 32 and fourthreads saw read and write speeds of 1,890MB/sec and 1,723MB/sec respectively, both of which are faster than the results from the Samsung 980 and WD Blue SN550. What's more, these speeds are faster than those of the ADATA XPG GAM MIX S50 Lite, which was one of our favourite affordable PCI-E 4 SSDs in our last Labs test. We didn't see the SSD's temperature rise above 53°C in our stress test either, and that's without any added heatsinks, so it runs relatively cool compared with many other SSDs too.
Conclusion
With a very reasonable price and performance that matches or betters more expensive SSDs, WD's new Blue SN570 is a fantastic SSD for the cash. It offers some of the fastest speeds the PCI-E 3 interface has to offer, and the only area where it comes up short is when you're writing tens or hundreds of gigabytes at once – a job most of us rarely do. It's a shame there's no 2TB option, but if you're after a 500CB or 1TB PCI-E 3 M.2 SSD for under £, this is the one to get.
ANTONY LEATHER
VERDICT
A fantastic, well-priced all-rounder, as long as you won't be writing massive files regularly.
OVERALL SCORE
89%
BLUE SKY
+ Excellent value
+ Competition­busting speeds
+ Good endurance rating
BLUE SCREEN OF DEATH
— Poor write speeds with extremely large files
— PCI-E 4 SSDs have higher sequential speeds
— No 2TB option
Best WD sn570 prices ?
£

93.94

£189.99
8 used from £84.77
14 new from £93.94
in stock


Create beyond your expectations with the WD Blue SN570 NVMe SSD that delivers up to 5X the speed of our best SATA SSDs.


$

169.99

$239.99
7 used from $134.29
45 new from $169.99
in stock

MORE DEALS