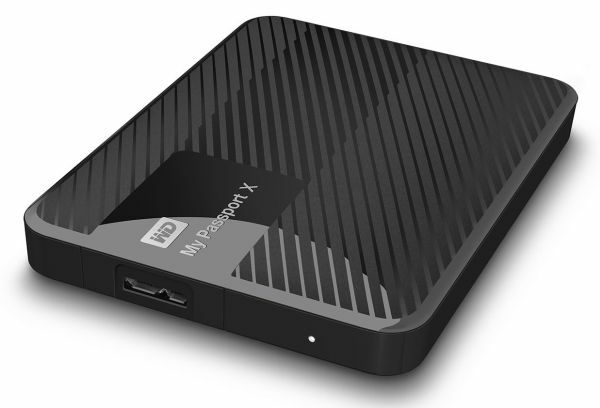 Need more storage for your console? Look no further
One of the biggest problems facing a modern console owner is the lack of hard drive space these things ship out with by default. True enough, there are ways and means to upgrade the current storage in an Xbox One or PS4, but often this relies on some screwdriver work, and a loss of warranty for the user. Western Digital, though, has come up with a tweaked version of the solution used by many PC users: a USB 3.0 external hard drive.
The WD My Passport X is a 2TB hard drive with that measures 110 x 20.96 x 81.6mm and weighs 230g. The design is realised ina sleek, black plastic that's tough enough for general use and portability; although it probably wouldn't survive a drop from more than a couple of feet. The top of the drive chassis is ridged, with a glossy WD logo and My Passport X logo to one side, whereas the bottom of the drive features four small rubber feet. To one end, there's the SuperSpeed WD connector with a single, small white LED to indicate that the drive has power. It's certainly a good quality chassis, and keeps in the same style as a modern console..
In the box you get the drive itself, a very small (around 12″) WD connector-to-USB 3.0 lead, and a quick information card displaying the drive being plugged into the appropriate USB port on an Xbox One. Let's face it, you don't need a huge amount of technical knowledge to be able to plug an external drive into a USB port; regardless of whether that's on a console or a PC..
The drive is NTFS preformatted with about 1.81TB of space actually available for you to use. However, in terms of formatting from the Xbox One, or any other console, that number may alter accordingly depending on the system you're using..
We ran the My Passport X through the usual drive benchmark, using ATTO and connected to an i7-4790K, with 16GB of memory. The results weren't too bad, with the 8192KB file transfer scoring 117MB/s on the read test, and 116MB/s for the write test. Interestingly, the 4KB file transfer only managed a rather poor 27.3MB/s read and 27.4MB/s write. Clearly the drive is better at moving around big files as opposed to smaller file chunks. It would be interesting to see how it fares when compared to other USB 3.0 external drives..
The WD 2TB My Passport X worked well enough on a PC as an external hard drive, the speeds are reasonable and can be used as an external storage device for some PC games. We can't speak for its use on an Xbox One as we don't own one, unfortunately. However, it did work perfectly well on a PS3 as a media device and storage medium..
At around £95, the WD My Passport X is a decent enough buy for 2TB of external storage for your overfllowing console. WD are generally pretty good when it comes to reliability, and seeing as this model comes with a three year limited warranty, there's a certain amount of confidence you can take in your purchase. It would have been good to include a carry case of some description, especially given the target market, but that doesn't detract from this being a good USB 3.0 external drive. David Hayward.
Reasonable speeds, and a stylish drive with more than enough storage for a console owner.