As Apple edges closer to the release of the Apple Watch Series 8 and a new rugged version for athletes, developers are testing watchOS 9. The update includes a host of features that will transform how you workout and communicate, making the Apple Watch even better. Read our watchOS 9 Review.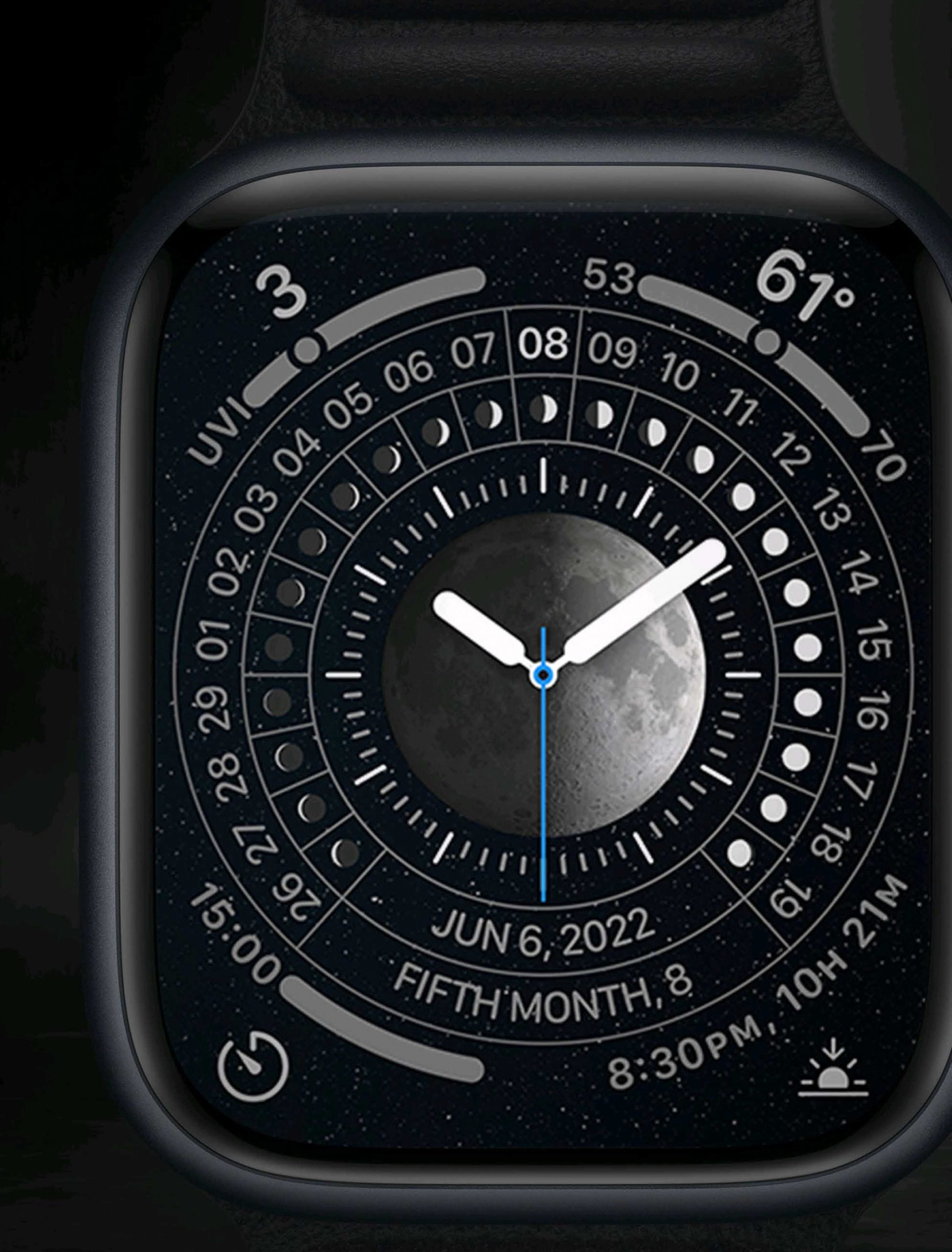 watchOS 9
Health & fitness: The next leap forward in wearable tech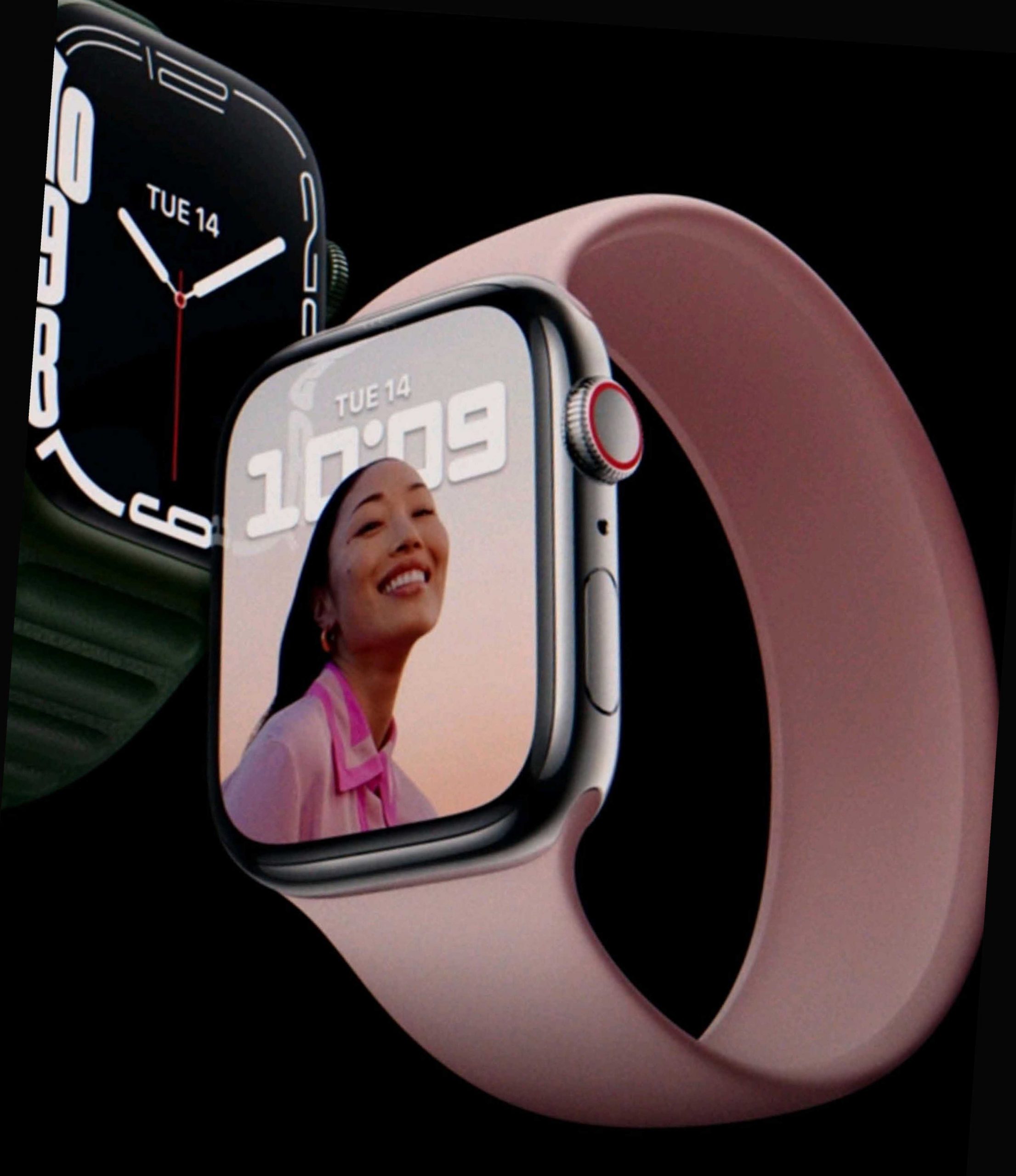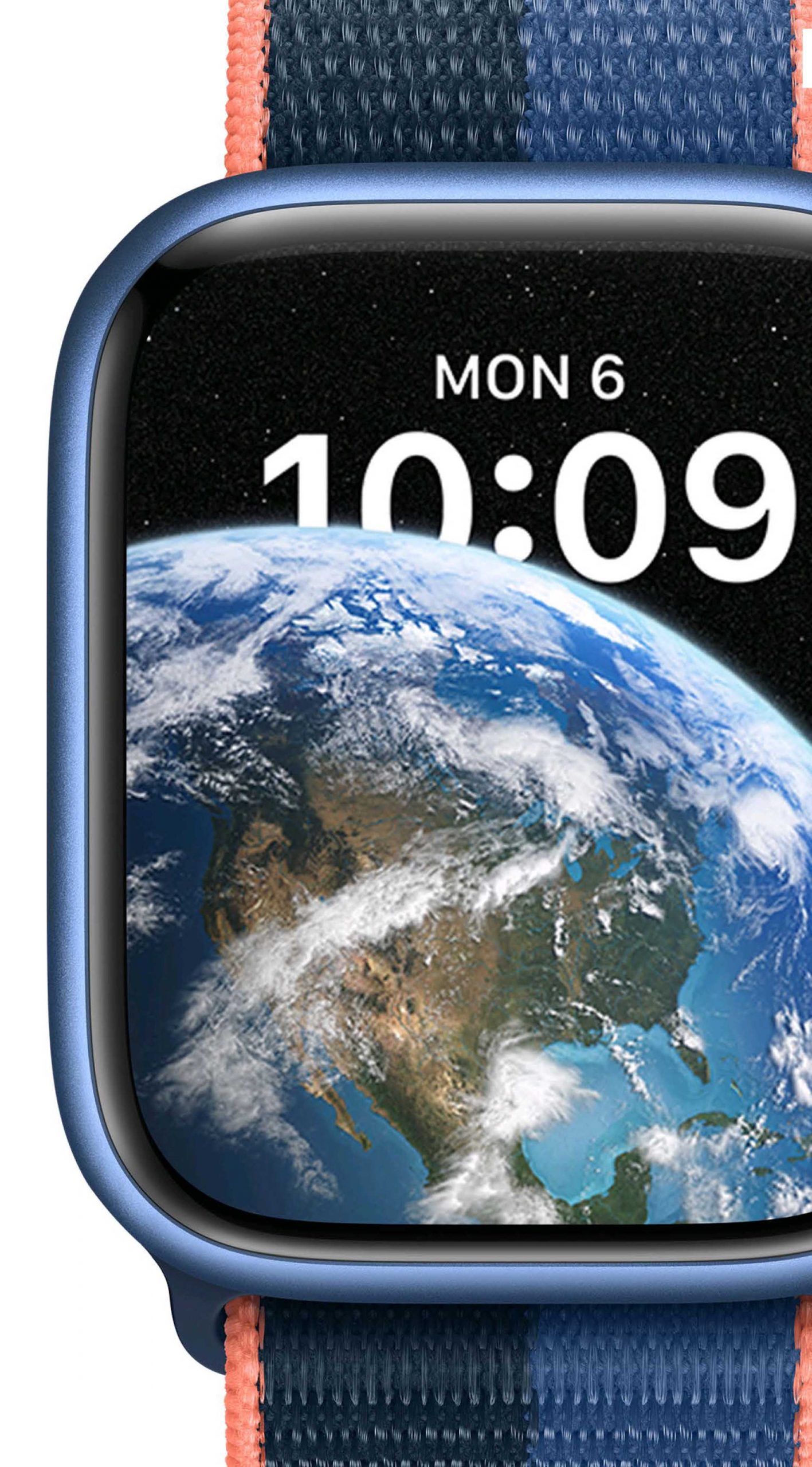 A SLEW OF NEW WATCH FACES
Taking to the stage at the virtual Worldwide Developers Conference back in June, Jeff Williams, Apple's chief operating officer, said that users around the world had fallen in love with the Apple Watch for"helping them stay connected to those they love, be more active throughout the day, and better manage their health. This fall, watchOS 9 takes the Apple Watch experience to the next level," he added, allow users to capture more "scientifically validated insights across fitness, sleep, and heart health"and make the watch their own.
It's that latter point that Apple has struggled with thus far. Because of the closed-off nature of the Apple Watch, it can be hard to personalize your device as you can with iOS and macOS, even more so with the upcoming Lock Screen redesign coming to iPhones later this year. Apple wants to change that with watchOS 9 and has announced new watch faces that"allow users to express personal style while connecting them to relevant information at a glance through complications." Apple has added four new faces: Lunar; Playtime, created in collaboration with artist Joi Fulton; Metropolitan, a stunning type-driven look; and Astronomy, a remastered face that features a new star map and current cloud data. Apple has added several modernized complications to boost the value of its Utility, Simple, and Activity Analog watch faces and added color editing for other faces to make them more personal to users.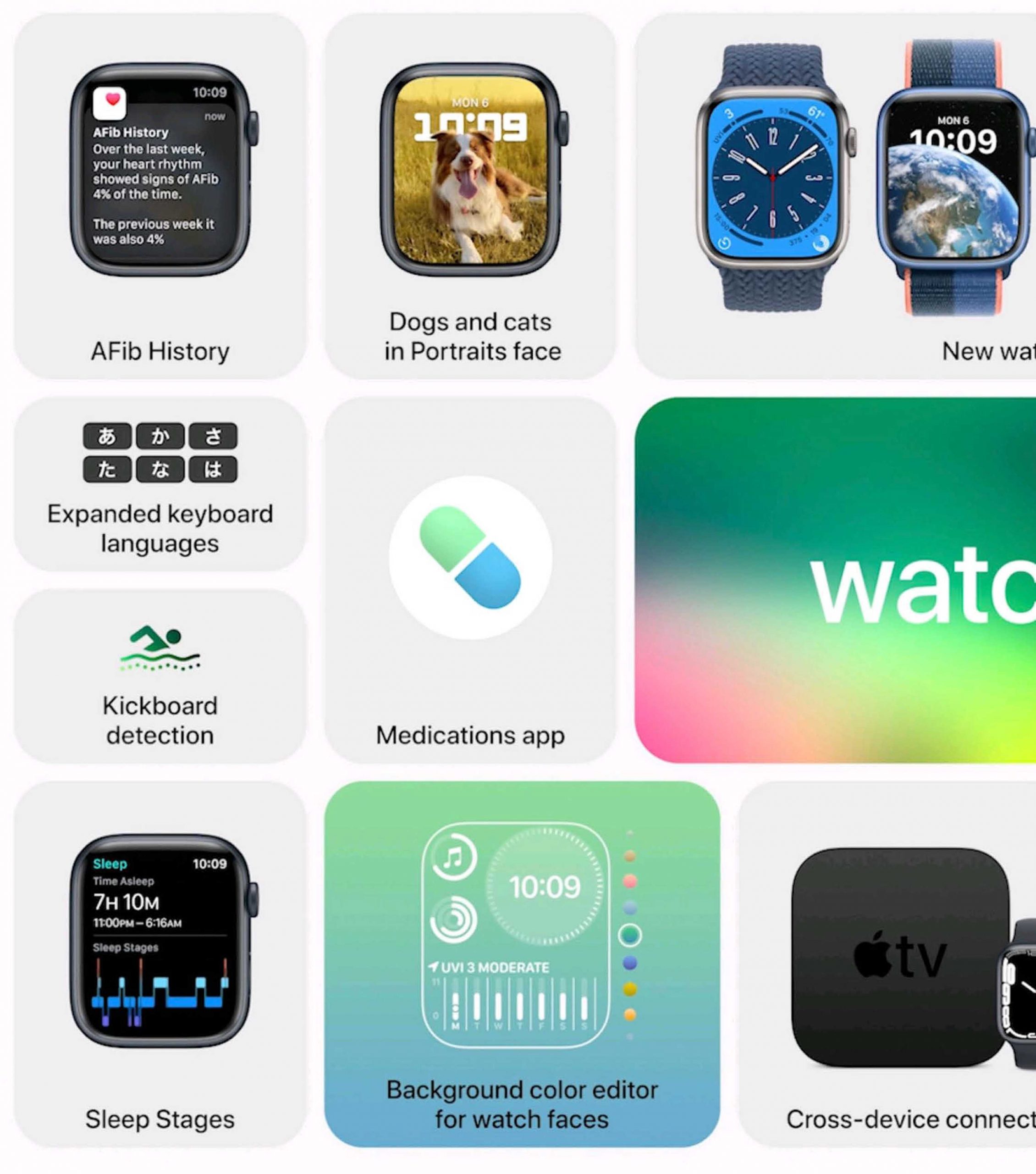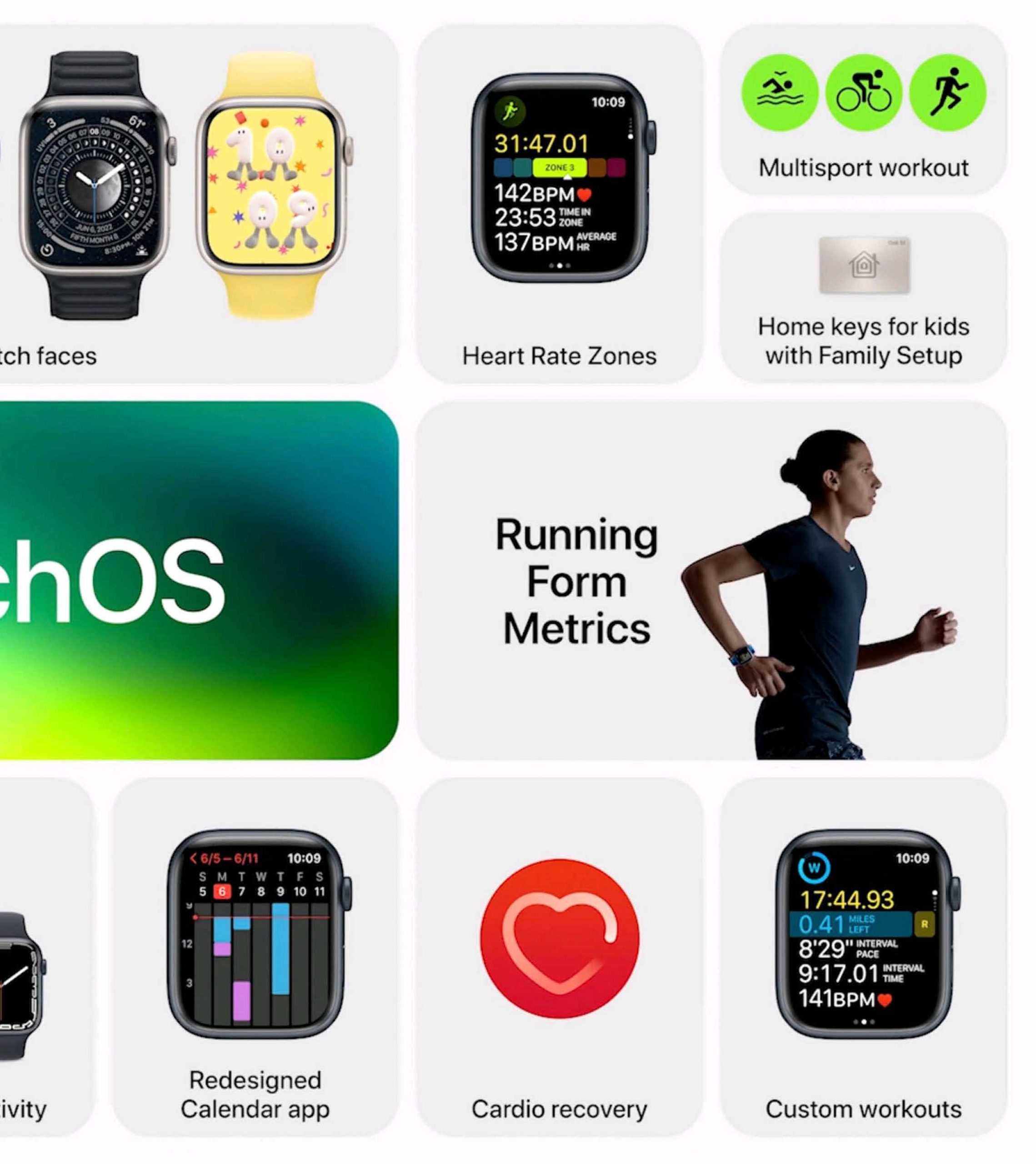 RICH METRICS WHEN WORKING OUT
The Workout app is perhaps the most popular on the Apple Watch, allowing users to track their performance when running, playing football, and swimming. In watchOS 9, Apple has updated the user interface to offer even richer metrics for measuring performance.The in-session display takes advantage of the Digital Crown so that users can easily rotate between easy-to-read Workout Views. Heart Rate Zones can now be used to monitor the intensity of a workout. For the first time, Apple allows users to create Custom Workouts so that users can create a structured activity, including work and rest intervals. New alerts can also be utilized throughout the workout, including pace, power, heart rate, and cadence.
Apple has added new Multisport workout options that allow users to switch from swimming to biking and running automatically, using motion sensors. The Workout app will then show a new summary page offering interactive charts to monitor performance during each workout. Apple goes even further for runners, introducing new metrics such as Stride Length, Ground Contact Time, and Vertical Oscillation. It's now possible to race against your best or most recent result on frequently used routes. An updated pacer experience ensures users choose a distance and goal for their available time, taking the guesswork out of workout planning. For swimmers, kickboard detection has been added as a new stroke type, automatically detecting when users swim with a kickboard and classifying the stroke type in the workout. It's also possible to easily calculate your SWOLF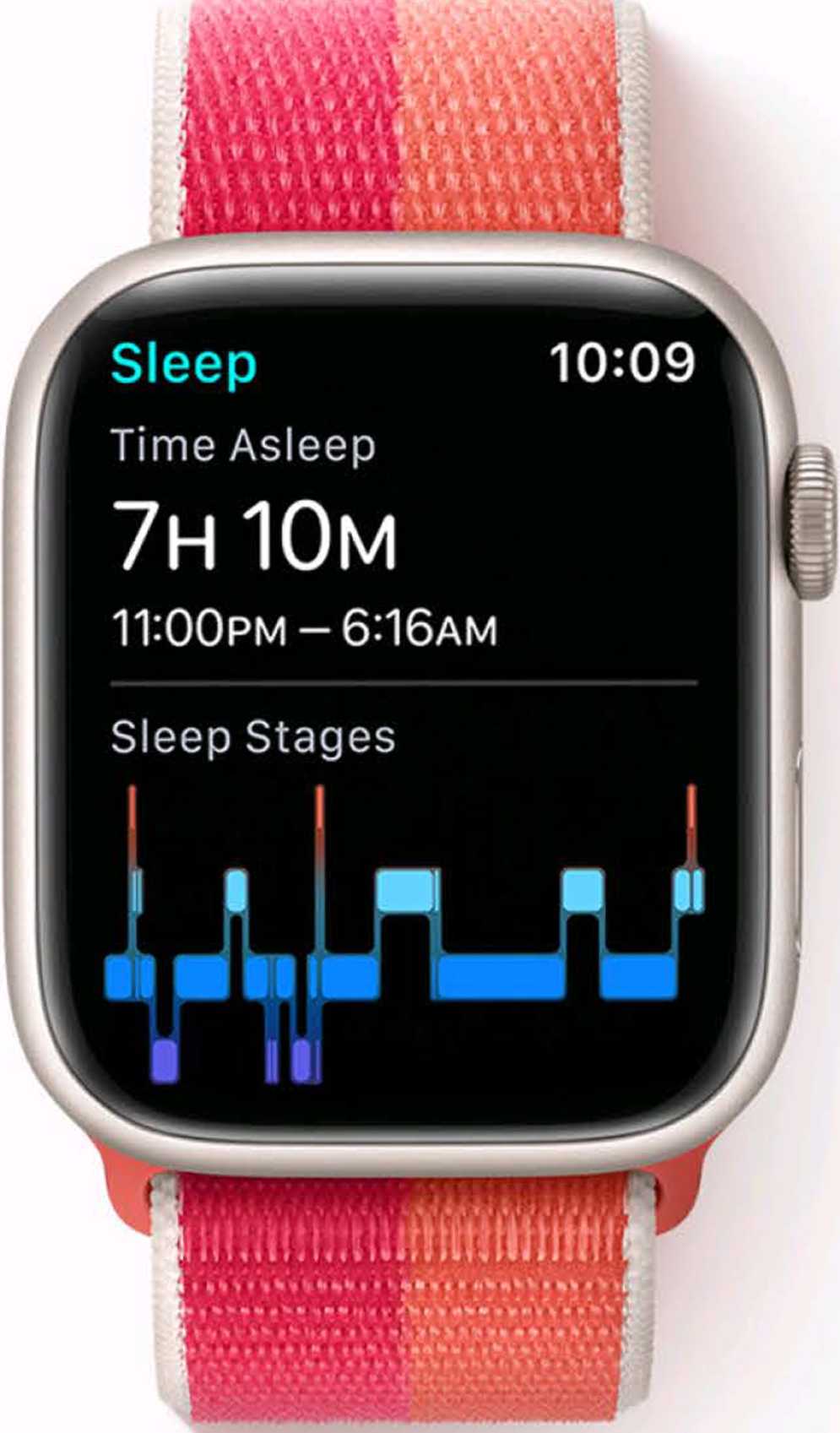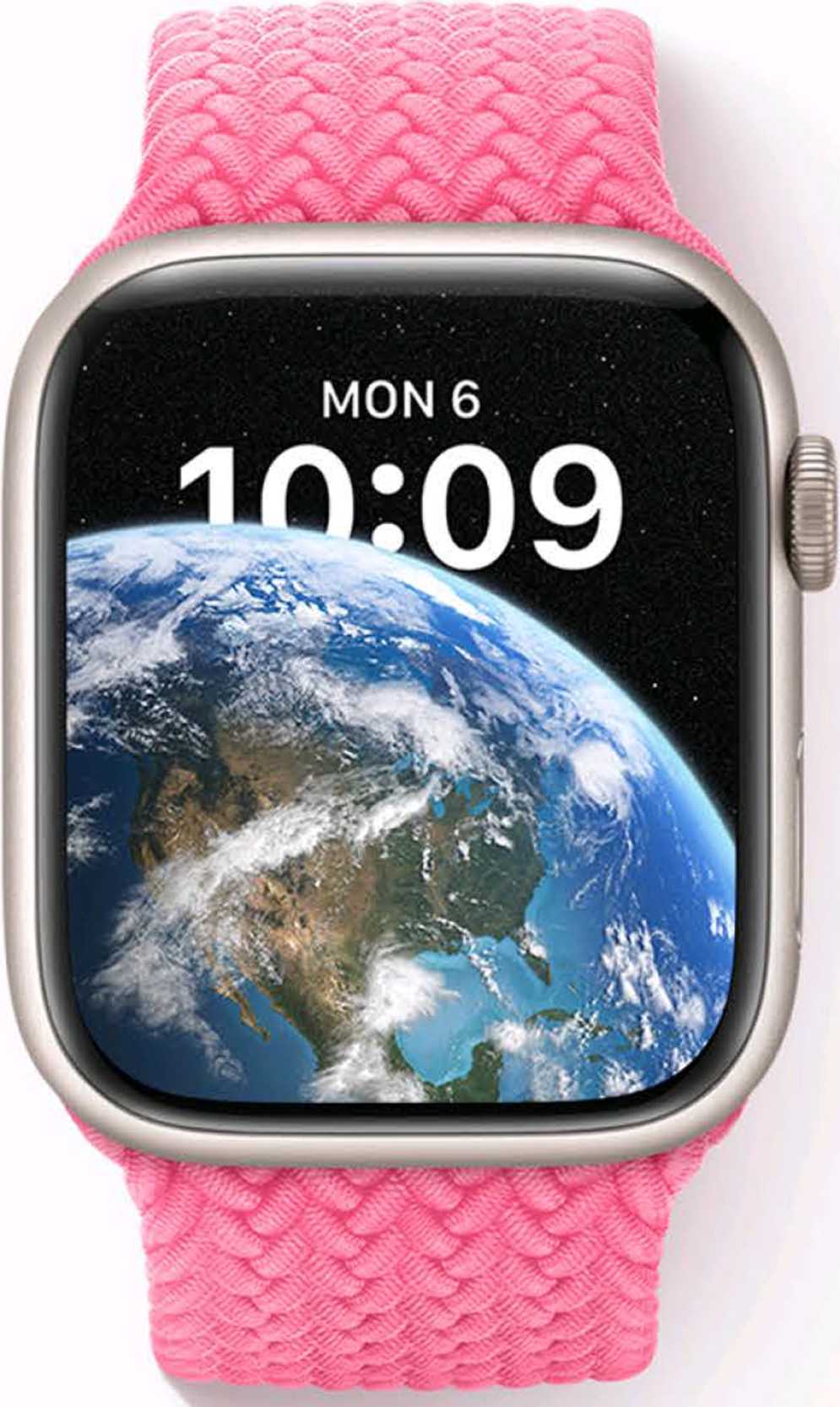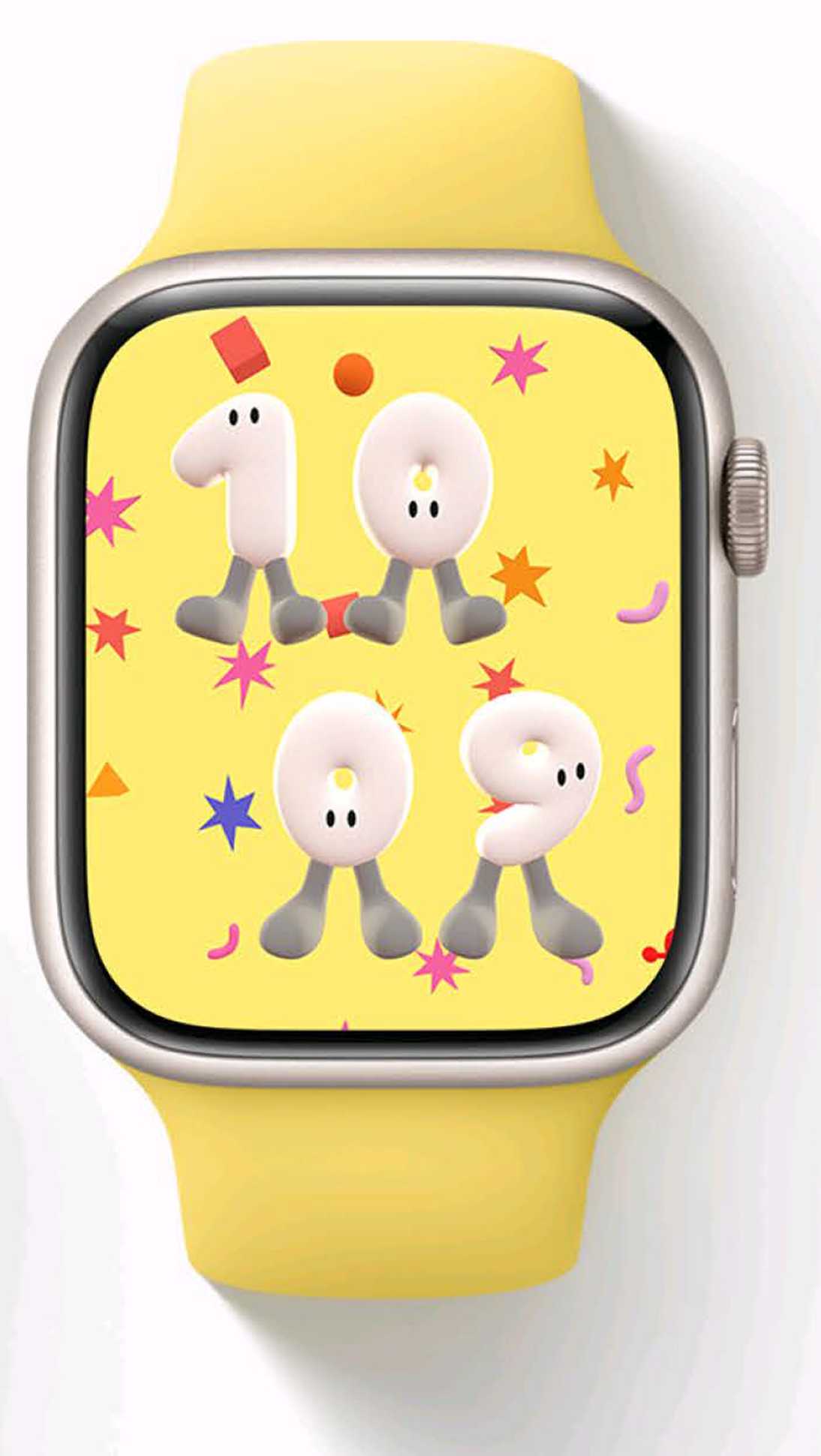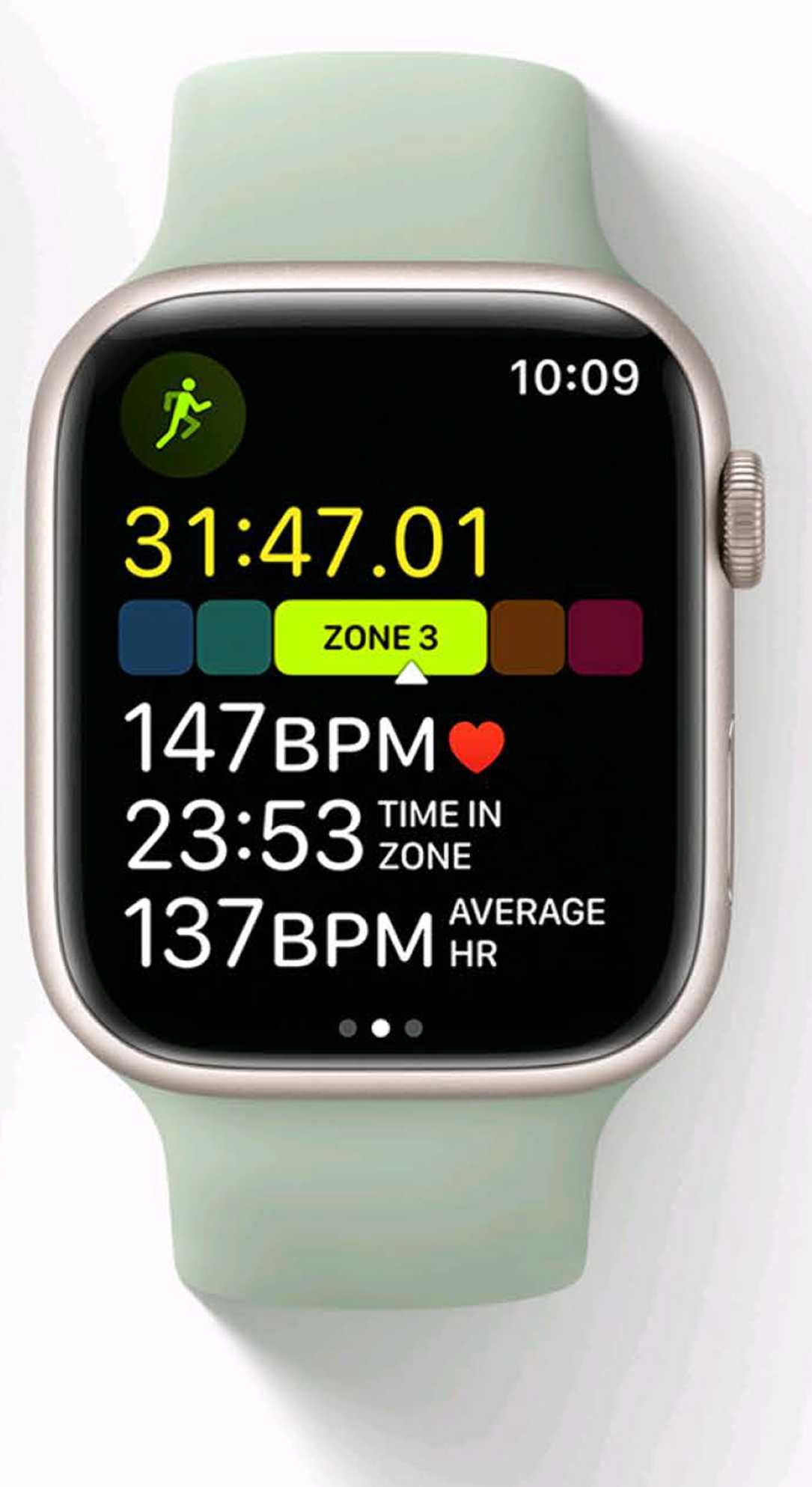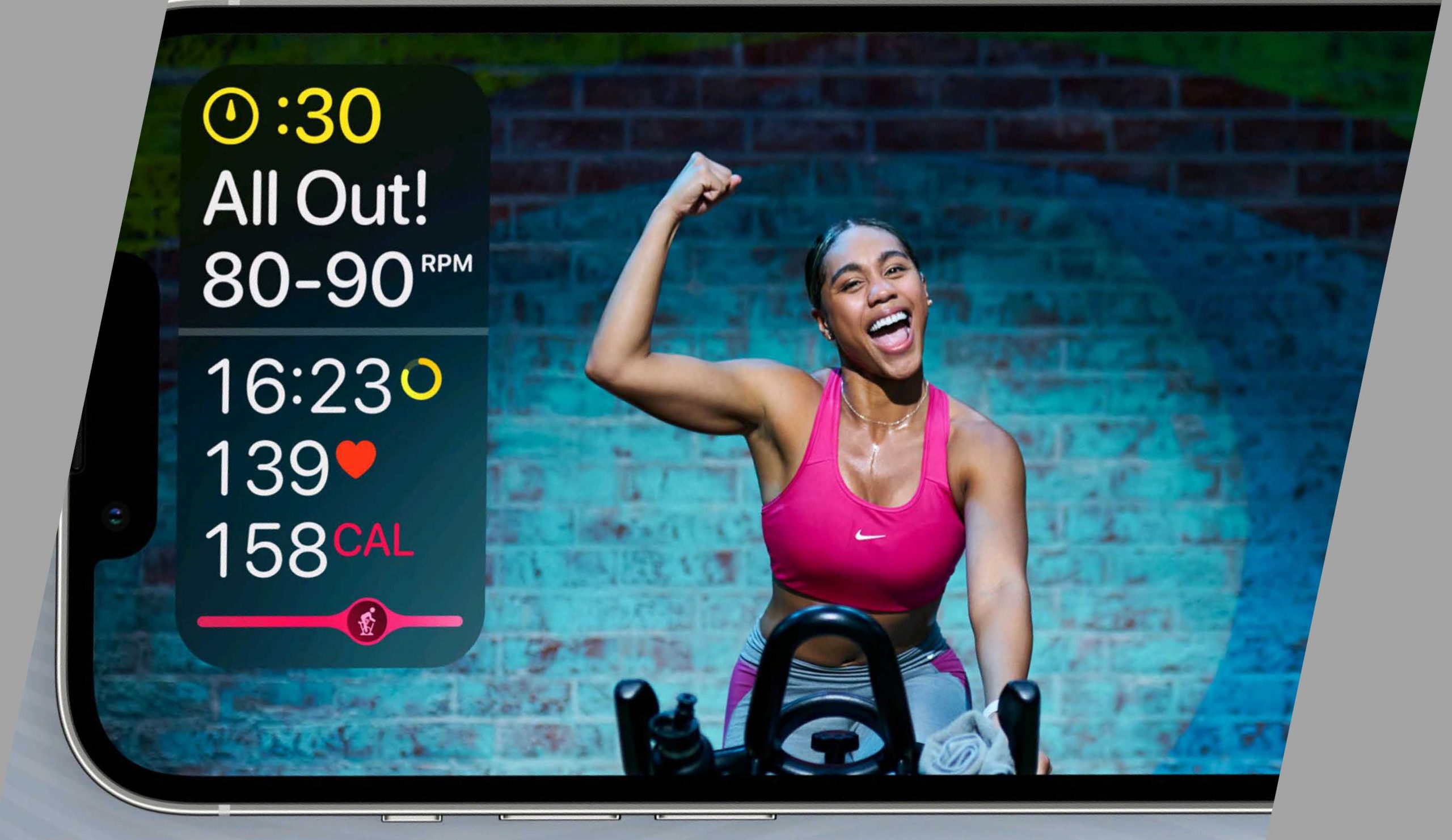 score — a stroke count combined with the time it takes to swim one length of the pool and monitor their performance over time.
Apple has made significant improvements to Apple Fitness+ since it launched, and now it's thought that the service has millions of users worldwide. With watchOS 9, Apple has built new workouts into the Apple Watch. Workouts display on-screen guidance and trainer coaching to ensure users get the most out of their workouts. Fitness+ users can stream workouts with on-screen graphics to TVs and smart devices using AirPlay.
IMPRESSIVE NEW HEALTH TOOLS
It's no secret the Apple Watch has saved lives, and this year, Apple is going one step further. The ECG app can identify potential signs of atrial fibrillation (AFib), and those diagnosed with AFib can turn on a dedicated AFib History feature to access information about their heart health over time and gain deeper insights into their condition. Apple will also send users weekly notifications to understand the frequency, view the history of their heart health, and even download a PDF to share with doctors.
Apple has also made some changes to the Sleep app on watchOS 9, offering more insights with the introduction of sleep stages. Apple uses signals from the accelerometer and heart rate sensor to detect when users are in REM, core, and deep sleep, and detailed information such as time asleep and heart rate can be found in the Health app on iOS. Apple says that its new Sleep machine learning models were validated against the clinical gold standard, polysomnography, and says Apple Watch users will help aid further research overtime.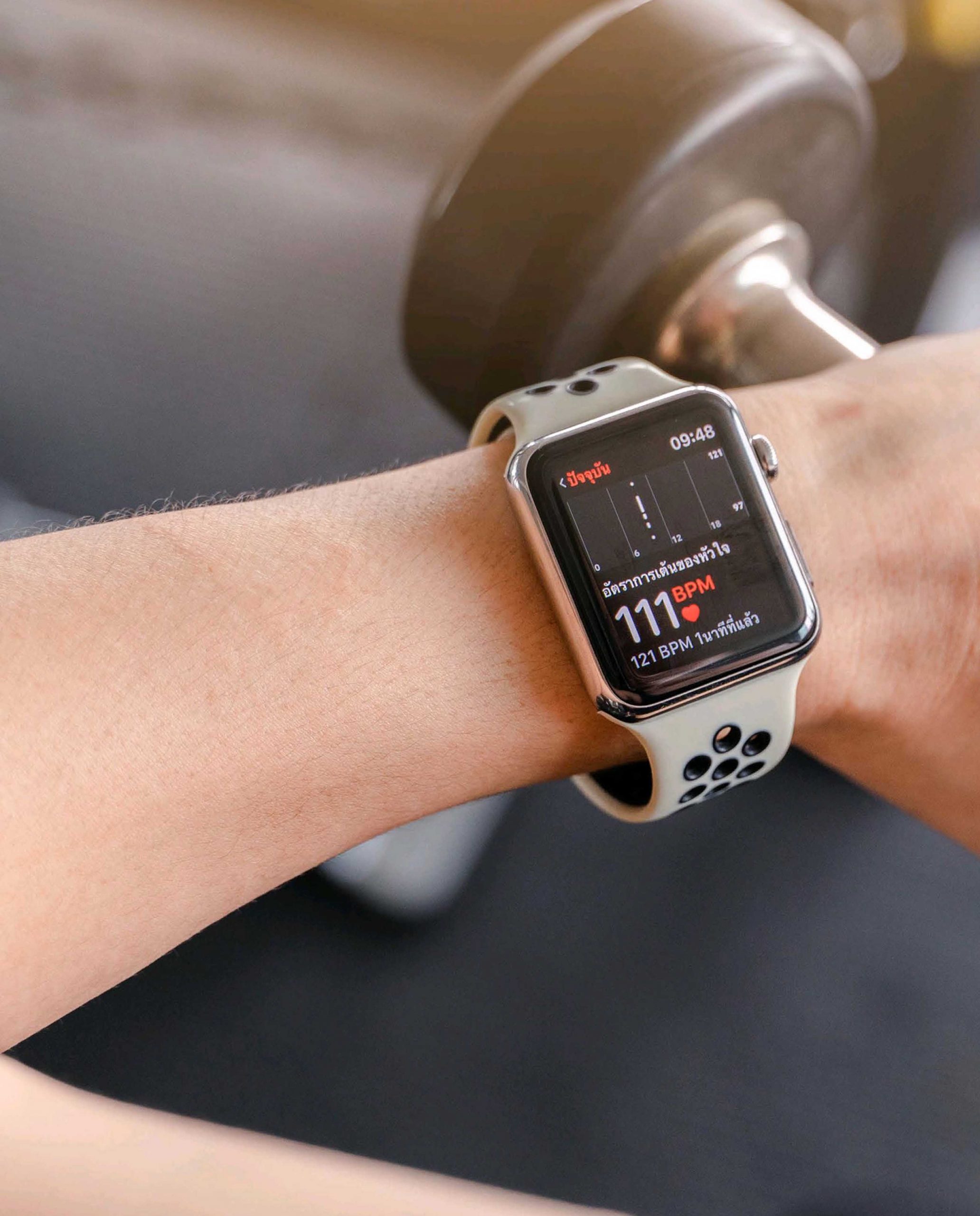 A long-awaited Medications app comes to watchOS 9, too, making it easier for users to manage their medications. Available across watchOS, iPadOS, and iOS, the new tool lets users log medications, vitamins, and supplements and their frequencies, sending reminders. Users in the United States can even receive an alert if there are potential critical interactions with medications they have added to the Health app, with worldwide rollouts expected soon.
COUNTLESS NEW FEATURES
Although watchOS rarely gets the same excitement or attention as iOS and macOS, this year's update does pack its punch. Apple has redesigned notifications on the watch to make them less interruptive. Family Setup lets parents permit their kids to control HomePod speakers and intelligent accessories in the home. Apple has introduced several exciting new Apple Watch APIs so developers can build best-in-class third-party apps while the QWERTY keyboard on Apple Watch Series 7 and above supports French, German, Italian, Japanese, Portuguese, and Spanish for the first time -with future models expected to offer QWERTY support, too.
An exciting new tool known as Quick Actions comes to the Apple Watch, allowing users to use a double-pinch gesture to answer or end a phone call, take a photo, play or pause media in the Now Playing app, and more. It could be a new way to interact with content on the wrist and make Apple Watch more accessible than ever before. Speaking of accessibility, Apple Watch Mirroring allows users to control their Apple Watch remotely from their paired iPhone.The tool uses hardware and software integration, along with advances built on AirPlay, so users who rely on mobility features can benefit from Apple Watch apps like Blood Oxygen, Heart Rate, Mindfulness, and more, without needing to rely on others.
Other tweaks to watchOS 9 include a redesigned Dock, which makes it easier than ever to return to apps, and a Reminders app refresh, letting users edit details like notes, locations, dates, and times.The updated Calendar app allows users to create new events from Apple Watch. Cardio Recovery is a unique fitness metric that can be an indicator of cardiovascular health – it's possible to track this metric over time from the iOS Health app.
watchOS 9 sets the scene for the rest of 2022, a big year for the Apple Watch, with two exciting models premiering in September We can't wait to see where Apple heads next with its wearable technology, helping us become more innovative, fitter, and efficient