WE HAVE A WINNER
THANKS TO the aggressive prices of the latest UHD TVs, the value proposition of any given PC monitor is pretty parlous. Take the new ViewSonic XG2703-GS. You get a paltry 27 inches of LCD panel, and a mere 2560×1440 pixels.
In UHD TV land, the astonishing reality is that will buy you 40 inches and the full 4K complement of 3840×2160 pixels. That's nigh on one third the money for roughly twice the screen, by the major metrics.
Of course, UHD TVs are not directly comparable with PC monitors. What's more, ViewSonic's latest looks pretty clever next to what is arguably its nemesis, the Asus ROG Swift PG279Q. Both monitors check an awful lot of the same boxes. We're talking 27-inch, WQHD resolution, IPS panel technology, 165Hz refresh capability, and support for Nvidia's G-Sync adaptive frame synching tech. And yet the new XG2703-GS comes in at a full $100 cheaper than its Asus competition. Nice.
Indeed, ViewSonic has done a very nice job all round with its latest gaming panel. Straight out the box, it's immediately obvious just what a nicely calibrated monitor this is. The colors really pop, without being over-saturated, and both the black and white scales are pretty much pitch perfect. This thing has balance.
As you'd expect for an IPS panel, the viewing angles are super. More of a surprise, perhaps, are the subjectively deep and inky black tones. Contrast performance is above the IPS norm. We really like the smooth, clean anti-glare coating, too. There's hardly a whiff of that nasty grain and sparkle that blighted those IPS monitors of yore.
Likewise, support for up to 165Hz refresh just sweetens the deal, as does the lack of perceptible input lag, and G-Sync doing its buttery smooth thing in games. Add that to those rockin' colors, the clean panel coating, the top-notch viewing angles, and the super-smooth rendering, and you have a near faultless package. The chassis is also a nice break from the ViewSonic norm, and comes complete with some slick plastics and green accents that hint at the Nvidia G-Sync technology inside. The stand is fully adjustable, to boot, including rotation into portrait mode.
If you were determined to find fault, a little banding is visible in gradients, and the black levels can't quite compete with the very best VA panels. Likewise, the 165Hz refresh setting is buried under a very silly "overclocking" heading in the on-screen menu, which is annoying more than actually debilitating in any way. And the Asus Swift is superficially a bit snazzier as a piece of consumer electronics. That aside, there's virtually nothing in it.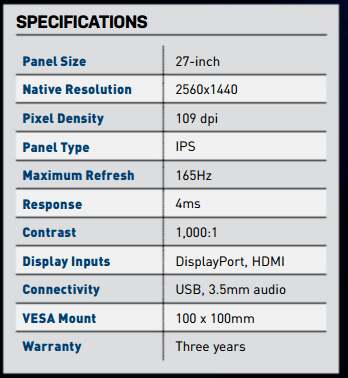 With all that in mind, we're struggling to come up with compelling reasons to pay the extra for the Asus. But still that UHD TV comparison is hard to shake. Indeed, there are some 40-inch 4K PC monitors, albeit somewhat UHD TV derived, that come in well under the price of this panel. Heck, there are middle-budget smartphones that can match its pixel count.
Part of the problem is no doubt the inclusion of G-Sync. It requires a proprietary module inside the monitor that adds to the eventual retail price. The high refresh capability and the quality IPS panel all add to the cost, too. All of these are industry-wide issues, not things specific to this monitor, of course. But as nice a screen as this ViewSonic is, still feels like one hell of a lot for a 27-inch PC monitor with mere WQHD resolution. Hopefully, the market as a whole will realize this sooner rather than later, and the price of this kind of high-performance 27-incher will come down a little. It needs to.
JEREMY LAIRD
ViewSonic XG2703-GS
PROS:
Awesome IPS panel;
outstanding allround image quality;
super feature set.
CONS:
Expensive, depending on your view point;
relatively modest panel size and native res.
Of the three gaming-specific monitors we've reviewed this issue, the XG2703 might just be the best. The best compromise that Is, between the ultra-high-resolution world of 4K professional displays an the ultra-fast-refresh rate world of gaming.
The ViewSonic display is a 27-incher. That's a size we've becomes used to over the years. Native resolution is 2560×1440. Sure, you can get 4K at this price, but this monitor has a max refresh rate of 165Hz – though you do need to use a DisplayPort 1.2a connection to get that. Panel tech is IPS which means excellent viewing angles and consistency across the display.
It's all here. Even a pair of 2W speakers which will get you by should your headphones conk out.
(Speaking of which, there's even a little hook to hang headphones, which just adds to the complete package feel of this monitor.)
Like the Asus display, ViewSonic has gone with Nvidia's G-Sync module. Owners of Nvidia GPUs will enjoy noticeably smoother gameplay, even at lower framerates, as the GPU's output is synced to the monitor.
It's quite a chunky beast though, the XG2703. Compared to the ultra-thin bezels on the kinds of monitors aimed at designers or creative profressionals, this has a thicker case and a super-sturdy stand. Which is probably for the best. The thicker stand does allow for a nifty cable management system, which will help keep all that gaming clutter in some kind of order.
Hard to fault, if it weren't for that price tag.
With a response time of 4ms GTG and that 165Hz top refresh rate, ViewSonic's offering sits between the Asus and LG displays. But it actually feels bigger because as a 27-inch monitor, it's taller. Yes, there's no curve or extra horizontal real estate you get with the ultrawide display, but at least you know every game will work out of the box with it.
Okay, it is quite a bit more expensive than Asus's 24-incher, but the premium is easily justified by the higher resolution and extra two inches of diagonal size.
And unlike the other two monitors, the XG2703 works just as well as any prograde monitor for normal desktop tasks. Yes, we would find it hard to give up 4K at this size, but it's still good for work and play. On this display alone, the gaming price premium is easy to take.
Anthony Fordham
Smooth Visuals
It's still unclear whether so much refresh rate is really necessary, but there's no doubt ViewSonic delivers smooth visual to enhance your gaming experience
When 144Hz monitors first appeared, the visual fluidity it can deliver astounded many. But can our physical eyes tell the difference when the numbers go higher? We're not sure, so we tested ViewSonic's new 165Hz-capable monitor – XG2703-GS – to see how much that extra bit of refresh rate would help.
The XG2703-GS is a 27-inch gaming monitor with relatively thin bezels surrounding its matte anti-glare IPS panel. Most of the monitor's body is covered with a matte surface as well, with only a few plastic parts that add color (green) and accent. To go with its larger size, ViewSonic has equipped it with 1440p resolution for a crisp video quality.
Physically, the XG2703-GS has fantastic build quality. It has a solid base and sturdy stand, which does make it quite heavy.
The stand also has a cut out for cable management, while at the back there's a pull-out holder that can be used to hang your headset. Plus, the stand can actually be removed, which then allows you to VESA mount it instead.
On the XG2703-GS, you get the full range of ergonomics typically found on high-end monitors. Its base allows it to swivel, while the stand makes it possible to tilt, rotate and adjust its height. As a result, it's easy to adjust the monitor to suit your preference.
For a monitor that has rotation, a feature that some graphic designers and photographers like to use for their work, the colour accuracy for this IPS panel out of the box isn't great. However, it has sRGB colour profile and 6-axis colour calibration, so colour accuracy can be fixed after some tweaking.
Out-of-the-box performance for professionals aside, the XG2703-GS is amazing for games. Not only is 27-inch much larger than the more commonly purchased sizes, the high refresh rate and NVIDIA G-SYNC feature combine to eliminate all forms of screen tearing. In addition, its 1440p resolution provides very sharp visuals for those who prefer video fidelity over the extra frame rates. There's also a built-in speaker that's passable, so you don't need a dedicated desktop speaker.
The buttons for the on-screen display are not in the ideal spot, but are not hard to reach and are easy enough once you get used to them. Using this, features like anti blue light and overclocking the monitor to 165Hz is possible. However, it's very hard to tell if the extra 21 Hz makes any visible difference, so your mileage may vary.
The stand for the XG2703-G5 has everything: An integrated headphone holder and the whole shebang for ergonomics – tilt, swivel, rotate and height adjustment
Besides the input ports, there's also two USB ports that can be enabled by connecting the USB passthrough to your PC
PROS:
Very smooth video quality in games
Great build quality
CONS:
Must know how to calibrate colors
Expensive
CHIP CONCLUDES
Super-fast refresh rates, high 1440p resolution, and a large screen size makes this an excellent gaming monitor – provided you're willing to break the bank.
Best ViewSonic XG2703-GS prices ?

$

202.95
1 new from $202.95
in stock

MORE DEALS

Specifications
Panel Type: IPS
Display Size: 27-inch
Resolution: 2560 x 1440
Connectivity: 1x HDMI, 1x DisplayPort, 1x Audio Out, 1x USB 3.0
Refresh Rate: 144Hz (165Hz overclocked)
Response Time: 4ms
Viewing Angle: 178°(H), 178° (V)
Dimensions: 624.4 x 532.4 x 250.4 mm
Weight: 7kg