NEC EA245WMi Review – Is your monitor killing you? Before you jump up and call the police, no, it probably isn't actually killing you.
But it's probably not doing you any good. Most of us don't have our workspaces set up according to ergonomic advice. The screen may be higher or lower than ideal, and often the lack of adjustment in the monitor stand makes it hard to do anything about that. If you are concerned, you can find a quick visual guide to a healthy working position at www.snipca.com/23120, and more detail on display adjustment at www.snipca.com/23121.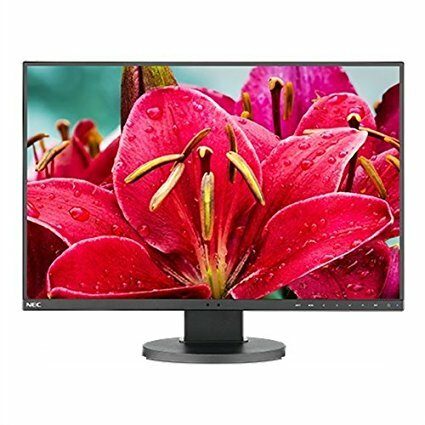 Even when it's set up correctly, using a large PC monitor for long periods exposes you to a lot of artificial light (called blue light), and research in the last few years suggests this may be affecting our body clocks and preventing a good night's sleep.
No reflections, excellent picture and fully adjustable
It's easy to ignore all these claims, unless of course you're in charge of a large organization with lots of people sitting at monitors every day – any one of whom might sue you if they think their monitor is making them unwell. NEC has designed the MultiSync EA245WMi with corporate buyers in mind, but its features should also interest those of us buying purely for ourselves.
The 24in panel is incredibly slim, yet sturdy, and the simple base provides 100 mm of height adjustment as well as tilt and the ability to swivel 90 degrees into portrait mode, a boon if you spend time reading long documents. Even left in landscape mode, the 1920×1200-pixel resolution gives you a bit of extra height on top of the usual Full HD. The matt finish on the front glass ensures that no reflections obscure your view of the excellent picture quality, which covered an impressive 98.4 per cent of the sRGB color range in our tests, with decent contrast and sufficiently high levels of brightness.
Talking of brightness, you can set the screen to adjust itself according to the light in the room. NEC's Low Blue Light Plus feature can also cut out frequencies thought to be bad for your eyes. There's a full set of ports on the back, including a DisplayPort pass-through to connect a second screen, and a three-port USB hub, as well as small stereo speakers if you don't need anything more powerful. It's pricey, but it's hard to fault this fully equipped and adjustable monitor.
NEC EA245WMi Review: SPECIFICATIONS
24in IPS LCD • 1920×1200-pixel resolution • 1x HDMI port • 1x DVI port • 1x DisplayPort input • 1x DisplayPort output •1x VGA port •2x 1W speakers • 398x532x205mm (HxWxD)
NEC EA245WMi Review: VERDICT
Its a lot pricier than a basic 24in screen, but the image quality, adjustable height and extra features make it worth considering
Editor choice
NEC EA245WMi Review
Its a lot pricier than a basic 24in screen, but the image quality, adjustable height and extra features make it worth considering
Add your review
|
Read reviews and comments
Best NEC EA245WMi prices ?
MORE DEALS

NEC EA245WMi Review: ALTERNATIVE
No height adjustment, but this 23.6in Full HD panel has slim bezels and picture quality is pretty good