Video-editing software
Turn your home movies into masterpieces as Steve Clark puts six of the best video-editing programs through their paces
Thanks to mobile phones and YouTube, anyone can film a movie. You might not win an Oscar, but a solid video-editing tool can effortlessly create professional-looking films – whether you're showing off a hobby, adding some Hollywood sparkle to your holiday footage or just getting a kick out of making movies. We've put six of the best available paid-for video-editing programs through their paces – so you can create movie masterpieces you'll want to watch again and again. Note that each program in this Group Test requires or recommends a 64-bit operating system, so check your computer before downloading.
HOW WE TESTED
We tested each program's editing and exporting abilities using three videos: a graduation-day video shot on a full HD camcorder; a 1080p home movie recorded on a Nokia 6.1; and a video capture of the game Overwatch, running at 720p. We also spent time using features such as chroma key, to see how straightforward it was to apply advanced special effects.
Adobe Premiere Elements 2018 | www.adobe.com/uk
Adobe is to editing what Hitchcock is to suspense: a master often imitated but never bettered. With a pick-up- and-play simplicity that masks a fierce power, we're crowning Adobe Premiere Elements 2018 our Group Test Gold Award winner.
Inside Premiere Elements 2018. you'll find two modes: Quick and Expert.
Functionally, they are identical, but Expert mode delivers an enhanced timeline for advanced users, whereas Quick mode resembles a feature-rich Windows Movie Maker. Both are user-friendly and keep the focus on your film by dispensing with the traditional three-panel display and slipping critical functions away in the right-hand action bar.
It's a testament to Adobe's design skill that anyone can use the program to edit videos with relative ease. Most actions are self-explanatory and simple to execute – just hover your mouse over clips in the timeline to reveal quick-use icons that let you instantly trim and split videos.
Even complex tasks are made simple with the interactive guided tutorial, step-by-step videos demonstrating both basic and advanced effects such as slo-mo and the 'Red Noir' effect,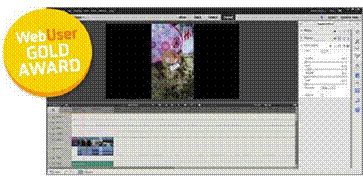 famously used as an emotional sucker-punch in Spielberg's Schindler's List. It's as near as you'll get to Hollywood-style effects.
Video cleanup is equally straightforward and often necessary with smartphone footage, where steady hands and decent lighting are all too rare. The basic Shake Reduction offers fantastic control thanks to Quick and Detailed options – although it countered instability with an over- zealous zoom. One click of the Smart Fix button sees adjustments to your video's lighting, contrast and colour, but you can choose to make manual alterations if you'd rather not let the software do it for you. For most projects, though, you can trust the tool because Premiere Elements really knows what to do and how to do it.
VERDICT
5/5
A dear-cut interface with a sackful of special effects -every drag and drop is so clean it almost feels like you're cheating. Elements is a powerful beast – rendering is super-speedy, even when exporting at 4K-but it's playful enough to let users create short videos to be shared on social media without even leaving the program. It may lack some modern features offered by Adobe's professional counterparts, and has a smaller pool of export options, but whatever your experience level, Elements performs just about every action you'll need from a consumer- level editing suite.
Pinnacle Studio 21.5 Ultimate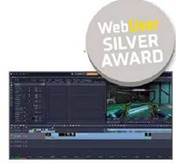 Pinnacle Studio 21.5 Ultimate is a beautiful series of contradictions – a consumer- friendly product with professional pretensions; feature-rich, but with simplicity at its core; and an overly complicated user interface that, oddly, never confuses.
Almost all the effects, from old-school film grain to paint styles, are applied via drag-and-drop, so simple you could do it in your sleep. Yet there are more overlays and special effects here than anyone – including Michael Bay – will ever need.
Pinnacle supports both 360-degree editing and multi-cam capture but you have to pay to unlock the latter, which means, no matter which of the three versions you buy, the software is always incomplete. Still, Pinnacle is a rock-solid tool. If you're not willing to shell out £90 for the Ultimate edition. Pinnacle's Plus version offers a similar, cheaper package that still packs in a lot of special effects and allows you to edit in HD.
Along with the usual functions, Pinnacle Studio contains features many lower-level programs lack, such as the ability to tag clips for future reference and a clever split-screen creator. This is simple editing that makes you feel like a pro.
CyberLink PowerDirector 16 Ultimate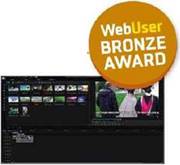 With its tidy, black three- panel layout and copper- tinted timeline, PowerDirector is elegant, streamlined and eminently accessible. But where Pinnacle edges towards more experienced users, and Premiere is built primarily for rookies, CyberLink PowerDirector 16 is suitable for both novices and experts.
Each action is designated a 'room' – the Transition Room, the Subtitle Room and so on – which gives PowerDirector a spirited feel and helps maintain your film-making flow as you dart from room to room, applying effects, mixing audio and adding DVD-style chapters. The downside is that you're forced to blindly dick through menus, since it's not always obvious where key functions are hidden. But once you know your way around it's fairly straightforward – you can sync up a royalty-free soundtrack as easily as editing a 360-degree movie.
VERDICT                                              4/5
There's not much between PowerDirector 16 and our other award winners – and CyberLink's video editor does more for a tenner less – but it's let down by tricky navigation and a fiddly interface. The 25GB cloud-storage is a great bribe, though.
Magix Movie Edit Pro Plus
www.magix.com

A rather spartan offering, Magix delivers easy video editing but it isn't particularly generous with its effects. Still, everyday users won't grumble about its slick interface, which sees special effects laid out in easily navigable Windows 8-style tiles. However, many of the effects have to be downloaded, installed and, in a few instances, paid for.
Magix excels at extraneous extras, such as the scene-recognition tool that breaks up long videos into manageable chunks and the batch file-format conversion. We were especially impressed by its powerful performance optimisation.
Magix is bursting with clever features, including 4K 360-degree support, but it lacks the tailored control of its rivals. Great online tutorials, though.
Corel VideoStudio Ultimate 2018
www.corel.com

Corel's VideoStudio Ultimate 2018 is more a slow-burn romance
than love at first sight. It's an all-in-one package: a modern editor that embraces emerging tech and enhanced creativity with support for 360-degree editing and multi-cam capture. The software's stand-out feature is live screen capture, which proves a superior alternative to free screen-cap software that stamps watermarks all over your masterpiece. Online tutorials only cover the basics, so we would advise some experimenting with its unwieldy ways. There's plenty to experiment with, too, from split-screen creation to reversing entire clips with a single click.
Initially frustrating, VideoStudio has some odd quirks. ft includes many extras that other programs charge for, but misses some basics.
Vegas Movie Studio 15 Platinum
www.vegascreativesoftware.com

Vegas Movie Studio 15 Platinum's intricate, professional interface includes everything you'll find in other editing tools – there's just more of it and it's a lot less pretty. The professional gloss means your timeline is clean, with tracks featuring FX, mute and solo buttons, but it's far from intuitive. Most actions hide behind text-based tabs rather than visual icons, and while you mostly drag and drop effects to the timeline, others elements have to be dragged into the Video FX pop-up box, and Master Effects go to the Playback Monitor. None of this would be a problem, though, if the effects were as well-rendered as Vegas's rivals.
Vegas is powerful, but awkward. We like its ability to test effects by hovering over each one for a 'before-and-after' animation, though.
Adobe Premier Elements 2018
Pinnacle Studio 21.5 Ultimate
WEBSITE
www.adobe.com/Lk
www.pinnaclesys.com
www.cyberlink.com
www.magix.com
www.corel.com
PRICE
Cyberlink PowerDirector 16 Ultimate
Magix Movie Edit Pro Plus
Corel VideoStudio Ultimate 2018
BUY FROM
www.adobe.com/uk
www.pinnaclesys.com
www.cyberlink.com
www.magix.com
www.corel.com
AUTOMATIC EDITING
v
v
v
v
v
IMAGE STABILISER
v
v
v
v
v
EXPORT VIDEO AS
AVCHD, AVI, H.264, XAVC-S, PS, DV, VC1, MPEG2, MPEG4, QuickTime, Windows Media
H.264, HEVC, MPEG4, QuickTime, XAVC-S, MTS, AVI, MPEG2, MPEG1,

DivX, Windows Media, Flash, 3GPP, AVCHD

AVI, MPEG2, Windows Media, XAVC-S, H.264 AVC, H.264 HEVC
MPEG1, MPEG2, MPEG4, Windows Media, AVCHD, AVI, MJPEG, MOV, MXV, WMV, HEVC
AVI, MPEG2, MPEG4, H.264 AVC, Windows Media, Mov, XAVC-S, 3GPP, 3GPP2, QuickTime
ONLINE FORMATS
Facebook, Vimeo, YouTube
Facebook, Vimeo, YouTube
Facebook, Vimeo, YouTube, Dailymotion, Youku, Niconico Douga
Facebook, Vimeo, YouTube
Facebook, Vimeo, YouTube, Flickr
SURROUND-SOUND

SUPPORT

v
v
v
Import: v, Export:x
v
DISC AUTHORING
DVD
DVD (Blu-ray available for purchase)
DVD, Blu-ray, AVCHD
DVD, Blu-ray, AVCHD
DVD, Blu-ray, AVCHD, SD Card
MEDIA LIBRARY
v
v
v
v
v
NUMBER OF TIMELINES
Unlimited
Unlimited
100
200
21
STOP-MOTION CAPTURE
v
v
v
v
v
VARIABLE SPEED CONTROL
v
v
v
v
v
MOTION TRACKING
v
v
v
v
v
4K SUPPORT
v
v
v
v
v
OUR VERDICT
Adobe has, for many years, been our video-editing software of choice – and 2018's innovative offering is a joy to use: smart without being too clever; simple without being superficial. Whatever project you're working on – professional or personal – Adobe Premiere Elements 2018 has the power, the features and the sheer ease-of-use to deliver the movie you have in your head to your screen.
Pinnacle is an exciting new addition to our video-editing Group Test line-up. It's certainly straightforward enough that you can pick up and play almost instantly, but with previous editing experience under your belt, you're likely to get a whole lot more from this advanced product.
Bronze Award winner CyberLink has always been a strong contender. It looks great and plays great – once you've adjusted to its quirks. However, its overall clunkiness is magnified when compared to Adobe and Pinnacle's software, which is so user-friendly that it feels instinctive.