Wayne Williams shows you how to make a portable version of Windows that holds all your favourite programs and settings
Windows is highly customisable – you can change how it looks and behaves to suit your needs, choose which software you want to use for specific tasks and even set your favourite programs as the defaults. But if you have to use someone else's PC, they will also have it set up just how they like it, which means you'll have to tolerate their customisations and choice of programs. It may not even be running the same version of Windows.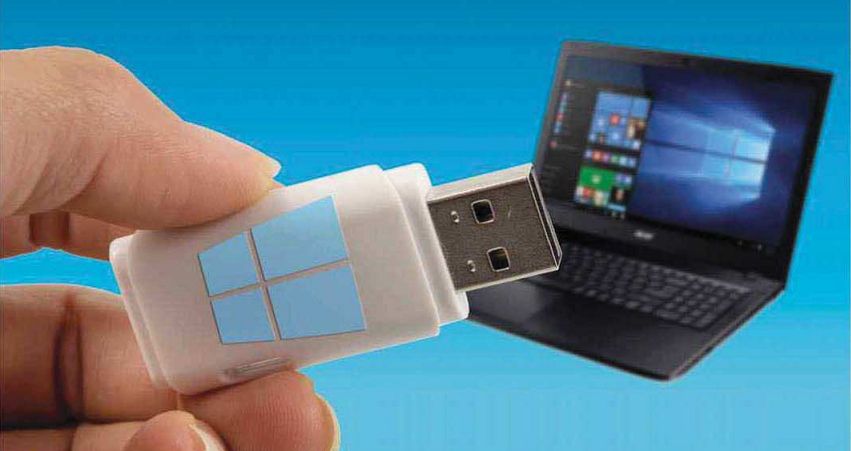 One solution to this problem is to remotely access your PC, but this means you have to leave your own computer switched on and relies on a good internet connection at both ends. An alternative option is to clone your current Windows installation to a portable USB drive that you can boot into and run from anywhere. In this issue's Weekend Project, we show you how to do just that.
What you'll need
Windows 10 (and Windows 8, for that matter) comes with a feature called Windows To Go, which lets you build a portable version of the operating system you can run directly from a USB drive. You just plug the drive into any USB port on any PC and boot into it.
The first thing you need is a spare USB drive – but not any drive will do because there are some requirements to be aware of. If you're simply creating a new Windows To Go installation – that is, a clean version of Windows 10 – the drive you choose will need at least 32GB of free space. You can use a USB memory stick for this. If, however, you're cloning your existing Windows 10 installation – the one that you are running on your PC with all its customisations and preferences – then you will need a much, much larger drive. Our Windows installation, for example, is about 530GB in size and even if yours is smaller, it's still likely to be too large for a basic, cheap memory stick.
The drive you use should ideally support USB 3.0 or later, otherwise loading and using the operating system on it will be very slow. Bear in mind, too,
that not all USB 3.0 drives are equal – you should buy the fastest you can find. This means spending a little more money but the outlay will be well worth it.
Ideally, you want your target drive to be around 20% bigger than your source partition.
Finally, you'll need the free WinToUSB software (bit.ly/wtu452), which creates the Windows To Go version of your OS on the USB drive. The program was recently updated to make it possible to 'hot clone' your operating system, which means you can clone your OS while it is running. It also improved the cloning process and fixed a number of important bugs.
We show you how to use WinToUSB in our Mini Workshop on page 61. Just make sure you read the rest of this article before you begin because there are a few more things you need to do first.
Carry out a little caretaking
Before you start, you should spend some time freeing up as much space as possible. The smaller you can make your existing installation of Windows, the quicker and easier it will be to clone it to a USB drive, so start by uninstalling any applications you don't require. A program such as IObit Uninstaller (bit.ly/iobu452) lets you list the items installed on your PC in size order. Get rid of anything you don't need, then clear any clutter from your desktop and empty the Recycle Bin.
If you have some large files, such as videos or operating system ISO files, move them to another drive. You can use a tool such as CCleaner (www.ccleaner.com) to go through your hard drive and remove additional clutter.
If you've recently upgraded Windows 10 to the April 2018 Update, you might want to remove your previous Windows installation files because this can free up around 30GB of hard-drive space. There are two ways to do this. The first is to click Start and start typing disk cleanup. When it appears, right-click the Disk Clean-up entry and select 'Run as administrator'. Make sure the hard drive containing Windows is selected, then click OK. Click the 'Clean up system files' button.
Select your main drive once more and click the OK button again. This time you'll see a new option – 'Previous Windows installation(s)'. This will include the files created by installing the April 2018 Update. Tick that box, along with the 'Temporary Windows installation files' one, then click OK to remove those backed-up items.
The other method is to open Settings and go to System, Storage. Under Storage Sense, click 'Free up space now'. On the next screen, select the 'Previous Windows Installation(s)' entry, then click 'Remove files' at the top.
Prepare your target drive
The drive that you'll be writing Windows to needs to use the MBR (Master Boot Record) partition scheme and have system and boot partitions. There's a good chance your drive will use GPT (GUID Partition Table) but converting it to MBR is straightforward enough.
The easiest way to do this is to use EaseUS Partition Master Free (bit.ly/ eapm452). Run the software, locate your drive, right-click it and select 'Convert GPT to MBR'. Click the Apply button at the top to action the task.
If you don't convert your drive to MBR, you won't be able to copy Windows to it using WinToUSB.
Use your USB drive
The cloning process takes a long time so for that reason, it might be worth running it overnight. Exactly how long you need to wait for it to complete will depend on the size of the partition you
are copying and the speed of your drive. Ours took four and half hours to finish.
By default, WinToUSB will shut down your PC once the operation completes.
To use the drive, just plug it into any PC and boot from it. The PC will need to be set to boot from USB. If it isn't, you can either select the drive from the boot menu (by pressing whatever key is used for this task – typically F8, F11 or F12) or configure the boot order in the PC's UEFI or BIOS firmware. Power up your PC and press the key required to enter setup (usually F2 or Del), then look for a boot-order menu. Remember to save your changes.
Create a new, portable Windows 10 installation
If you prefer, you can use WinToUSB to create a fresh Windows 10 installation on a USB drive, then customise this to suit your purposes. Start by downloading a copy of the operating system in ISO format, which you can do using Microsoft's Media Creation Tool (bit.ly/ mct452). Choose the option to create installation media for another PC, click Next and select the required language, edition and architecture (32-bit, 64-bit or both). The edition needs to match your Windows licence.
Click Next and choose ISO file as your installation media. Click Next again to download the ISO file. It's several gigabytes in size so it will take a while to complete, depending on the speed of your internet connection.
Once it's downloaded, run WinToUSB, select 'Image to USB' on the left and browse for the ISO in the Image File box. Choose the Windows version, click Next, and select a destination drive.
You're given the option to format the drive. Choose the format type you require ('MBR for BIOS', 'GPT for UEFI' or 'MBR for BIOS and UEFI'). Once that's done, just follow the steps and create your Windows To Go OS.
MINI WORKSHOP | Clone your existing Windows installation to USB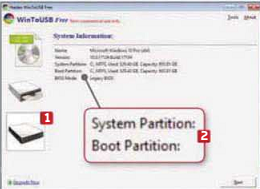 1 Insert the USB drive that you want to install your Windows to Go clone on into a spare port and run WinToUSB. Select the 'Physical to USB' option 1 on the left. The name of the OS you're running, version number, and system and boot-partition details are shown on the right. 2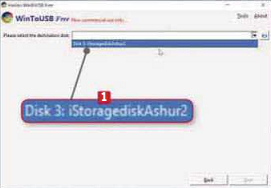 2 Assuming the details are correct, click the Next button. Select the destination drive to copy Windows to. 1 It should only offer you the one choice, but if there's more than one drive listed, make sure you pick the correct one. You'll be informed if there's a problem – for example, if the destination drive is too small.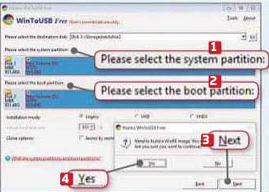 3 Select the system partition 1 and boot partition 2 in the partition list. Click Next. 3 You'll be asked to build a WinPE image. Click Yes, 4 wait while this happens, then click Yes to confirm you understand the process will wipe your data. Click Yes again and your PC will reboot and begin the cloning process.