This year (2020), it's 20 years ago that I first discovered Linux, picking up RedHat 5.1 (a number of CDs and a manual) for a small sum at a computer meeting. Installing it on the hard disk was very difficult, as the 540 MB HD was so encoded as to enable me to run my copy of Windows, which was not able to recognize a disk larger than 504 MB, if I remember this well. But after a few tries (it was as if the install program learned from the failures, and every next step the install went better, until: bingo:), I had Linux installed on my computer.
When I learned more, I discovered, and was very much surprised AND impressed, that the large HD was no problem at all for Linux. It was only a problem for my Windows (3.11, the computer was a Pentium 4 of 1992) at the time (so I still had to use the encoding program, that jiggled the disk parameters such that Windows was made to believe the disk was a much smaller one).
What made me really enthusiastic was the load of free software that came with RedHat, you just name it and, somewhere on the CDs, it was there, to install and play with. Most of the available software I had no idea of what it was for, but in the manual there was a short description, which sometimes I understood.
So I played, and made many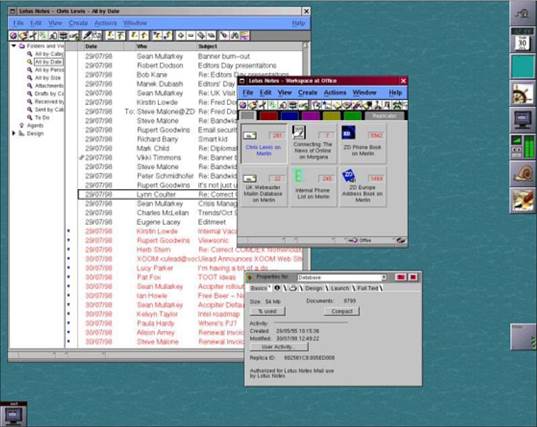 mistakes, and learned and learned. Problems with the printer, the videocard, sound and what not. But also: the computer itself just worked, and in Windows I have never experienced that bliss.
I had to use first DOS, and later Windows, for my work (teaching). Never did I use these by choice. Before that I "tinkered" with my Acorn Atom, and BBC B microcomputers. To even "reprogram" the hardware itself with a soldering iron, which was fun, as a member of a computer club, for the Atom. I even had to abandon the Atom, as it had changed out of recognition, poorly documented: The Atom was changed, among other things, to think it was a BBC microcomputer. But not quite.
My Windows was always broken "because of my tinkering". If Linux was broken, I just reinstalled it, and played some more with it. Or tried to find out what broke the system, but was not always successful. And had to go the easier way.
RedHat offered free updates for a year (from the top of my head, may be confused with later trials of, for instance, Fedora, Suse and Mandrake), but all experiences ran down to the same thing: installing updates was very slow if they numbered more than just a few. So after some time, I tried other distros, among them, and the best and most beautiful of them all, was Mandrake: easy to install, easy to update, very nice to look at. But all of them had this very serious problem, which caused me to download only one, or at most two, CDs (out of the six or sometimes even more than that): after a number of updates it got very difficult to install applications from the CDs, as the change got larger and larger that the necessary installed dependencies were updated to a new version, and so could not be used by the software on the CDs, which needed the original versions: this is the real dependency hell.
Ubuntu
In 2004, I was fortunate enough to discover Ubuntu, the very first version, 4.10 ("Warty Warthog"). This was the real thing, right from the start, and nothing but the real thing. I first tried it as it just was the only Linux distro I found to offer Kst, a program for showing graphs and diagrams from large sets of data, that I was translating into Dutch, for the KDE desktop, but I soon discovered more…
Ubuntu came on just one (Live) CD, and more free software was to be downloaded from repositories, and very easy to install. The necessary dependencies were also installed from these repositories, and this way the dependencies were always up-to-date, and met, and the dependency hell was history. Further the repositories were (and are, but I am now talking of the start of Ubuntu) mirrored on hundreds of very fast servers around the world, so updating, and installing, was as fast as your own internet connection. And, how it's done I still don't know; the update process itself is fast, even if there are a lot of updates (or even an upgrade, which is a total update of all the system itself, and the installed applications).
All problems that I had had so far with the other Linux distributions were solved! The globally mirrored repositories in one clean sweep outmoded every other OS: Windows and the other Linux distros. No wonder Ubuntu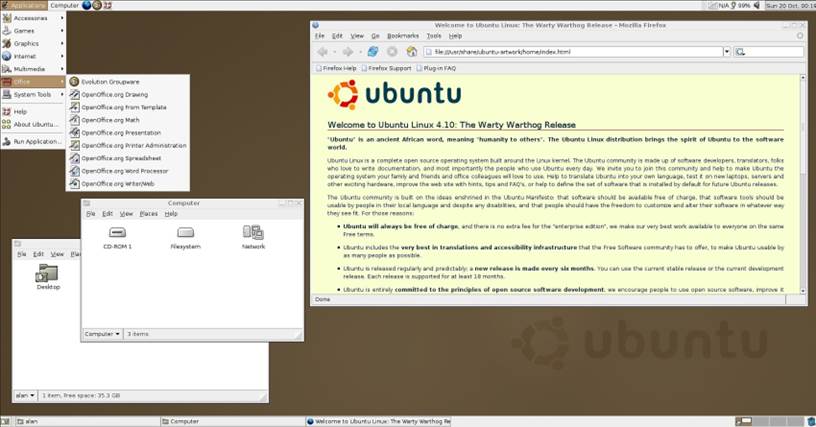 became the most popular Linux distro almost overnight, leaving all the big names, such as RedHat, Fedora, Suse, Debian itself and Mandrake, far behind. Even if these had led the Linux scene for years and years.
Very soon I used Windows only for updating some gear such as my Tomtom, for a number of years, before totally wiping my Windows (XP) from the disk, and never longed back for it.
One other thing at which Ubuntu shines is the recognition of hardware. Once in a while, a piece of new hardware is not recognized, but after some time it magically is: a driver for it has become available (developers: thank you very much!). Old regular hardware is always recognized without a problem. In Windows, you get a CD with drivers you need for installing your new hardware, or have to search for and download the drivers. In Ubuntu the new hardware just works, 99% of the time.
I have tried Linux Mint. It's a fork of Ubuntu, and one would think it therefore is probably even better. Something Ubuntu should have been if Ubuntu were perfect. But I have had a lot more trouble with my video cards in Mint than I ever had in Ubuntu. I think LM, while it is more beautiful (it really is), is nothing special. So there is no reason at all to replace Ubuntu with LM, while the opposite is possibly more true.
In the earlier days, I used Kubuntu: Ubuntu using the KDE desktop. It was then when I started translating for KDE (or did I when using Mandrake?). The desktop at the time was KDE 3: really lovely, the desktop around at the time. But some unfortunate moment it was, very prematurely, replaced by KDE 4, which was no better than Windows: always broken, one failure after the other, and I soon dropped it, using the ordinary Ubuntu with the Gnome 2 desktop. A real setback after KDE 3, but, OK, it worked, and was very simple (as an OS should be: the best OS is the one you don't notice using it: keeping your attention at what you are trying to do).
And after a while, Gnome 2 also got obsolete, and was, prematurely again, replaced by Gnome 3, which again was not the forward move. So when Ubuntu ditched Gnome 3 and launched Ubuntu with a new desktop, Unity, I was prepared to give that desktop a chance. After some time using it, I realized that I began to love Unity, even if I did not use all the features that it has. For that last reason I am quite prepared to give Ubuntu, with an evolved Gnome 3, from 18.04, a real chance again.
There are also the other, lighter, versions of Ubuntu: Xubunu, Lubuntu and more. Most of them I tried, on a netbook and older notebooks and desktops. They all work very well, but I always noted, after a while, these, oh so tiny, things that did not work as expected. Small things indeed, until you notice them: in Ubuntu (with Unity) giving no problem at all, but when noticed they get a bit irritating. But these versions keep these small and old machines going. And, to be honest: maybe Unity gives the same experience to a user who is accustomed to the lighter versions!
That's my story. Many users of Ubuntu nowadays have no idea how Ubuntu revolutionized Linux computing, and why Ubuntu became so popular in practically no time at all. Sometimes the original version, 4.10 or "Warty Warthog", is sneered at, even by the Canonical people themselves, but even this "unpolished" version was a smash hit, right from the start. And got me hooked :). So, for them, these reminiscences, which are very personal, and written from memory, may be useful.
I have no idea how things are now for the other, once great distros such as RedHat, Fedora, Suse. They must have evolved in the meantime too, and some remarks I made concerning them certainly are not true anymore. But they once were, until Ubuntu came along and showed the way.
We have to thank the originator, Mark Shuttleworth, for organizing the way that Ubuntu is distributed, right from the start, and as a really free distribution, under a most sympathetic name.
* RedHat 5.1 image is from September 1998 issue of PC Magazine UK