Ubuntu Long Term Support (LTS) releases always get attention because, for most users, these are the releases that they install and use. Ubuntu LTS releases come out in April of the even numbered years, like 2020. Each LTS is supported for five years, so users can run Ubuntu 20.04 LTS until April 2025, although many will upgrade to the next LTS, due out in two years. Read our Ubuntu 20.04 Review.
This LTS has been eagerly anticipated, especially since the last "standard" release, Ubuntu 19.10, introduced some serious performance enhancements. 20.04 LTS retains that speed, making it quite zippy and responsive on the desktop.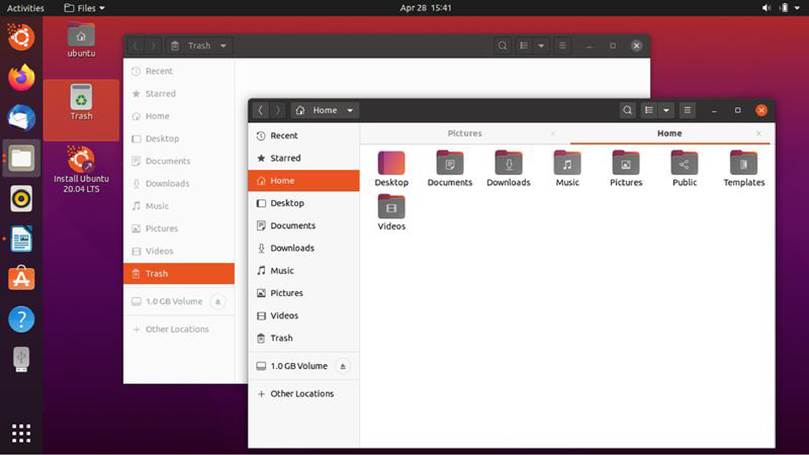 This Ubuntu release is codenamed "Focal Fossa", after the small cat-like carnivore from Madagascar.
BOOTING IT UP
Users can upgrade to Ubuntu 20.04 LTS from 19.10 or from the last LTS, 18.04, or they can do a fresh installation from a DVD or USB stick.
I made up an Ubuntu USB installer using the Startup Disk Creator. Booting it now results in an automatic file system check. Previously this test was available, but had to be manually selected.
Now it is started automatically, but can be manually terminated with Ctrl+c. The automatic check is actually a good thing, as it avoids faulty installations, so my advice is to let it run – at least for the first time with a fresh stick. It takes only a couple of minutes and provides some worthwhile insurance.
Once Ubuntu 20.04 LTS boots up, it presents a dark purple desktop wallpaper, with, predictably, an outline image of a fossa focusing. If this wallpaper is too cliche, then there are seven others provided, including a grey Focal Fossa rendition and the much heralded return of the wallpaper from Ubuntu 8.04 Hardy Heron, considered by many Ubuntu fans to be the best Ubuntu wallpaper to date. It still looks nice today, some 12 years later. Of course you can always use your own wallpaper.
WHAT'S NEW
LTS releases tend to focus on stability rather than new features, but this one does bring some enhancements, including speed and power-saving improvements.
This release includes the Linux 5.4 kernel, which supports some new hardware including Intel's Comet Lake CPUs and initial versions of the Tiger Lake platforms, Qualcomm's Snapdragon 835 and 855 SoCs, plus the AMD Navi 12 and 14 Graphic Processor Units, Arcturus and Renoir APUs, along with Navi 12+ Arcturus power features. It also newly supports the exFAT file system, as well as the open source WireGuard VPN. Livepatch updates mean that the kernel can be updated without a reboot, too. It even supports Raspberry Pi systems, versions 2 to 4.
This kernel version also supports Lockdown, a new Linux security module, although it is disabled by default for now. It is worth noting that Python 2 support and all 32-bit packages have been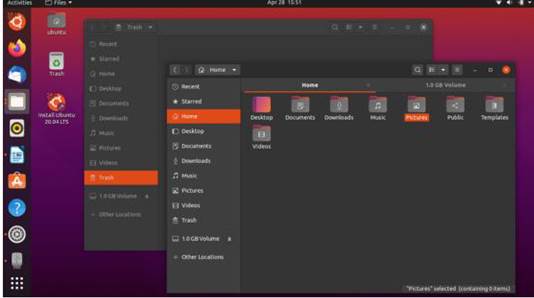 removed from Ubuntu 20.04 LTS.
Ubuntu has a new boot-up splash screen that incorporates the hardware BIOS logo, as well as new Yaru themes and theme switching. What the desktop user sees is Gnome 3.36, which brings better performance, a new lock screen and system menus, and a suite of updated applications.
This release also provides support for the ZFS file system, with ZFS version 0.8.3.
APPLICATIONS
With Gnome 3.36, Ubuntu 20.04 LTS includes the core Gnome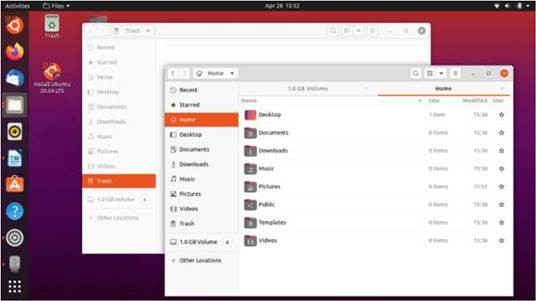 applications such as Gnome Terminal 3.36.1.1, Gnome Calendar 3.36.1, Document Viewer (Evince) 3.36.0, Document Scanner (Simple Scan) 3.36.0, Image Viewer (Eye of Gnome) 3.36.1, Gnome Disks 3.36.1, and Ubuntu Software (Gnome Software) 3.36.1.
The included Text Editor (Gedit) 3.36.1 works really well for coding, and includes seven syntax highlighting color schemes including three dark color schemes. It also has built-in spell-checking (Shift+F7), which is very useful in a text editor.
Files (Nautilus) 3.36.1 includes a native bulk file renamer which is easy and intuitive to use: just highlight more than one file and hit F2 to start renaming files. The only thing it seems to lack, that other file browsers have, is an "up" button, to go up to higher levels in the file system. Users can still access system-level files, however, via "Other Locations – Computer" and then clicking down through the file system. There is no option to open a folder as root in Nautilus, but users can accomplish this by opening a terminal (Ctrl+Alt+t) and entering
$ sudo nautilus
which will open a root instance of the file browser.
It is interesting to note that Ubuntu 20.04 LTS does not include a CD/DVD burning application by default. This actually makes sense in 2020, as neither laptops nor desktop computers have come equipped with optical drives for many years and CDs and DVDs are getting hard to find. It is notable that Ubuntu seems to be ahead of other flavors in omitting a CD/DVD burning application, as Lubuntu and Xubuntu 20.04 LTS still include one. A number of burning applications can be installed, if needed, such as Gnome's Brasero, KDE's K3B, or Xfburn from Xfce.
There are also some applications included from the Gnome 3.34 release, such as the webcam application Cheese 3.34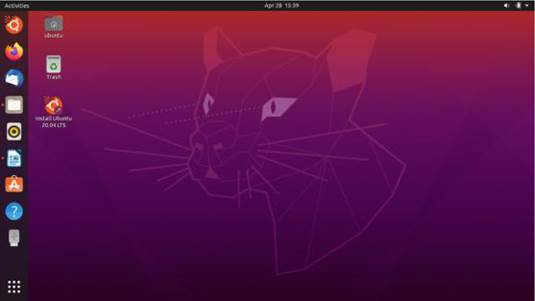 and the movie player Videos (Totem) 3.34.1. Other Gnome applications include the photo organizer, Shotwell 0.30.8, the Rhythmbox 3.4.4 music player, and Gparted 1.0.0 disk partition manager.
The rest of the default applications are from a variety of sources, like the Remmina 1.4.2. remote desktop client and Transmission 2.94 bittorrent client.
The LibreOffice 6.4.2.2 installation includes all elements except LibreOffice Math and LibreOffice Base, which are the least-used applications in the office suite. Unlike Lubuntu, spell­checking is included in LibreOffice by default, so Ubuntu doesn't require a dictionary to be manually added.
Mozilla contributes the Thunderbird 69.7.0 email client and Firefox 75.0 web browser, to round out the software included by default.
Some users are not happy with the user interface changes introduced in Firefox 75.0, (like the "mega bar," although it can be turned "off" in about:config), so I tested out some alternative browsers. Chromium 81.0.4044.122 installed and worked very well. I tried out the native Gnome browser, Web (Epiphany) 3.34.4-1 and it worked fine except that opening the preferences menu crashed it every time, and opening a PDF crashed it, too. Falkon 3.1.0 installed but refused to open at all. Both of these seem to be "Snap" package dependency issues.
SETTINGS AND THEMES
Ubuntu has never had a really high degree of customization and 20.04 LTS's window themes are offered in just three choices: light, standard and dark. Dark themes seem to be "in" these days, but both it and the standard theme make it hard to figure out which windows are active and which are inactive. The light theme does a better job, with active window tops rendered in a medium grey and inactive ones in a much lighter grey.
All the Ubuntu settings are controlled from one place: the Settings menu. It makes getting Ubuntu looking and working the way you like very simple and easy.
The Gnome Shell launcher can be set to hide when an application window touches it. By default it is on the left side of the screen, but can be moved to the bottom or the right side, if preferred, but not the top.
TESTING
In daily use, Ubuntu 20.04 LTS proved very snappy and quite noticeably fast. Applications open quickly and work without hesitation. The basic Gnome applications included, plus Firefox, Thunderbird, and LibreOffice, mean that most users will have everything they need to get to work right from first boot up. The only applications missing are a graphics editor and perhaps a video editor, either of which can be easily added from the Ubuntu repositories.
Adding applications to the launcher is as easy as "drag and drop" from the main menu. Items can be removed from the launcher with a right click selection.
I have found that the Gnome Shell (Gnome 3) desktop, and the old Unity interface, have ended up converging in design over time so that, with the current Gnome Shell, I don't even miss Unity, good as it was, during its heyday of Ubuntu 11.04 to 17.04.
CONCLUSIONS
Ubuntu 20.04 LTS is a very solid and virtually flawless release. The whole desktop experience feels very slick and polished.
Given that this is the 32nd release of Ubuntu and the sixth release with the Gnome Shell, it really should feel like a mature Linux distribution – and it actually does – with no "rough edges" in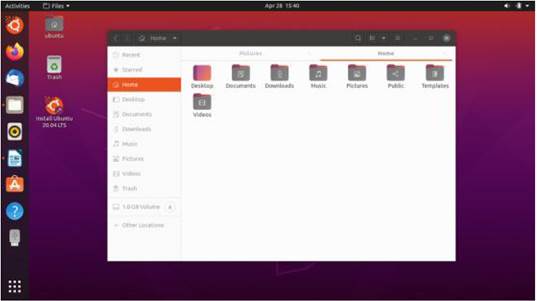 sight. Everything works right "out of the box" and provides a solid platform for getting work done, while allowing a reasonable degree of user customization.
Adam Hunt started using Ubuntu in 2007 and has used Lubuntu since 2010. He lives in Ottawa, Ontario, Canada, in a house with no Windows.