Trend Micro Internet Security Review – A top contender, with particularly excellent social media tools and plenty of protection.
LIGHT ON SYSTEM resources and with perfect detection rates, Trend Micro was one of the stars of AV-Test's most recent round of benchmarks. But like the best suites, it is much more than a malware scanner, and in this latest version Trend Micro has managed to tick all the right boxes. It's a suite that is starting to rival Bitdefender and Kaspersky for quality.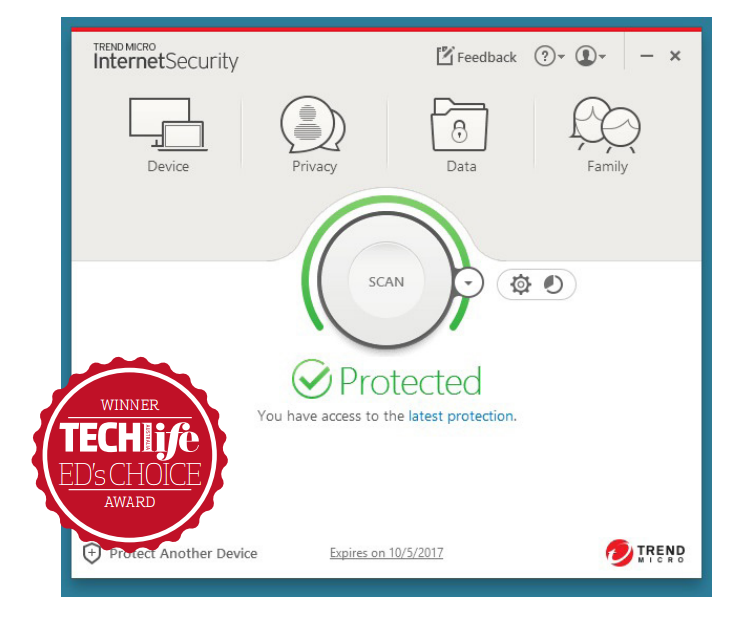 You may like also:
It does the usual anti-malware, anti-spam, firewall and malicious website filtering, but it also blocks links to nasty sites, has a very useful one-click system cleaner/optimiser, will scan cloud drives for viruses, will automatically manage privacy settings on Facebook and other social media services, has a secure mode for online shopping and two-tiered protection against ransomware. The latter includes both a passive system that monitors documents for unauthorised encryption and an active file locker system that creates a folder that can't be modified without a secure login.
Its parental controls are just okay, at least for old-style device-based rather than cloud-based controls, but if they're a priority you're probably better off with Symantec or Bitdefender.
Like most of the good suites, Trend Micro keeps things simple for the user, managing most of the decisions in the background. It has a lot of 'click this button to fix everything' components, which is good, and the fine controls are still there for people who want them.
The version reviewed here is the basic PC-only solution, but Trend Micro also offers multi-device solutions, including Maximum Security which has a (good!) password manager and support for Android, Mac OS and iOS devices.
Trend Micro Internet Security Review: CRITICAL SPECS
Anti-malware, anti-spam, anti-ransomware, firewall, website filtering, parental controls, secure browser, system optimisation and cleaning, social media privacy tools