The best third-party free antivirus for Windows is also one of the most effective at crushing malware. Read our AVAST ONE ESSENTIAL Review.
Free | from avast.com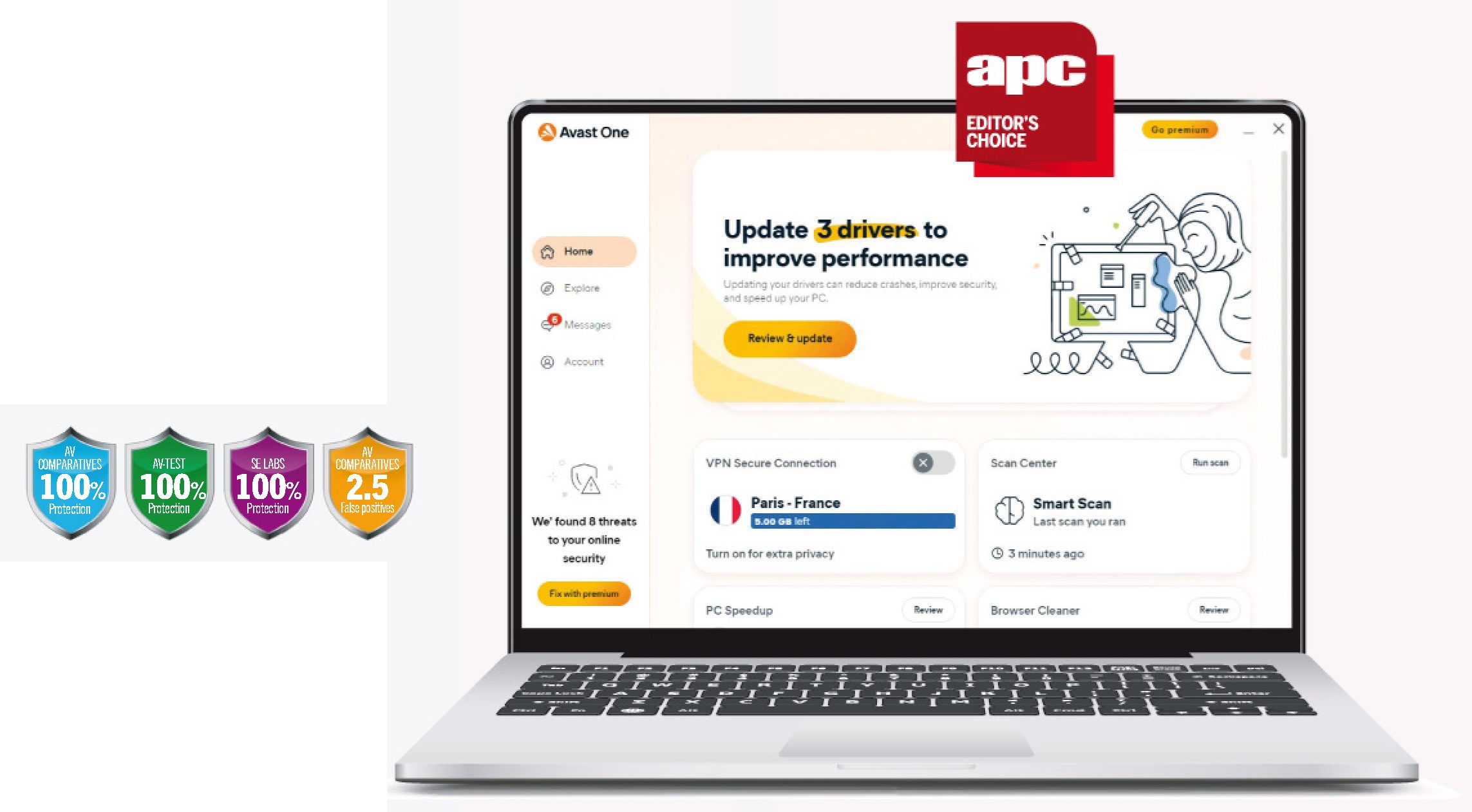 Avast One Essential has an integrated VPN on the front page.
Avast is one of the best-known names in free antivirus, and its paid-for products don't slouch, either. Its malware detection engine is the only one in this group test to score a 100 percent protection rating from AV-Test, AV Comparatives and SE Labs for successfully blocking all malicious files. It didn't do such a perfect job when it came to correctly allowing through legitimate software and websites: AV Comparatives found that it blocked two benign items and asked the user to decide about a third, while SE Labs gave it a total accuracy score of 97 percent.
Avast One Essential is essentially the same as the older Avast Antivirus Free, but with a shiny new interface and an integrated VPN on the front page. Although the layout is more spacious than its predecessor, it's harder to navigate, with concealed buttons to close alerts and tiles that are buttons themselves – and have secondary buttons within them. It's not the clearest design language Avast could have chosen, but it only took a few minutes to get used to.
The Home page features several configuration and activation shortcuts, including the free version of Avast's VPN, limited to 5GB of traffic a month from your nearest VPN endpoint and a scan centre where you can run and schedule various on-demand scans.
Less useful tools include PC Speedup, which improves performance by preventing applications from auto-starting at boot or preventing them from working in the background. This isn't always actually desirable. We were recommended one that prevents OneDrive from syncing files until it's open. To be fair, Avast does warn users to ensure that they don't optimise syncing programs to the point of non-functionality.
There's also a browser cleaner, which clears your browsers' caches and cookies, as well as a disk cleaner and driver updater, which are only available to premium users.
The full list of tools can be accessed in the Explore tab. There's File Shield, an on-access file scanner, Web Shield browser protection, Ransomware Protection (which prevents unauthorised changes to your most important folders), a Quarantine area for detected malicious files, and a network inspector that you can use to scan for potential vulnerabilities on the LAN you're connected to.
Email Guardian scans inbound POP3 and IMAP email and outbound SMTP for threats, while Password Protection is a data breach alert service you can subscribe to if you create a free Avast account. While free data breach notification services are fairly common, this is a useful addition for those who wish to create an account.
Privacy Advisor sounds quite interesting, in that it promises to help you keep the likes of Google and Facebook from tracking you, but the reality is less impressive: it's just a checklist of settings to disable and omits some obvious privacy risks, such as Windows' own default settings. However, it's useful if you don't already know how to check your account privacy, and these guides could be handy for less technical users who nonetheless value their privacy.
Features that are only available to paying subscribers appear alongside other tools, where they're marked with a lock symbol. You'll be prompted to upgrade if you click on them. Paywalled features include webcam protection, a "Sensitive Data Shield" to change the permissions of specific files and folders so that only you and specifically authorised users can access them, webmail protection, private browsing and web tracking avoidance, and a couple more update tools.
Free users now appear to get a few features that used to be only for paying subscribers, notably a firewall, but this is just a nicer overview interface for Windows' integrated firewall, and doesn't allow you to open or close ports by number. Some extra "Advanced network security" options are for Premium users only.
Because this is the free edition, you'll see some paid promotions and ads for Avast's paid-for security products. These start with an install-time invitation to add Google Chrome to your PC alongside Avast. Once you've got everything installed, you'll encounter a few more promotional messages, including a "Go Premium" button and the occasional pop-up. Promotions for Chrome may also appear in Avast's software updater if you don't have it installed.
You also get extra promotions in some scan results. Full scans include a "PC cleaning" section that suggests you upgrade to Premium if you want Avast to help you empty your recycle bin, delete broken registry keys and delete temporary files.
Avast, like sibling product AVG, which uses the same detection engine, continues to be a reliable choice for any user who wishes to switch away from Microsoft Defender, without paying for a bells-and-whistles laden security suite.