Kaspersky Free Review – Kaspersky has produced lots of paid-for antivirus programs over the years, but although it also offers a selection of free tools, including a security scanner, software updater and system cleaner, it has never provided an entirely free anti-malware solution. Until now.
Min requirements: Windows 7/8+/10 File size: 146.6MB
Kaspersky Free is a fairly basic antivirus tool, perhaps because the company doesn't want to detract from its commercial products. It can protect you from malware, network attacks and phishing scams, and includes a bundled onscreen keyboard to thwart keyloggers, but it has none of the advanced features you'll find in rival free security software such as Avast. The upside to this simplicity is that the program won't tax your PC's resources, which means it could be ideal for safeguarding older computers.
Kaspersky Free has one other handy bonus feature, however, which is the Kaspersky Secure Connection VPN. Powered by Hotspot Shield, this VPN secures your internet connection and makes it appear as if you're browsing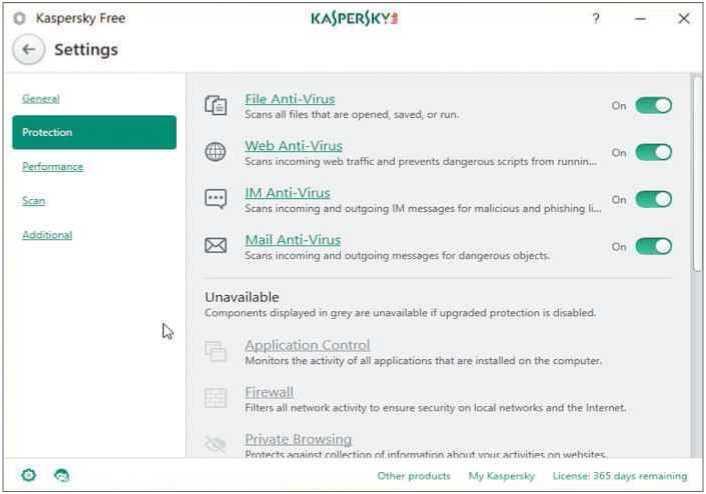 from somewhere else. It's a welcome enough extra but it suffers from one significant drawback, which is that it limits you to a measly 200MB of traffic a day. That means it's fine for a brief spot of general browsing, but you won't be able to download any files. You can't manually change the location of the servers it routes your connection through, either.
If you want some of Kaspersky's more advanced security features, you'll have to upgrade to the company's full antivirus products. Trial versions are available if you want to try before you buy.
Kaspersky Free isn't officially available in the UK yet, so we've provided a link to the program on Downloadcrew. Make sure you don't click an advert on the page by mistake.
Kaspersky Free Review – MINI WORKSHOP | Safeguard your PC with Kaspersky Free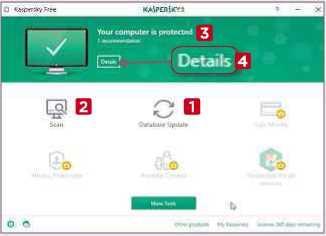 1 Kaspersky Free's interface is very straightforward. From the main screen you can update the malware database 1 and then run a scan. 2 The banner at the top 3 tells you whether or not your computer is protected, and clicking the Details button 4 opens the Notification Centre where you'll find additional information.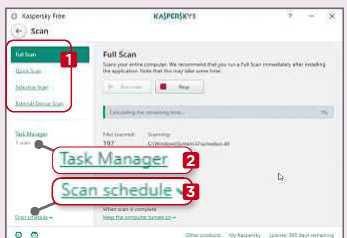 2 If you opt to scan for malware, you can choose between running a Full Scan, a Quick Scan, a Selective Scan (where you drag and drop suspicious items into the program window) or an External Device Scan. 1 The Task Manager 2 shows you what the program is doing, and you can schedule Quick or Full scans. 3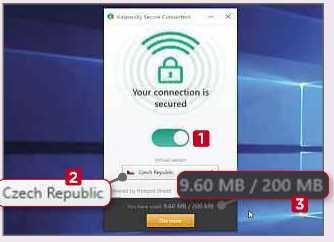 3 Kaspersky Secure Connection is a separate module to the main program. You can toggle the VPN on and off 1 but the virtual location is selected automatically (usually the Czech Republic, in our experience). 2 If you want more control, you'll need to upgrade. The program tells you how much traffic you've used so far. 3