Curve-based keyframe automation should deliver sophisticated animations but it doesn't work as expected video-editing software
IT'S LESS THAN a year since we reviewed Vegas Pro 14, so its new owner Magix has either been very busy, or it hasn't but decided to launch a new version anyway. Frequent updates are welcome when they bring useful new features, and with upgrades costing up to , we expect nothing less.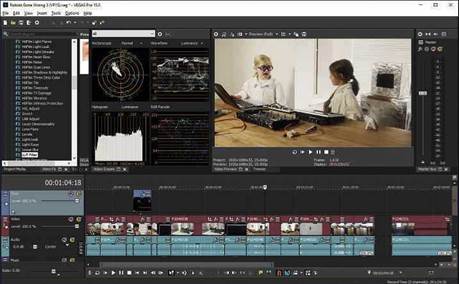 Top billing goes to hardware acceleration for graphics cards and Intel Quick Sync Video (QSV). These speed up encoding of projects, and sure enough, renders in AAC format using the new QSV encoder were over twice as fast in our tests compared to version 14.
Preview performance is just as important as export performance. As before, there are detailed controls for balancing smoothness of playback against quality, including generation of low-resolution proxy files when working with 4K footage. However, this feature is now switched off by default. The controls for switching between proxy and original files could be clearer, too. It's a useful feature that many users will never locate.
THE WRONG PATH
For years we've been asking for an overhaul to Vegas's Crop/Pan editor, which resizes, masks and animates graphical elements around the frame, but falls far short of Adobe Premiere Pro's animation and masking tools. We were thus eager to try the new Picture-in-Picture effect, which Magix claims delivers "precise placement, sizing and movement" of clips.
The reality fell short of expectations. There are controls to move, scale, rotate and fade clips, but no 3D skew and no simple option to animate objects on a curved path. Animations are created using Vegas's multi-lane keyframe controls, and by describing independent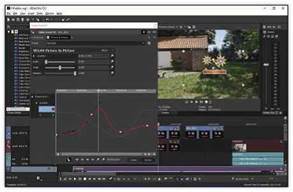 Interface tweaks include a choice of colour schemes for the background and menu buttons
curved paths for the X and Y axes it should be possible to create curved paths. This didn't work as expected, though; manipulating the Manual interpolation controls to draw custom paths between keyframes had little discernible effect. This may sound niche, but curved paths give a huge boost to the fluidity of animations such as logos and titles. Magix admits this is a bug and is working on a solution.
NO IFS, NO LUTS
The new Crop effect takes a similar tack. It's good that cropping is no longer limited to the ageing Pan/Crop editor, but the new controls are basic and the bezier keyframe animation misbehaves. Frustratingly, there are no new masking tools for cutting out complex shapes. This remains possible in the Pan/Crop editor, but the single lane of keyframes makes mask animation extremely cumbersome.
Look-up tables (LUTs) are used to map one colour palette to another. In practice, that means shooting with a flat colour profile, then using a LUT to give footage a stylised colour scheme. The new LUT Filter effect introduces this to Vegas Pro, but again the reality is disappointing. No LUT presets are supplied, and while various free ones are available on the web, quality is variable. Switching between presets using a pop-up browser is also slow and clumsy; this effect really needs thumbnails for quick previews of LUTs.
Most other new features are modest interface tweaks. There's a choice of four colours for the interface, and the saturation of track buttons can be toned down if they prove to be distracting. Some buttons have been tidied up, with extended options accessed via new menu icons. It's now possible to freeze playback of a clip with a single command, although previously it took only two commands. As before, there's a Paste Attribute command for copying effects, Pan/Crop settings, transitions, playback rate and various other settings from one timeline object to another. It's now also possible to selectively paste only certain attributes. It sounds dull but it's actually pretty handy.
TRIPLE BILL
Vegas Pro is available in three versions: Vegas Pro Edit, Vegas Pro and Vegas Pro Suite. Edit costs the same as before but the other two have crept up by . Upgrades are , and respectively.
The mid-price Vegas Pro bundles DVD Architect for disc authoring plus a strong collection of effects from NewBlueFX and HitFilm. However, it omits ProDad Mercalli 4, an excellent video stabilisation plug-in that was included with Vegas Pro 14. After upgrading from 14, Mercalli wasn't available in version 15. We checked with Magix, which explained that third-party content is only supported with the version it's bundled with, and that it can't guarantee newer version compatibility. This is a common problem with third-party plug-ins, but it's particularly troublesome for video-editing software where projects can take over a year to complete.
The Suite edition bundles Boris FX Sapphire Render Unit, which generates animated textures that might be useful for titles, disc menus and outlandish special effects, plus NewBlueFX Titler Pro 5. The Boris chroma keying and motion tracking plug-ins from version 14 have disappeared, though.
It's tricky coming up with groundbreaking new features for an already mature editor, but Magix hasn't risen to the challenge. Faster render times are welcome but don't justify the upgrade price, and there's little else to sway the decision. Meanwhile, the outsourcing of plug-in development to third parties means their value may be short-lived, and could even prevent you from opening older projects. Vegas Pro is still a dependable, capable editor; we hope it doesn't drift further off course.
Ben Pitt
SPECIFICATIONS
OS SUPPORT Windows 7, 8,10 • MINIMUM CPU 2GHz (8coresrecommended for 4K) • MINIMUM GPU 512MB (1GB recommended) • MINIMUM RAM 4GB (8GB recommended) • HARD DISK SPACE 1.5GB
VERDICT
It's a capable video editor, but Vegas Pro 15's new features are disappointing