TP-Link's contribution comes in the form of the TL-MR3040. This sleek-looking device has a number of interesting aspects to its credit such as a 200mAh rechargeable battery and a number of modes including support for 4G networks.
The TL-MR3040 measures 100 x 62 x 16mm and weighs just 94g. Its curvaceous lines house a 10/100Mbps Ethernet port, USB 2.0 port and a micro-USB port for connecting to a wall socket or other USB adapter/port for charging the internal battery.
Wireless is 802.11n with a single 2.4GHz channel and a signal rate of up to 150Mbps. There's an operation mode switch to one side of the device that can change it to WISP wireless sharing, 3G/4G router mode or using the Ethernet port as a WAN connection to share a wired network.
The glossy white look is certainly appealing, with a long blue LED strip along the top to indicate the connection, power and so on. The button to the side is similarly sleek and blended in nicely with the rest of the design. The opposite side is home to the micro-USB port and a similar on/off slider button. The back of the device is where you'll find the battery compartment, which you'll need to pop off before installing the supplied rechargeable battery. It's easy to do, and the back just snaps into place when you're done.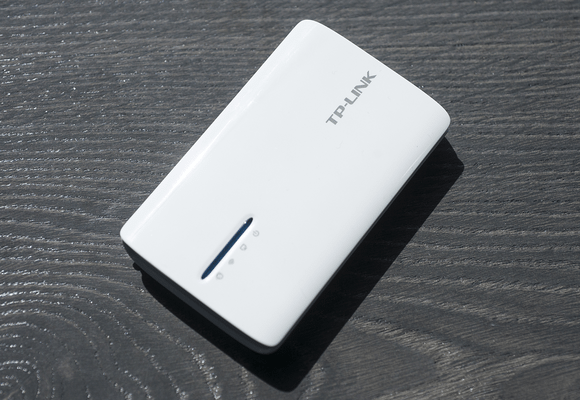 In terms of features, there's VPN support, firewall, DHCP, parental control, UPnP and bandwidth control – all of which can be configured and set up via the browser management app. The USB port also doubles up as a charger for your phone or tablet.
The entire device is simple to use, with the added benefit of the Ethernet port doubling up as a LAN port when it's not in use as a WAN. In short, it's just an easy grab-and-go device and one that will most definitely appeal to many.
It would of course be good to have a dual-band wireless setup, but the connection range for the TL-MR3040 was good, so that kind of makes up for the lack of 5GHz channel support. It's not too badly priced either. That's more than the Netgear model but less than half the cost of what D-Link is asking for the DIR-510L.
The TP-Link TL-MR3040 is a good travel router. It's pleasing to the eye, performs well, and the different functions combined with the internal battery and charging make it a good choice for the mobile worker. You might also like:
Are Our Devices Bad For Our Health?

Tp-link Tl-mr3040 3g/4g Wireless N150 Portable Router, Battery Powered, Ap/wisp/router Mode, Compatible With Selected Att/verizon/sprint/t-mobile Usb Modems - 3.75g - 2.48 Ghz Ism Band - 150 Mbps Wireless Speed - 1 X Broadband Port - Usb - Fast Ethernet External - Rohs Compliance
Last update was on: 2022-04-30 1:00 pm
Tp-link Tl-mr3040 3g/4g Wireless N150 Portable Router, Battery Powered, Ap/wisp/router Mode, Compatible With Selected Att/verizon/sprint/t-mobile Usb Modems - 3.75g - 2.48 Ghz Ism Band - 150 Mbps Wireless Speed - 1 X Broadband Port - Usb - Fast Ethernet External - Rohs Compliance