Toshiba Canvio Connect II 1TB Review
Toshiba unleashes yet more Canvio products on an unsuspecting world
With Seagate and Western Digital knocking seven sorts of SATA out of each other, this should be a good time for the Toshiba to make more of its hard drive business. Its Canvio range of external USB storage devices has generally been solid, if somewhat unexciting, and the new Canvio Connect II doesn't break that particular mould.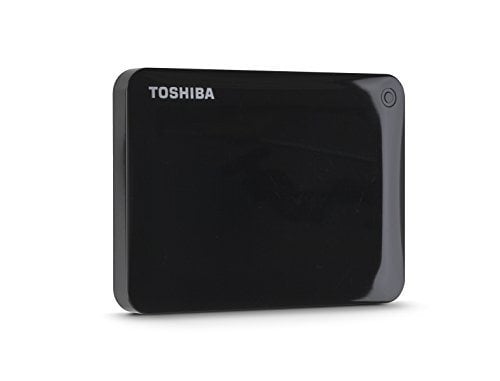 The 1TB review model was described as being 'Satin Gold', but in many lighting conditions it looked silver to me. The Canvio Connect II comes also comes in black, red, blue and white, and 500GB, 1TB, 2TB and 3TB capacities.
While the finish does give the impression of metal, this is an entirely plastic construction that you're never meant to open, like so many portable drives these days. Inside, I suspect (although I couldn't prove it without a hammer handy), is a Toshiba MQ 2.5" drive, like the ones that normally make their way into numerous laptops.
The performance of this 5400rpm drive isn't amazing, but when connected to USB 3.0, it reads and writes at a very respectable speed of around 125MB/s.
That's quick enough to sync some documents smartly and then catch a train, though it won't compare with the best SSD-based external drives.
The 500GB and 1TB versions are a svelte 14mm thick, whereas the larger 2TB and 2TB ones need additional platter space swelling them to 19.5mm. I'd certainly gravitate towards the thinner 1TB design, because its reasonable value for money and it only weighs 165g.
By way of other encouragements, Toshiba also bundles the drive with the NT Backup Now EZ application, a Mac NTFS driver (Tuxera) and a slightly odd utility called Pogoplug PC. What that software does is turn your PC into a personal cloud server, so its contents can be remotely accessed and actively copied elsewhere. And, you also get 10GB of cloud storage to keep your most important files in the cloud, if you're short of space to do that.
To be brutally honest, these things are all nice, but my experience is that most users will erase the contents of the drive and just use its vanilla functionality.
In the final analysis, there isn't anything specifically wrong with the Canvio Connect II, nor much especially compelling either. If you want this much space in a portable USB 3.0 package, you can find it for a tenner less elsewhere, and if you want better performance, it can also be found.
This model is quicker than the cheaper Western Digital and Seagate 1TB drives, though only by about 8%. What Toshiba needs to do is migrate some of its hybrid drive designs into these enclosures, and deliver a more dramatic performance boost.
Don't get me wrong; the Toshiba Canvio Connect II 1TB is a perfectly serviceable drive that most people will love. It's just entering a very crowded marketplace at this time, and it needed to do more to get noticed. Mark
Pickavance
Lightweight external drive with a decent capacity.
See also: WD PR2100 Review: Versatile storage for the cloud generation