Western Digital My Passport Ultra 1TB
WD revamps a classic with some innovative new features
Opening this package from Western Digital, I was wearing my typically weary face of cyclic experience. Surely I've seen enough external drives to last a Time Lord's lifetime? But – and a rare occurrence this is – the changes Western Digital has to this product are more than cosmetic and, in the end, rather compelling.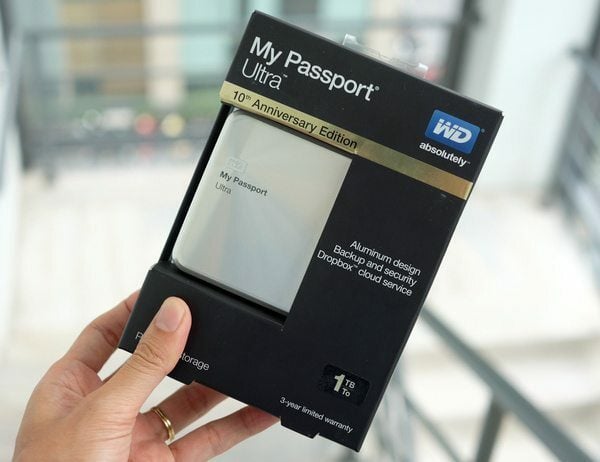 However, starting from the outside, the new Passport design uses a combination of surface finishes and angles that make it both elegant and pleasing to hold. The 1TB review model is the same thickness as the one it replaces at about 15mm, and the overall scale seems almost identical.But where previously the sides were square, they're now slightly bevelled, probably to help with the 'Grip Pack' accessories WD has also released.
The drives come in three sizes ranging from 1TB to 3TB, and in four colors. These are described as Classic Black, Brilliant White, Wild Berry and Noble Blue, and to these you can add further variation using the £9.99 Grip Packs that offer a protective band and matching cable in five shades (smoke, slate, grape, sky and fuchsia).Factor in use of the original colored USB cable, and that's 40 variations for those with plenty of drives to uniquely identify. That personalization and an extra degree of protection.
However, the true value of this new version isn't in the colorful accessories. It's in both software tools that Western Digital bundled with it and the hardware encryption it's baked in.
Pre-installed on the drive are WD Backup, WD Security, WD Drive Utilities and WD Quickview for the PC. Using these, you can secure your files to the drive or cloud, activate the built-in 256-bit AES encryption and manage the external storage.Comparable tools are also provided for the Mac, although Apple's own Time Machine does the backup job, and you'll need to reformat the drive to an OS X compatible file structure.
There still isn't a bare-metal backup solution provided, and the only cloud option is DropBox, but in terms of bundled apps they're not half bad and generally useful.The encryption is an especially powerful option, because once you've activated the password control option, getting to the contents will be very problematic without it.It's a generally accepted view that the security services know how to crack AES through either guile or brute force, but without those resources, what's on there is probably safe from even an experienced hacker.
Performance is about what I was expecting from a Western Digital 2.5" drive connected by USB 3.0, at around 115MB/s in both directions. You can get faster drives, but given that this is quicker than a 1Gbit network source, it's probably more than fast enough for most office users.In the end my only real disappointment was that the makers didn't grasp the nettle of USB-C connectors on this new generation, but I'm sure those will come along at some point.In the meantime, if you want a compact external drive to secure some sensitive data, then the My Passport Ultra is still one of the best options.
Mark Pickavance
The perfect external drive for those in business.
• Secure portable storage with up to 2TB capacity.
• Optional 256-bit AES hardware encryption.
• Automatic local and cloud backup.
• Stylish design with a range of exciting colors.
• Formatted for Windows, reformatting required for Mac.