Transcend StoreJet 25H3 Review – Transcend has over the years proved itself to be quite the formidable player in the external storage market. The StoreJet range of portable drives are one such example and have won just about every award going.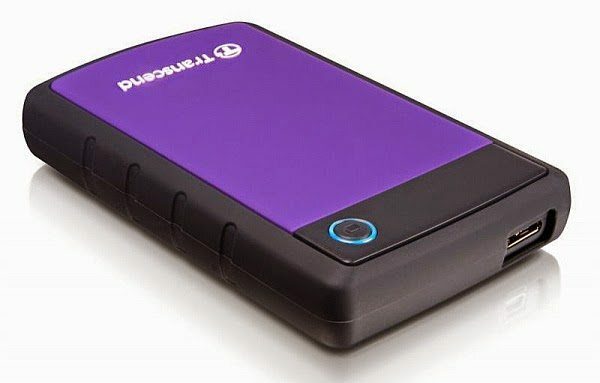 The Transcend StoreJet 25H3 is an impressive looking external hard drive with a number of features that makes it stand out from the crowd. For starters, this is a rugged device that's capable of withstanding impacts and falls thanks to the rubberised, anti-shock outer case and advance internal drive suspension. Basically, this is all thanks to an extra layer of silicone that encases the drive itself, which is then encased in a hard plastic shell. It may sound extreme, but it's actually a very good selling point.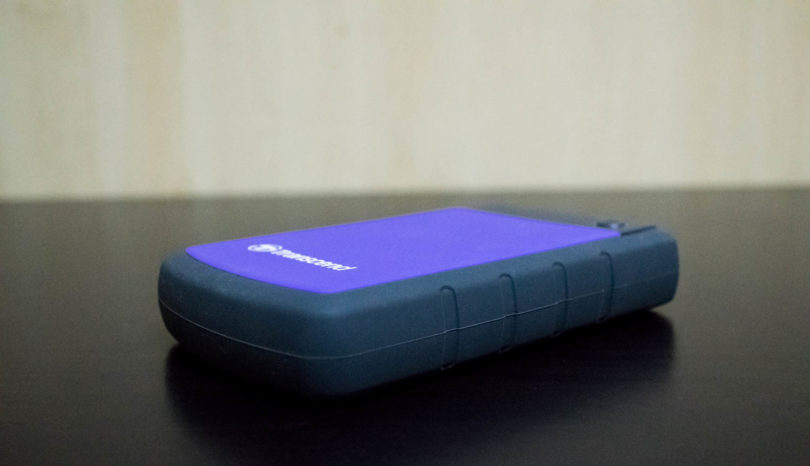 The shock resistance is not something to be taken lightly. This thing has been rigorously tested by US military drop test standards and is now credited with the MIL-STD-810F rating. Of course, that doesn't necessarily mean you should try to play cricket with it, but should you have a sudden attack of butter-fingers, then at least your data has a far better chance of survival than any other portables drives available.
The 25H3 comes in a variety of capacities, from 500GB through to 1TB and 2TB versions, and it's available in either blue or purple coloured cases. It's also reasonably compact, measuring just 131 x 80 x 19mm for the 500GB and 1TB models, to 131 x 80 x 24.5mm for the 2TB model. In terms of weight, the 500GB and 1TB models weigh 216g, with the 2TB model weighing 284g.
It's also USB 3.0 compatible and features 256-bit AES file and folder encryption when using the accompanying Transcend data management software. There's a one-touch button located on the top corner of the drive, which will activate, through the prior setting up of the software, a backup routine and synchronise any data.Added to that is a quick reconnect button to the side of the unit, which will re-enable the 'safe to remove USB hardware' feature in Windows without the need to unplug the device from the PC.
The accompanying USB 3.0 cable terminates with a double plug at the PC end, one for power over USB 2.0. Naturally this means you'll have to make sure you have enough USB 2.0 ports available to accommodate it, but thankfully USB 3.0 can provide enough power over a single connection. The cable is reasonably long, about a metre and a half, but we did think that should your available USB ports be separated by the length of a laptop, then you might run into some connection difficulties.With FlashBench we managed to achieve a 1GB file read of 140MB/S and 114MB/S write. Those are pretty good by our reckoning.The Transcend StoreJet 25H3 is an impressive external hard drive and one we really liked. Transfer speeds are good, the included software is more than capable of keeping up with most users and, of course, the drop proof capabilities are beyond exceptional. All in all, it's one to recommend.
Transcend StoreJet 25H3 Review
It is a good external hard drive if you need a large storage to backup your files. With the help of Transcend's Elite Data Management software, backing up files is pretty easy. No doubt that it is one of the best external hard drives you can buy now.
PROS
Durable design
Useful software
CONS
Slower than an SSD, which is pretty normal
A bit bulky
Add your review
|
Read reviews and comments