Thunderbird Version: 68
Web: https://thunderbird.net
You've got new mail! One of the greatest open source e-mail clients. Thunderbird, has seen a big bold new release lately: 68, although the previous version was 60. Don't worry, you haven't missed anything – it's just that the Thunderbird development team aligned the version numbering with Firefox ESR. Although the email client has long been uncoupled from Firefox. both still share a lot of code and are perceived as companion projects.
The new release introduces plenty of small visual design improvements, of which the most catchy is the revamped in-app menu. Click the hamburger icon somewhere around the top-right corner and notice that the items in the drop-down menu have been rearranged, separators were added and new icons were introduced. So far, changes are merely cosmetic, but given the fact that Thunderbird is already a well- polished and optimised application, there is an excuse for that. The look and feel part of the changelog also includes the dark theme for the message pane thread, the further improved mail attachment dialogue and some very fluid animations when browsing the in-app menu's subcategories.
Thunderbird 68 looks and feels smoother thanks to all these details, so if you are a happy existing user of this email client, the upgrade will be a pure joy. Newcomers should consider going with Thunderbird instead of sticking with online mail in their browsers due to the fact that thick' apps like Thunderbird enable you to keep all your messages offline and read them even without a net connection. Thunderbird sports a superb first-time wizard and lets you connect to your mailbox in a minute or two. There's no need to enter server details other than your login and password.
The Thunderbird for Linux package is a plain tar.bz2 archive that should work in almost any Linux distribution. Use this download option if Thunderbird 68 is yet to land to your system's repositories and you can't stand the wait to give it a try!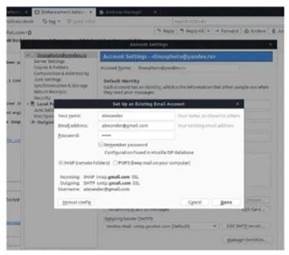 Most of the emails are downloaded beforehand and they are available offline in Thunderbird
Exploring the Thunderbird interface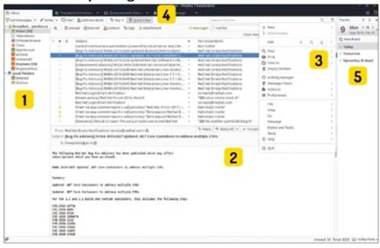 Your mailboxes and folders
You can add one or several accounts in Thunderbird and explore their folders using this panel.
4 Don't forget about tabs!
Thunderbird can open preferences, search results, add-ons and many other sections right within the same window Tabs behave just like web browser tabs.
2 Main productivity area
The top is for item listings, the bottom is for displaying the currently selected item. Drag the margin between these parts to adjust their size.
3 Main application menu
This menu has been fully redesigned in this release. Features are now re-grouped for a better workflow.
5 Calendar and events
This right-most panel is Lightning, the Thunderbird's calendar add-on for planning events and managing tasks A must-have extension for all diligent people.