Nate Drake takes a sneak peek at the upcoming Thunderbird and finds it still comfortably ruling the roost. Read our Thunderbird 115 Review.
IN BRIEF
The beta's new UI offers a more intuitive way to navigate mail and organizes your folders better. We only hope the final version includes full OpenPGP support and Firefox Sync.
SPECS
CPU: Pentium 4 (SSE2)
Mem: 2GB
HDD: 250MB
Builds:
x86_64,
ARM64
The Mozilla Foundation has been teasing the issue of a new version for months and has now released a beta of the much anticipated Thunderbird 115, code-named Supernova.
If you want to test-pilot it, acknowledge all the usual warnings about beta programs before proceeding to the website.
On the first run, we used the wizard to create a new email address with privacy-conscious email provider Mailfence. We then signed up for several tech-themed newsletters. The emails from these arrived in our webmail almost immediately but we had to restart Thunderbird to see them in our inbox.
The new and improved user interface is much sleeker. The jumbo Get Messages button has been superseded by a mini cloud icon. You can also now click + New Message instead of Write to compose an email.
Folderol and functions
Supernova also sports a new folder preview pane. You can read a blow-by-blow description of how this is light years ahead of the traditional UI on the Mozilla blog (https://blog.thunderbird.net/2023/02/thunderbird-115-supernova-preview-the-new-folder-pane/). In a nutshell, though, it provides more room between icons to prevent "cognitive overload". This is achieved through the default density setting (Relaxed), though Mozilla assures us that you can change this back to the classic Unified look if you prefer. The folder context menu also now includes Move To and Copy To options.
While we're talking overhauls, Mozilla is also keen to point out the perks of the new folder pane header, which previously contained the Get Messages and Write buttons. You can use the integrated 'meatball' menu to show additional information such as the total number of emails or the size of folders.
The meatball menu also contains a Folder Modes section. You can use this to switch to the traditional Unified view. Most importantly, users also now have the option to show tags in the folder pane.
The compact look has also translated to the Filter section. You can still display selected messages by entering text in the box but small icons have replaced the icon-plus-text interface for filtering messages by those that are unread, starred, from known contacts, or contain attachments. These quick filter buttons are also easier to access via the tab and arrow keys.
The menu bar is noticeably absent but upon right-clicking, we found we could add selected icons on either side of the search bar, which we did for Add Ons & Themes. Some icons are available for specific spaces, such as Mail, while some appear in all spaces.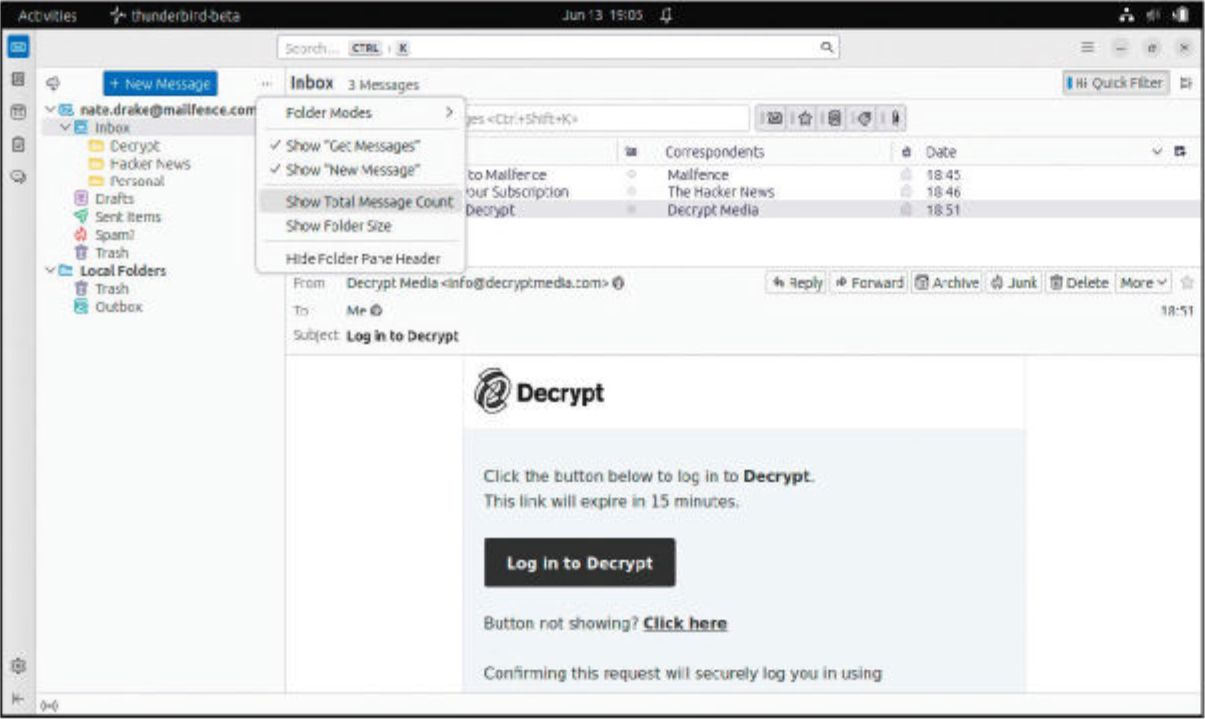 The new 'meatball' menu enables you to fine-tune which information appears in the mail pane. You can also change Folder Modes.
As one of the few dinosaurs left who digitally signs their emails, this reviewer was intrigued to see if Mozilla has also lived up to its promises of improved OpenPGP compatibility in Supernova.
We used the built-in Key Manager to generate a new pair. (The default key size is 3,072 but you can opt for the more secure 4,096.) This worked perfectly, although according to Mozilla, Thunderbird 115 should now include a feature where you can set your own OpenPGP passphrase and lock secret keys after use. We couldn't see an option to do this, even though there are screenshots of it on Bugzilla. Mozilla also claims that OpenPGP messages will now default to using combined signing and encryption.
At the time of writing, Firefox Sync, which would allow for easy porting of Thunderbird settings across devices, isn't supported, but developers have said it will be included after the full release later this year.
VERDICT
DEVELOPER: Mozilla Foundation
WEB: www.thunderbird.net
LICENCE: MPL-2.0
It's easy to see why Thunderbird is the chosen mail client for millions. It's now sleeker, more intuitive, and easy to navigate.
» Rating 8/10