HP EliteDesk 705 G1 Review
HP EliteDesk 705 G1 Review – The HP EliteDesk Mini PC is a part of the 705 G1 range of desktop PCs, aimed mostly at the larger, enterprise business user. However, that doesn't necessarily mean that the small office or even home user can't enjoy its diminutive dimensions.
There are a number of G1 models available, and this particular 705 version features an AMD A4-7350B APU at 3.4GHz, 4GB of 1600MHz DDR3 memory and a 500GB 7200rpm hard drive, with a copy of Windows 7 Pro.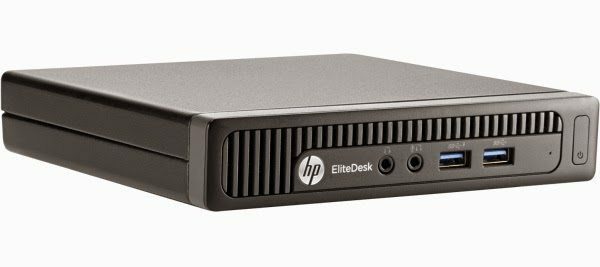 The front of the 705 G1 houses the power button as well as a pair of USB 3.0 ports, headphone and mic jacks. The rear of the unit is a little busier, with a further two USB 3.0 ports, two USB 2.0 ports, VGA, two DisplayPorts, audio out jack and a gigabit Ethernet port. There's also a thumbscrew to unlock the top of the case and gain access to the interior.
Inside there are a couple of M.2 expansion slots available, where you can connect a wireless card and any M.2 storage drives you may wish to install instead of the spinner – or to complement it. Naturally, it would be nicer to have wi-fi and Bluetooth out of the box, and it's a little surprising the 705 G1 didn't.
The lack of an HDMI port may also turn off one or two users as well. DisplayPort is fast becoming the standard for a lot of screens, but there are still plenty of monitors that don't support this port, which means the user will need to purchase a converter or stick with VGA.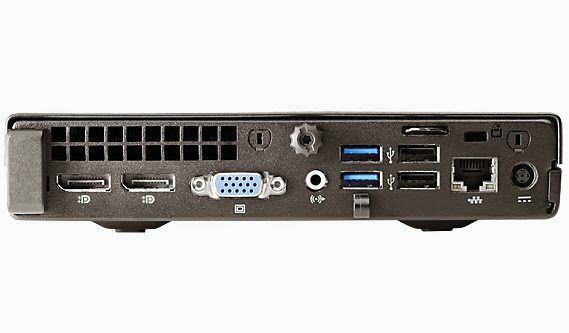 We found that although the specification of the 705 G1 is okay on paper, in reality it was a little slow. Windows 7 Pro worked fine when it finally booted and loaded up its startup programs, and once we'd installed VLC and a few other applications, it breezed along well enough. But getting to that point seemed to take an absolute age. In fact, it was a good five minutes before the drive had finished churning away and we were able to open up a program without affecting the performance of the PC.
In terms of lightweight gaming, the AMD A4 Kaveri APU didn't fare too well. Even some of the older games we tried stuttered and lagged to the point of being unplayable, and we saw the same with Minecraft at low settings. It's a little odd really, as the specification of the processor, RAM and so on should have been more than a match for even a relatively modern game, but there was something blocking the overall performance.
As for media, the 705 G1 did a good enough job. The monitor and TV we had the unit attached to lacked a DisplayPort connection, so we were forced in this instance to use VGA, which degraded the quality of the display somewhat. But the content played well enough via our NAS setup on the network.
The HP EliteDesk 705 G1 Desktop Mini PC probably isn't the best choice of micro PC for the average user. It's rather expensive, compared to the rest on test, and it lacks the necessary punch to make it worth it.
Audio Affair will give you £20 off all orders over £250 when you use the code 7RW20.
Was this article helpful?