Test which Meltdown and Spectre fixes slow your PC
In your 'Test whether you're at risk of Meltdown' Workshop, you explained how to check whether your PC is vulnerable to the Meltdown and Spectre flaws. The method works fine, but you have to be careful when typing all the complex command lines without making a single mistake. One of the recognized downsides of installing the advised updates to Windows 10 and your motherboard's BIOS is that they can significantly affect the performance of your PC.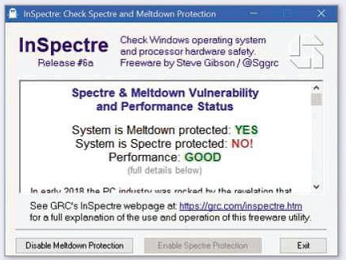 Well, I have discovered a very nifty little free portable program called InSpectre. It not only checks if you are protected against Meltdown and Spectre, but also lets you temporarily disable any updates if you notice that they have slowed your PC.
You can go to the InSpectre website https://www.grc.com/inspectre.htm for more information. It has a useful FAQ section that tells you what the program's Enable/Disable buttons do.
Download and run the tool (some antivirus programs may detect it as a false positive). The main window tells you whether you're protected against either flaw (see screenshot). Scroll down to see an in-depth explanation of what's protected and what's not.
You can disable protection for either bug – useful if you want to check if it's the update that's responsible for slowing down your PC.
To do this, click the relevant Disable button, then restart your PC. Repeat the process to re-enable protection if you need to.
Philip Coombes