SYNOLOGY RT1900AC
Why-fi?
You've probably already got a router. Your internet provider gave it to you. Why then, asks Martin Pipe, do you need the Synology RT1900ac?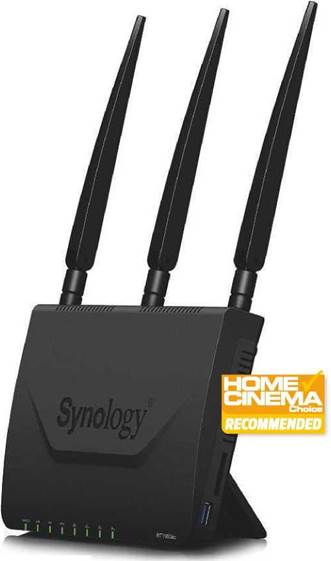 REGULAR READERS WILL probably be aware of Synology, the NAS (Network Attached Storage) products of which have been featured in HCC reviews. Amongst other things, NAS enables you to set up a media 'tank' – containing TV recordings, video, movies, photos and music – that can be accessed by most, if not all, of your household's networked AV devices.
So when Synology encroaches into a market dominated by other IT giants, it's worth paying attention. The territory in question is the router – a lump of plastic, usually supplied by your Internet Service Provider (ISP), that allows your broadband 'net connection to be shared by your network-aware home tech.
All support Wifi and wired Ethernet, and most also contain the modem that interfaces to your ISP's specific outside-world infrastructure.
You were likely given one by the company that charges you monthly for your family's regular broadband fix, but you can splash out for a third- party model. Why? Because it usually does more and performs better. BT makes a lot of fuss about how much better its router's Wi-Fi range is than the competition. This is more an admission about how lousy the average ISP router is. Fair enough; it's built down to a price.
And so to Synology's RT1900ac. This matt-black box looks the business, with its three Wifi aerials and green status LEDs. It's purely a router, which means you'll still need a modem to get online to your ISP. If yours is built into the ISP's router, no worries; nearly all (among them my Netgear- made Virgin Super Hub 2ac) have a modem-only mode.
Your ISP should be able to advise on how to engage it. Synology supplies an Ethernet patch cord to connect your modem to the RT1900ac.
Wi-Fi frenzy
The 1900ac part of the name alludes to the IEEE 802.11ac wireless networking capabilities and the unit's potential 1,900Mbps capacity (600 Mbps for 2.4GHz band, plus a simultaneous 1,300Mbps on the much quieter 5GHz band). That trounces most ISP routers, some older examples of which don't even support 5GHz. Basically, it translates to faster Wi-Fi and an ability to support more users simultaneously. Reducing bottlenecks facilitates optimal sharing of your overall broadband capacity; note that four
If Wolverine was going to buy a new router, he'd probably go for this one…
Ethernet ports are provided for wired connections too.
But there's more to the RT1900ac. It can be optimized for various IPTV and VoIP services, and the user interface provides connection diagrams. You can configure the unit (Wi-Fi passwords and access-point names, connected devices, bandwidth prioritization, parental controls, two guest networks, a powerful firewall…) via a slick web interface – Synology Router Manager (SRM) – the friendly feel of which will be familiar to users of its NAS devices.
It will even support the addition of new functionality via apps. Currently, there are seven of these. One's a BitTorrent-ready download application, and there's also a fully-blown DLNA media server, because the RT1900ac contains a NAS function.
No storage is built in, though – you plug in an SD card or USB storage (hard drives or large flash-memory sticks) into its side- mounted ports.
And it all works well. The DLNA server was able to serve up 16-bit FLAC audio and a Full HD MKV movie simultaneously without glitches, although dedicated NAS boxes offer higher throughput.
2.4GHz Wi-Fi performance is truly excellent, 5GHz less so. The former's range is much better than that of my Virgin router, meaning I could get away without a repeater (this was moved to a location further away, increasing the Wi-Fi reach of my narrow but long home).
If you want to step up from an ISP's router while exploring the benefits of NAS, then the RT1900ac is recommended
SPECIFICATIONS
WI-FI: IEEE 802.11ac; 2.GHz/5GHz HARDWARE: 1GHz Broadcom BCM58622 (dual-core ARM Cortex A9) CPU; 256MB RAM; 4GB non-volatile flash memory CONNECTIONS: Gigabit Ethernet (4 devices, 1 for modem); USB 3.0; SD card slot DIMENSIONS (WITHOUT AERIALS): 206(w) x 38(h) x 146(d)mm WEIGHT: 0.51kg
FEATURES: SRM operating system/web interface; USB/sD card NAS with SMB server function; enhancement through apps (e.g., DLNA media server, cloud backup); WPS support; guest networks; parental controls; network bandwidth prioritization
av INFO
PRODUCT:
Router with in-built NAS function
POSITION:
Synology's first router, alongside its 2600ac big brother
PEERS:
HCC VERDICT 4/5
Synology RT1900ac – This feature-laden router throws in NAS functionality and plenty of control, but faces competition from mesh Wi-Fi rivals.
Simultaneous dual-band at 2.4GHz & 5GHz for up to 1900Mbps
Robust coverage with Beamforming Support
Application layer Quality of Service (QoS) allows total control of your network environment
Intuitive Parental Control with built-in DNS-based web filter
Last update was on: 2021-10-28 4:00 pm
Simultaneous dual-band at 2.4GHz & 5GHz for up to 1900Mbps
Robust coverage with Beamforming Support
Application layer Quality of Service (QoS) allows total control of your network environment
Intuitive Parental Control with built-in DNS-based web filter
Revolutionary interface - Synology Router Manager (SRM) & DS router
Perfect companion for your Synology NAS with Wake-on-LAN over QuickConnect.Wi-Fi encryption:WEP, WPA/WPA2-Personal, WPA/WPA2-Enterprise