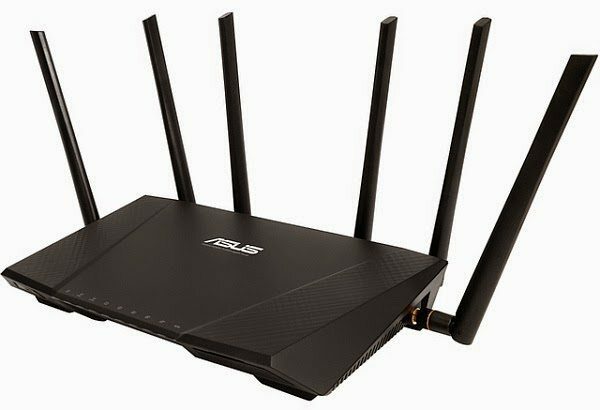 Bristling with more antennae than an Air Warfare Destroyer, with a whopping six in total, this is one seriously aggressive router. It's also one of the most expensive Tri-band routers around, and when combined with the fact that ASUS routers have historically performed well, my hopes were high indeed. Sadly it didn't turn in quite the roaring performance I expected, but it makes up for this lack in performance in other ways.
As with every router tested, it supports all of the common 802.11 standards, a/b/g/n and the newest, ac. It does so with a single 2.4GHz network, alongside twin 5GHz networks. ASUS is one of the few router manufacturers that employs automatic-network detection for connecting devices, cleverly selecting the appropriate network for each device based on its requirements. However, as mentioned earlier, I disabled this to isolate the 2.4GHz and 5GHz channels, which might explain why it didn't perform so well.Four Gigabit Ethernet ports adorn the rear, alongside one USB 2.0 and one USB 3.0 port. These allow the connection of a printer for centralised printing duties.
Readers will probably prefer to fill these with external hard drives though, turning this into a basic NAS device. Setting up the device was a cinch, revealing the incredibly detailed interface. Network noobies will probably be overwhelmed by the sheer amount of information, but more advanced users will lap it up. I especially liked the Traffic Analyser feature, which shows how much data each network device is using, and the programs that are chewing through the data. Port forwarding is easy to activate, with a maximum of 32 rules available.
Heading into the advanced Wireless settings reveals some of the most comprehensive Wi-Fi options we've seen on a consumer router, but most gamers won't need to touch anything here. Thankfully there's a much simpler Wi-Fi setup screen that makes setting the SSID, channels and WEP keys dead easy. The dual-core 1GHz processor within ensures that navigating the many menus is snappy and responsive. A feature unique to this router is its AiProtection, which monitors network traffic for signs of viruses, and it's nice to have that added layer of protection.If only the network performance was as good as the rest of the router's features. It was the second slowest in both sets of tests, and not always by a close margin. Considering ASUS is charging top dollar for this router, I expected best-in-class performance. I'm sure better performance could be extracted from this router if I delved into the detailed wireless options, but most gamers just want to plug it in and play. In this regard the RT-AC3200 fails to deliver, no matter how good the rest of the features are.
VERDICT
Hopefully ASUS releases a firmware update that will bring this router's performance into line with the competition.